Appian wants to be the AI company for AI skeptics
The firm outlines its AI strategy at Appian World 2023 while using ChatGPT and Midjourney to create scripts and imagery for keynote presentations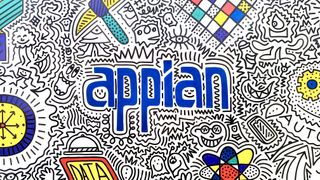 (Image credit: ITPro/Rory Bathgate)
As the sun sets on Appian's annual conference, it's clear artificial intelligence (AI) now plays a larger role for the company than ever before.
Whether it's the integration of natural language prompts and digitization of documents in Appian 22.3, or new documentation capabilities for the platform's own language SAIL, attendees have been treated to a buffet of AI options. Indeed, there's a real sense that Appian is angling to make itself the go-to platform for AI usage among firms that aren't yet sure if AI is for them, or otherwise consider it too risky in its current form.
Speaking with customers and officials alike, there's a sense that Appian's tender approach to integrating large language models (LLMs) within its platform is going down well. Depending on who you talk to, one gets the sense this is seen as either a necessary precursor to a larger expansion into generative AI tools, or a natural extension of Appian's existing suite of AI and automation offerings.
Adam Glaser, SVP of engineering at Appian rebuffs my suggestion the firm has done a remarkable about-turn to point itself so fully towards AI adoption in the six months since Appian Europe. He also denies the newfound support for developers creating their own AI models is a response to the market.
"We've had AI in the product in various forms of fashions, for quite some time," he states, pointing to Appian's machine learning-based smart recommendations and its intelligent document processing. "That's just a progression of us looking at AI, not even anticipating the hype and interesting things you can do with that GPT-style AI. It's 'what's practical? What's actually really useful?'"
Appian's cautious optimism
Only time will tell whether this risk-averse strategy is likely to work, and whether Appian picks up pace to roll out generative AI solutions. There are, though, several indicators of an enthusiasm to see more of the technology at an executive level.
Every image used in the first day's keynote presentation was generated using the generative AI image model Midjourney, as ITPro was cheerfully informed by both Karina Buschsieweke and Malcolm Ross, director and SVP of product strategy, respectively.

In addition, the script for the keynote's introductory video was generated in ChatGPT, as personally overseen by Ross. "We did edit it a little," he admits. "It was a collaboration between AI and humans."
Beyond the clear AI enthusiasm, these decisions also act as a suitable microcosm for Appian's entire approach going forward. Buschsieweke and Ross, for instance, both note the output seen by conference attendees was the result of an iterative process involving precise natural language prompts.
Whether the end result was images of Toyota factories or leafcutter ants (both carried metaphorical weight in the proper context) none of the final images were without fault on the first Midjourney pass.
It's this precise experience that Appian claims that it aims to eliminate with its low-code approach to LLM training and input.
Despite all it's shown off in the conference, from natural language input with its Data Fabric to advances in process mining, this balance of fine controls without too much need for experience could be a hard needle to thread.
RELATED RESOURCE
The three keys to successful AI and ML outcomes
Democratized, operationalized, and responsible
It's promising, however, that Appian is approaching it as a low-code, user experience problem first and foremost rather than trying to iron out hallucinations or other foundational issues within the LLMs themselves.
"Our focus on generative AI in our product is really around having it embed inside the design time experience," Ross tells ITPro. "Because what you get back from it needs to be immediately refined, you'll find that it's not written quite right or interpreted [your prompt] wrong. So it's a very good complement to low-code design, where you get the initial result and you drag, move it around and tweak it to the final design."
More AI is waiting in the wings
There's also a sense much is left unrealised in Appian's current approach. Caution makes sense here, but it appears to have come at the expense of even more powerful functionality for systems such as process mining.
Buschsieweke says worries over generative AI hallucinations have dashed initial interest in integrating LLMs within the core solution.
"We had these discussions already… I wanted a chat for process mining, even before ChatGPT was released, a conversational interface with the user" she asserts. "But it was exactly these concerns: 'how can we make sure that the insights are actually reliable?' My perspective was that maybe we should just get started for now to see how it can work."
The second keynote, headed up by Appian co-founder and chief marketing officer Michael Beckley, comprised in-depth look at current and future AI features. As is standard for promises made in keynotes, the audience was shown a disclaimer
"This is what I believe today," Beckley announced to the audience. "This is what we believe today, and with a rapidly-changing field like AI, the product roadmap is subject to rapid change."
Appian has positioned itself remarkably well, in light of the AI competition. In staying relatively still while the AI market has rushed to innovate, it has counterintuitively come out on top in terms of its public image. It's an approach that lives or dies with how its customers take it. But the Appian platform is well-placed to deliver on its promises for enterprise AI.
A daily dose of IT news, reviews, features and insights, straight to your inbox!
Rory Bathgate is a staff writer at IT Pro covering the latest news on UK networking and data protection, privacy and compliance. He can sometimes be found on the IT Pro Podcast, swapping a keyboard for a microphone to discuss the latest in tech trends.
In his free time, Rory enjoys photography, video editing and graphic design alongside good science fiction. After graduating from the University of Kent with BA in English and American Literature, Rory took an MA in Eighteenth-Century Studies at King's College London. He joined IT Pro in 2022 as a graduate, after four years in student journalism. You can contact Rory at rory.bathgate@futurenet.com or on LinkedIn.
A daily dose of IT news, reviews, features and insights, straight to your inbox!
Thank you for signing up to ITPro. You will receive a verification email shortly.
There was a problem. Please refresh the page and try again.