Singapore launches new cyber security framework
The country is aiming to create a foundation to attract and develop talent in its operational technology cyber security sector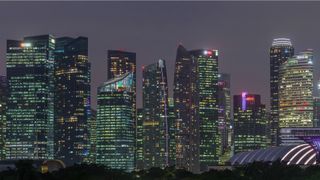 (Image credit: Shutterstock)
Singapore's Cyber Security Agency (CSA) has launched a new framework in a bid attract and develop talent for the emerging operational technology (OT) cyber security sector in the country.
The framework, named the Operational Technology Cybersecurity Competency Framework (OTCCF) and jointly developed by the CSA and Mercer Singapore, maps out the various OT cyber security job roles and the corresponding technical skills and core competencies required. It also highlights possible career pathways to show the options for vertical and lateral progression.
The OTCCF aims to guide OT and IT system owners so they can attract the right candidates, train them, and then map out their career pathways. It also helps training providers refer to technical competencies required by different job roles and then develop courses and certifications for local training needs. Lastly, OT professionals and job seekers can identify skill sets for cross and upskilling for a meaningful career in the OT cyber security sector.
First announced in 2019, OT cyber security talent development is one of the key missions in Singapore's OT Cybersecurity Masterplan. Prior to the OTCCF, OT system owners, including those from the Critical Information Infrastructure (CII) sector, take reference from the Skills Framework for ICT under SkillsFuture Singapore to identify skills gaps and develop training plans. However, this caters primarily for the ICT workforce.
RELATED RESOURCE
Global security insights report 2021
Extended enterprise under threat
"More granular breakdown of the OT cybersecurity capabilities and technical competencies is required to cater to the training needs of the OT engineers in terms of coverage and applicability, as training providers in the market find it difficult to roll out best-in-class certifications and courses that encompass different OT industry sectors without a reference to the common skill sets," stated the CSA, explaining the need for the new framework.
The CSA Academy is also developing an upcoming OT Train-The-Trainer (OT TTT) programme for the end of 2021 to build a pool of OT trainers who will be able to carry out fundamental OT cyber security courses aligned to the OTCCF.
In May, the head of Singapore's central bank warned that the country had to continue to depend on foreign workers to fill roles in its tech sector over the next few years. Managing director Ravi Menon said that if the inflow of foreign labour is tightened excessively, it could dampen the competitiveness of Singapore's financial sector as well as the prospects of creating good jobs in the future.
A daily dose of IT news, reviews, features and insights, straight to your inbox!
Zach Marzouk is a staff writer for IT Pro, Cloud Pro, and Channel Pro where he writes news articles and in-depth feature pieces primarily focused on Asia Pacific and the US. Aside from covering topics like security, privacy, worker rights, and startups, he also contributes to the IT Pro podcast and IT Pro 20/20.
After studying an undergraduate degree in Arabic and Spanish at the University of Leeds, Zach completed a journalism internship at The Argentina Independent in Buenos Aires where he wrote about the country's history, politics, and technology.
He then joined IT Pro in 2017 where he was introduced to the world of B2B technology as a junior staff writer, before he returned to Argentina in 2018, working in communications and as a copywriter. In 2021, he made his way back to IT Pro as a staff writer during the pandemic.
Contact him at zach.marzouk@futurenet.com or find Zach's thoughts (and more) on Twitter @ZachMarzouk
A daily dose of IT news, reviews, features and insights, straight to your inbox!
Thank you for signing up to ITPro. You will receive a verification email shortly.
There was a problem. Please refresh the page and try again.