Is WhatsApp a suitable tool for business?
Many businesses are using WhatsApp in an informal way, but is there a bigger opportunity for the messaging app?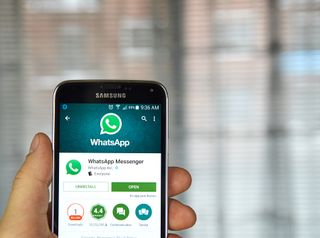 At the start of September, WhatsApp confirmed it was working on a suite of tools to help grow the number of business users on its service. It's recognition that WhatsApp's communication tools are growingly commonplace. Furthermore, it's a move that comes in the midst of a year in which WhatsApp has rarely been far from the headlines, in large part thanks to the security of its group messaging services. Unusually for a tech service, it's not the lack of security making the news either. In the case of WhatsApp, quite the contrary.
Earlier this year, for instance, the UK government reportedly ordered WhatsApp to come up with a way to give security services access to encrypted messages and accused WhatsApp of creating a "security blackhole" when it refused.
Ironically given the government's requests, another host of news stories this year has seen the Conservative Party's use of WhatsApp come to the fore. Members of the party of government were taking advantage of the secure communications it offered, while also looking to find a way around these same security features. As such, there was the 'leaked' message when foreign secretary Boris Johnson urged MPs to back incumbent prime minister Theresa May back in the summer. There, it was revealed that Conservative MPs have a WhatsApp group to keep in quick group conversation with one another.
From US presidential election campaigns through to parents at the school gate, WhatsApp has become a quiet phenomenon. And like most relatively fast phenomena, there comes the point where the people behind it work out which audiences they should be prioritising.
Groups
It's the group chat functionality that's seen organisations of all sizes looking to WhatsApp, primarily informally, to aid with business communication. Many organisations are using the service – or at least their employees are – but few have what they'd deem sufficient control over it. How, for instance, does a company approach staff setting up informal WhatsApp groups to coordinate conversations that the company itself is not privy to? And how can WhatsApp be seen as a friend to business, as opposed to a tool often perceived to aid plotting against one?
The service is a growing conundrum for many organisations. First launched in January 2009, and part of the Facebook asset group since a near-$20 billion acquisition back in early 2014, WhatsApp now boasts of one billion people using the service every day. That seems a little high – over 10% of the planet using the same app every day? – but it's clear that the userbase is very high, and very connected to it.
It's also clear that there are concerns – concerns WhatsApp's trying to respond to. As such, it announced back in September that it's developing tools for business, specifically a version of the app for small business, and a bigger, enterprise solution. This is set to bring in the likes of a verified profile – a la Twitter and Facebook – and "an easier way to respond to messages".
Furthermore, the company has noted how businesses are using the service and is seeking to adapt around that.
In its announcement of business services, WhatsApp teased features such as allowing businesses to update customers with notifications over the likes of delivery confirmations and flight times. The detail is missing at the moment, but WhatsApp is conducting a closed pilot scheme (that you can apply for here), and more details are expected in 2018.
It does seem a logical gap, to use WhatsApp to broadcast information. But is that what many use the service for and can they be persuaded to change? It's intra-company communication that seems to be the real opportunity here, and ways to keep staff in touch with each other quickly and easily.
Few solutions offer the intuitive feel of a good WhatsApp group and few solutions are as footprint-light on technology too. The challenge for the company is to find a way to harness that, in a manner that earns the confidence of big business. Not that big business isn't listening: organisations have long spotted the inefficiency of plain email to keep employees up to date. Bigger firms are turning to the likes of Slack instead, to centralise communications. That's the kind of service that keeps an already-stretched IT department involved, but effectively outsources the core of the operation. Somewhere, on a Powerpoint presentation, there's an operations director who's written words like 'synergy' and 'efficiency'.
But confidence may be the bigger hurdle. That's the big thing that WhatsApp has to earn. Can it persuade business to adopt its services formally, and work with them? And can it persuade the existing userbase that formalising business communications, and adding in a level of control, is a good thing?
2018 promises to be a big year for WhatsApp as it tries to evolve its work. There may just be some very worried competitors out there, too.
Stay up to date with the latest news and analysis from the world of cloud computing with our twice-weekly newsletter
Thank you for signing up to Cloud Pro. You will receive a verification email shortly.
There was a problem. Please refresh the page and try again.