Redefining the 'where' of hybrid work
As working patterns become more fluid, where are the best locations to work remotely and how will hybrid work evolve?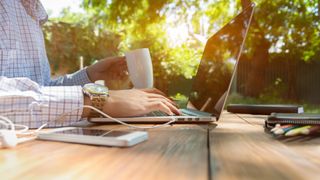 (Image credit: Shutterstock)
The impact of COVID-19 caused a huge impact on both our personal and work lives, with the latter seeing the normalisation of working from home (WFH), as well as remote and "hybrid" methods of working.
RELATED RESOURCE
How to do hybrid work right
Overcoming challenges in the transition to hybrid work
As much as WFH wasn't a new concept, the pandemic was a significant driver in reshaping the working world, with many employees voicing that remote working is something they'd like to continue to do beyond COVID-19. But with some businesses reliant on employees working from a particular location, it's clear there's a need for a reevaluation and blending of where employees work moving forward.
According to Statista, the percentage of people working from home in the UK in 2020 was 4.7%, equating to 5.64million. During the peak of the pandemic, that figure was 47.3%, according to a study by the University of Southampton, with almost three quarters of employees working from home on occasion in the 18 months after the first lockdown.
This "occasional" working from home paved the way for today's practice of "hybrid working", with businesses and employees seeing the benefits of a reduction in commuting, going paperless, and increased managerial trust.
The cost of working crisis
The UK is home to some of the most expensive desk spaces, according to figures from Instant Offices, which found the average office space costs £150 and £1500 per month, with London desk space costing £513. The most expensive country for hot desking, according to Coworking Insights, is Monaco, with desks costing £319 per month, while the most expensive city is New York, with desks costing £772 per month.
The cost of living, and property prices, significantly influences these prices, with four of the top ten cities with the highest average desk prices based in Switzerland, including Basel, Berne, Lucerne, and Zurich. Four of the top ten, too, were based in California, including Encinitas, Santa Monica, San Francisco, and Sunnyvale.
Having identified the top 100 best destinations for work, meanwhile, Remote awarded the top spot to Toronto, followed by Madrid and Auckland. London ranked 78th in this survey, which used a range of factors including internet access, quality of life and the cost of living. It shows that while using co-working spaces may seem an attractive proposition for London-based workers, it's actually more appealing in a host of other locations across the world. It also suggests workers need not be bound to the city, now they have the freedom to live and work in more remote parts of the UK.
London was ranked the 78th best destination for work in Remote's latest index
"London has something for everyone – if you can afford it," the index says. "This sprawling city is home to people of every nationality, so remote workers of all backgrounds fit right in. You'll never be far from Wi-Fi or interesting places to set up your laptop. This historic city is rich in tradition but is also on the cutting edge of culture and technology. Of course, the downsides of living in London are big-city problems: a high price tag, traffic, and crowding. And while the city itself is beautiful, it's not known for its weather."
"For a long time, workers were restricted to living near major urban hubs if they wanted to access the best job opportunities," adds Remote's CEO and co-founder, Job van der Voort. "The freedom to work from anywhere opens the door for employees to choose their home – or travel – without compromising their work. With so many possibilities, our interactive ranking tool aims to find the perfect destination for everyone based on what they value most."
Building bridges
According to the Microsoft 2021 Work Trends Index, 66% of business leaders say their company is considering redesigning their office space to support hybrid working. Nearly three-quarters (73%) of employees, too, want flexible working options to become permanent.
Alongside affording additional freedom to workers, a hybrid approach guarantees human contact is maintained. "Bumping into people in the office and grabbing lunch together may seem unrelated to the success of the organisation, but they're actually important moments where people get to know one another and build social capital," says Microsoft's senior principal researcher, Dr Nancy Baym, who's studied social connections for decades. "They build trust, they discover common interests they didn't know they had, and they spark ideas and conversations."
Not entirely dismissing the office is crucial, Claire McCartney, senior resourcing and inclusion adviser at CIPD, adds. "We have seen some employers investing in office refurbs so they're more conducive to collaboration, teamwork and blue-sky thinking," she explains, "which is what most people have said they'll be coming in for."
A hybrid approach offers flexibility as well as the opportunity for in-person collaboration
RELATED RESOURCE
How to do hybrid work right
Overcoming challenges in the transition to hybrid work
Technology that allows efficient remote working is the primary focus for businesses now, but as Adam Seamons, systems and security engineer at IT firm GRC International Group, points out, ergonomics is also critical. "While the technology is largely in place to support remote working, it's the human requirement that can be difficult," he says. "To be comfortable and productive, a remote working location should offer appropriate desk space and seating. Phone calls can also be difficult in noisy environments. A coffee shop may have some appeal for remote working, however, they generally don't provide the same quality of seating required for lengthy periods of computer work."
Application overload
Businesses have been evolving their use of digital tools to foster greater collaboration for decades. This technology-first approach has in some cases, however, inadvertently led to the erosion of efficiency, with teams fighting to manage the portfolio of tools they use rather than innovating with colleagues.
Indeed, Qatalog's Workgeist report speaks volumes, concluding 69% of respondents found it challenging to find the information they needed, with 63% often adopting unauthorised tools, because they're easier to use.
"Most leaders now see tools like Slack and Zoom as essential to day-to-day operations," says Tariq Rauf, founder and CEO of Qatalog. "Sometimes, however, these remote tools are actually the cause of unnecessary stress and chaos, because they're not designed to work together and they're constantly competing for our attention through a cacophony of alerts.
"They're also fuelling an 'always on' mentality that's costing employees' wellbeing and harming their productivity. As they plan for the future, business leaders must take a considered approach to technology and recognise that it was freedom and flexibility that drove workers' productivity during the pandemic, not an army of apps."
For companies connecting their disparate workforces together, it's critical that location shouldn't affect the quality of work. Defining what hybrid working means for each business and employee, is essential to unlocking their potential and protecting against isolation, and the possible erosion of wellbeing. As we emerge from COVID-19, employers are beginning to consider work more as something you do than a place you visit.
This article was first published on 11 January 2022, and has since been updated.
Get the ITPro. daily newsletter
Receive our latest news, industry updates, featured resources and more. Sign up today to receive our FREE report on AI cyber crime & security - newly updated for 2023.
David Howell is a freelance writer, journalist, broadcaster and content creator helping enterprises communicate.
Focussing on business and technology, he has a particular interest in how enterprises are using technology to connect with their customers using AI, VR and mobile innovation.
His work over the past 30 years has appeared in the national press and a diverse range of business and technology publications. You can follow David on LinkedIn.