How coronavirus has accelerated the digital transformation of Britain's public sector
Offering support to the public via digital services has quickly become the new normal for government, health and social care bodies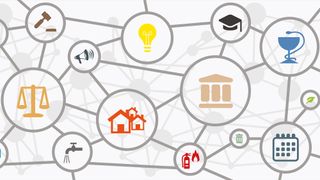 (Image credit: Shutterstock)
Digital progress in the public sector has been described as "painfully slow" in the past, but the challenges presented by the COVID-19 coronavirus pandemic and resulting lockdowns over the last couple of years have speeded up transformation plans. From the NHS to local councils, all areas of the public sector have been affected by the outbreak, but technology is enabling them to ensure their operations and services run smoothly.
Supporting the NHS
The NHS has faced unparalleled pressure during the pandemic. However, digital technology has allowed it to keep delivering essential services to millions of patients. BT is one company that has been working alongside with NHS Trusts across the UK to help them deploy digital tools to navigate through the coronavirus pandemic.
"As an example, our work with Guy's and St Thomas' NHS Trust on its Life Lines Project allows relatives to see and speak to their loved ones being treated in intensive care units via a 4G tablet," says Lucy Baker, technology director at BT. "Through the Life Lines Project, we've been able to deliver over 1, 000 tablets to over 100 ICU locations and there have been over 13,500 calls made – including one very touching marriage proposal."
Since the beginning of the pandemic, St Helen's & Knowsley NHS Trust has deployed telehealth and video consultation services from tech firm Refero across multiple departments. Rowan Pritchard Jones, medical director at the trust, says: "The huge successes of our pilots in the Stroke Review and Cancer Drains Outreach services have been witnessed by our staff in other departments, who now want to benefit from a telehealth approach."
He thinks that telehealth has helped medical professionals to work smarter while keeping patients safe. "We might get around 100 calls a day from patients worried about their wounds, but video consultations have helped to determine that 70-80% of the time, a hospital visit isn't required," says Pritchard Jones.
"What is now really significant and puts us in a good position during the pandemic is that our patients, often suffering from long-term chronic illnesses, will benefit from avoiding exposure and unnecessary risks and strenuous journeys to hospital, by video consultations with their clinicians."
Looking to the future, Jones hopes this technology will increasingly be adopted throughout the NHS. He adds: "We are reaching the point where telehealth is becoming the norm rather than the novel, and COVID-19 has only helped to accelerate the adoption of such technologies across the NHS, by presenting a very real use case."
Transforming local authorities
Local authorities have also revved up digital transformation plans to support their populations. Knowsley, home to 7,000 vulnerable residents, created an application that enables people to request assistance or sign up as volunteers.
Councillor Jayne Aston, cabinet member for resources at Knowsley Council, tells IT Pro: "Knowsley is an area with one of the largest populations of 'shielded' people in the UK, with 6.2% of the population registered as such. The COVID-19 pandemic has had a big impact on the wellbeing of these people, with many forced to self-isolate alone and unable to access basic necessities."
She explains that the council had to leverage technology to overcome these problems and ensure that residents are sufficiently supported during this challenging time. Aston continues: "We turned to Mendix and its low-code platform to build a volunteer hub application in just 24 hours. The application enables residents to ask for assistance during the COVID-19 pandemic, as well as for residents, individuals or businesses to volunteer their time or services to support vulnerable people within the borough."
Since launching in March, the hub has logged 6,500 calls from residents requesting support or looking to volunteer. Aston adds: "The platform has enabled our local communities to rapidly come together at a time of need and support each other in everyday tasks such as food shopping, dog walking, arranging for prescriptions to be collected and delivered and 'check in and chat' calls."
RELATED RESOURCE
Seven leading machine learning use cases
Seven ways machine learning solves business problems
Swindon Borough Council has also seen tremendous demand for its services because of the crisis, and digital channels have been essential in ensuring residents can access them. Sarah Talbot, senior project manager and emerging technologies lead, says: "Our website and the services on it are built on the 'low code' Jadu platform, which is important as we had to act quickly. Some services saw rapid spikes in demand at the start of the pandemic.
"Free School Meal applications spiked 2,000% for example. And that sparked important digital work behind the scenes too. We undertook an accelerated trial of an RPA (Robotic Process Automation) piece and managed to reduce a 583 hour monthly task related to Free School Meals down to a 9.6 hourly monthly task (a 98.3% efficiency)."
She says the local authority has been repurposing knowledge and technology. Talbot continues: "For example, we took part of our machine learning, advanced data visualisations and route optimisation work originally developed for fly-tipping reports and applied parts of it to matching proximities of volunteers to those in need to support vital services, such as medicine and food deliveries."
Tech to the rescue
While the outbreak of Coronavirus has impacted all industries, it's clear that the public sector has notably felt the effects. Dale Peters, research director at TechMarketView, tells IT Pro: "It goes without saying that the NHS has been at the forefront of these challenges, but local authorities have faced significant resource pressures, and higher education is facing a drop in student numbers that will test the viability of some universities."
As a result, the public sector has had to adapt and innovate through the use of new technologies. "We have seen new digital services, particularly in healthcare, being introduced at a speed that would have been unthinkable previously," Peters adds.
"Social distancing and lockdown measures have necessitated the rapid uptake of digital tools to support remote working and citizen self-serve. We have also seen increasing interest in AI and RPA as organisations seek to maintain services with a reduced number of staff. The lengthy procurement processes, typical of the public sector, have been put to one side."
He thinks that COVID-19 will speed up cloud adoption and the acceptance of newer technologies in the public sector. Peter adds: "Notwithstanding the human and social cost of the coronavirus, the post COVID-19 world will be a very different place, and the way in which the public sector operates will be no exception."
The coronavirus pandemic is the biggest emergency we've faced in recent times, with the public sector particularly facing the worst effects. However, by embracing technology and accelerating digital transformation plans, they've been able to better support the public and are prepared for the future.
Get the ITPro. daily newsletter
Receive our latest news, industry updates, featured resources and more. Sign up today to receive our FREE report on AI cyber crime & security - newly updated for 2023.
Nicholas Fearn is a freelance technology journalist and copywriter from the Welsh valleys. His work has appeared in publications such as the FT, the Independent, the Daily Telegraph, the Next Web, T3, Android Central, Computer Weekly, and many others. He also happens to be a diehard Mariah Carey fan. You can follow Nicholas on Twitter.