How LSE is using digital technology to shape the future of higher education
COVID may have accelerated digital transformation projects, but progress doesn't have to stop there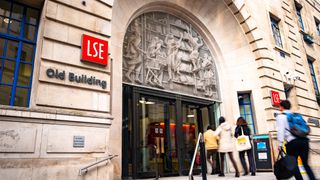 (Image credit: Shutterstock)
Laura Dawson, CIO at the London School of Economics, has spent the past 12 months establishing a range of collaborative systems and services to help people login and carry on learning from home. It's been a challenging 12 months, but it's also been an intense learning period for Dawson and her team.
In just a matter of days last spring, Dawson and her IT colleagues secured remote links, sent out Windows 10 laptops, and established cloud-based services such as Zoom for the provision of online education. Twelve months on and these technologies are helping Dawson, her colleagues in the IT department and the educators and students they serve to work productively and effectively.
So how did Dawson support her organisation during its shift to online learning and what are the key issues that academic organisations will need to consider as they use digital technology to help shape the future of education? In many ways, she says LSE was in a fortunate position – while COVID-19 undoubtedly accelerated digitalisation, the process was already underway.
Internal expertise
Dawson also says LSE is lucky to be able to draw on the experience of Dilly Fung, a forward-thinking pro-director of education who is keen to explore new and engaging approaches to teaching. Fung's research around the connected curriculum aims to find ways to foster strong relationships between students and educators.
"So that whole-of-life learning approach was very much the kind of thing we were looking at when we were exploring the future of education," says Dawson. "We were already thinking about, 'What does digital education look like? What does research-based education look like, how will we service that and how will that look in the longer term?'"
When lockdown came, Dawson and her senior colleagues had the opportunity to answer some of those questions. "That was all about getting the teaching going as quickly and effectively as possible," she says, reflecting on the rapid adoption of online learning methods.
Once again, she says LSE had a number of advantages: the institution had already established VPN connections to support secure remote access. LSE had also implemented the collaboration platform Microsoft Teams. Two weeks prior to lockdown, the IT team was able to ask every department to work at home as a beta test for socially distanced working.
RELATED RESOURCE
Five lessons learned from the pivot to a distributed workforce
Improve employee experience and support IT teams for a more adaptable distributed workforce
"We asked everybody to go and test it and come back to us and tell us what they thought: How did it work, what worked, what didn't? That gave us quite a lot of insight into the sort of things that we'd need," she says.
"There was a weird moment days before lockdown where just about everyone in the IT department was updating Windows 10 machines and getting them sent out to staff. But we managed to work very well with our third-party partner; we managed to get the machines that we needed, and we dished them out."
Choosing the right software
The second key element of technology provision involved the establishment of the online-learning environment. Cloud technology played a crucial role here: While the institution was already using Teams for collaboration, it decided to use Zoom as its video-conferencing platform for online lessons.
"We did that because we brought the right people into the room within the first week of the pandemic," says Dawson. "We went with Zoom because that is the best way for us to get our students online and give them a great experience. So we'd done the due diligence, but we did it really quickly – and that just freed up the discussion."
LSE also used the online-learning platform Moodle to help deliver assessments. Once again, the team took a similar approach – they made a decision to move the assessment process into the cloud and brought key people together to make decisions and implement systems.
"We created a small sub-team and they went off and did it," she says. "They got the technology implemented by almost working like a start-up. There's still more work to be done around honing our approach, but they did it and we were able to deliver assessments."
Taking the next steps
This rapid but successful digital transformation process has helped LSE and Dawson to develop a much stronger sense of what the future of higher education might look like. What she envisages is a hybrid form of teaching that's different to before the pandemic. Yes, face-to-face learning will remain but the use of online lessons will also rise.
"What we've proven is that education can take place online – what we maybe need to think about now are our skills for maintaining that," she says. "I think hybrid just needs to be really good. And a successful hybrid is where you are bringing people into the classroom with people who are not in a classroom together in a really equitable way."
It's also important to recognise that online learning remains a constant work in progress. During the first lockdown, Dawson's team had to pivot to provide socially distanced IT support to people who weren't in the same location and who were trying to deliver online learning.
As social-distancing restrictions eased, conversations turned to the hybrid teaching environment and the blend of offline and online teaching methods. There was a significant piece of work around turning physical teaching spaces into COVID-safe spaces with fewer seats. For those who were still unable to attend in-person, the IT team has continued to provide online teaching.
Dawson says it's important to recognise just how far the move to online learning during the coronavirus pandemic has helped to boost the electronic educational experience, particularly in the case of asynchronous teaching, where teaching materials are posted online and learners work through them in their own time.
The future of education, says Dawson, might involve a whole range of emerging technologies, from virtual reality through to even more advanced forms of educational engagement. She refers to an example from the Imperial College Business School, which became the first institution to deliver live lectures via hologram.
Dawson says this technology is "really cool" and provides a way to get more people together when international travel is impossible. Yet it's also important to recognise that these technologies are at the cutting edge and are far from replacing traditional forms of learning or even video-conferencing systems.
For many institutions, such as LSE, the coronavirus pandemic has represented a burning platform for the adoption of e-learning. For Dawson, the priority now is to make the most of the technology that's been implemented and to build on those gains.
"I don't necessarily think there's any special magic technology that we need in order to create fantastic online learning. I think confidence is the key thing; people now know that they can actually deliver education online," she says.
Get the ITPro. daily newsletter
Receive our latest news, industry updates, featured resources and more. Sign up today to receive our FREE report on AI cyber crime & security - newly updated for 2023.