Salesforce offloads Zoom shares, but how much did it make?
Salesforce dumped 2.8 million shares in Zoom, per a regulatory filing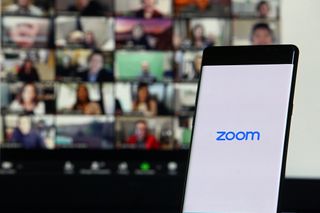 (Image credit: Zoom)
Salesforce sold all of its 2.8 million Zoom shares in the second quarter, according to a regulatory filing published by the SEC.
The company invested a whopping $100 million in the video-calling software vendor's IPO last year and has more than tripled its investment since then.
When Salesforce invested last year, Zoom made its public market debut at $36 a share. At the time, the head of Salesforce Ventures John Somorjai said the company's goal was to remain as a long-term investor in Zoom. However, the Salesforce lasted less than a year, though it remains unclear when exactly in the second quarter Salesforce exited its position as an investor in Zoom.
The use of Zoom's video-calling software skyrocketed as a result of the coronavirus pandemic and its stock price has continued on an upward trend ever since.
Zoom's lowest closing price during the quarter was on April 7 at $113.75 per share, while on June 25 it closed at its highest price, $259.51 per share, a 620% leap since its IPO. However much Salesforce did make should be included in Salesforce's upcoming earnings report.
Salesforce dumped its 2.2 million remaining shares of Dropbox during the quarter too. Closing prices during the quarter were between $17.70 per share and $23.65 per share, suggesting Salesforce gained 12.6% on its Dropbox investment since the company's 2018 IPO.
Salesforce is no stranger to investing in software companies and helping them accelerate growth as they debut on public markets. Most recently, Salesforce owned stakes in Dropbox, Lyft, SurveyMonkey, Twilio and Zoom. The company still retained 11% of its shares in SurveyMonkey at the end of the second quarter, though it's the only holding Salesforce listed.
A daily dose of IT news, reviews, features and insights, straight to your inbox!
A daily dose of IT news, reviews, features and insights, straight to your inbox!
Thank you for signing up to ITPro. You will receive a verification email shortly.
There was a problem. Please refresh the page and try again.