What should tech CEOs do in an economic crisis?
With organisations taking a hit from coronavirus and a recession on the horizon, now is the time for business leaders to take action to firm up their position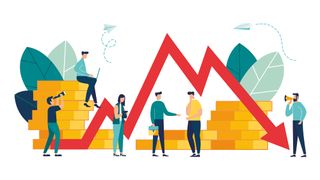 Tech firms often exist to provide services to other organisations – and when their clients struggle, so can they. What's needed in difficult times is a cool head and sensible planning. But what does a cool head look like and what does sensible planning mean at a time when many aspects of the short- and medium-term future are unknown?
Maintain focus – external and internal
It feels like there are few options available right now, but don't stop looking for them, and don't stop thinking tangentially about where they might be. As well as ensuring the services that produce profit remain up and running, firms might also consider investing where they can in infrastructure, back office or other support areas of the business. This may seem like a strange recommendation given many budgets are under review or frozen, but IT leaders should be making the case for what they will need to put their organisation in the best position as we come out of the current crisis.
While cutting staff might seem like an easy win, it's also not necessarily the best move, James Berry MBA programme director at UCL cautions. This strategy, he tells IT Pro, can reduce flexibility and impact the ability to respond to growth opportunities in whatever the new normal turns out to be. He says it's worth asking if you can "keep employees engaged with building new capabilities, addressing the issues or dream enhancements you never had time for in the past" rather than slashing head count.
In the world of business, others' difficulties can be turned to your advantage. Andrew Duncan , partner and UK country head for Infosys Consulting, points out: "Leaders with the appropriate strategic vision may already be monitoring for signals of an economic rebound, and could potentially make an immediate shift to M&A to acquire assets that others are forced to discard."
Keep positive, keep in touch and reassess everything
If a firm has been in a difficult position for weeks now, there may be a feeling setting in that survival isn't possible. But taking the long view and keeping positive is important. "It is the companies that not only focus on cost management, but also use the recession for more strategic action, that will position themselves for the long-term," Duncan tells IT Pro.
Part of this is keeping in touch with customers and making sure networks are not neglected. Networks aren't just business forums and membership bodies, but also informal groupings. Don't think yours is the only organisation that's uncertain about the future. Reaching out, providing support where that's appropriate, sharing information and concerns – these can all be things that might help forge new alliances that could stand you in good stead for the future.
It's also worth looking at the totality of your work and taking some positive, forward-looking strategic decisions, rather than trying to do everything in a "business as usual" way. Berry suggests organisations redeploy staff to speed the completion of projects that have the highest potential to be paid, for example.
Jarod Greene, general manager at the TBM Council suggests examining vendor spend. "Identifying opportunities to consolidate vendors that provide similar services, redeploying unused purchase orders and cancelling all non-essential maintenance can drive short term savings", he advises and also advocates taking a look at cloud spend. "With strong governance and cost optimisation practices, organisations can eliminate 25% to 30% of wasted cloud spend," he says.
It's not too late to start
Even for tech firms that have not yet taken a long hard look at themselves, it's not too late. But the greatest benefits will come from doing this sooner rather than later. Ask yourself, says Berry, "Can you survive the near term, say three months? If so the changing landscape may also uncover growth opportunities for some tech firms."
But whatever you do, and whenever you do it, it is important to be reasoned not rushed, says business coach Michael Waters. "Planning in a panic without a clear and accurate picture of the firm's current state, and a high level situational awareness of what's out there now and what's probably coming will end badly," he says.
RELATED RESOURCE
The IT Pro Podcast: Can tech survive Coronavirus?
COVID-19 is sweeping the globe, but how much will it affect the tech industry?
Waters advocates firms being able to identify and then seize what he calls "rapid pivoting opportunities" at any time – not just in the current situation. He gives the example of car manufacturers becoming ventilator makers and drink and perfume makers switching to sanitisers. Achieving this, he says, "requires a mix of active surveillance, opportunity spotting, imagination and surge-readiness – being ready, able and willing to pivot at the drop of a hat".
In the end, CEOs of tech firms face many of the same conundrums as those in other sectors right now. Without a strategy for dealing with – and making the most of – both the present and the future, survival might be just a matter of luck. With a strategy, tech firms can consolidate and continue to function today, and potentially grow in the future.
Get the ITPro. daily newsletter
Receive our latest news, industry updates, featured resources and more. Sign up today to receive our FREE report on AI cyber crime & security - newly updated for 2023.
Get the ITPro. daily newsletter
Receive our latest news, industry updates, featured resources and more. Sign up today to receive our FREE report on AI cyber crime & security - newly updated for 2023.
Thank you for signing up to ITPro.. You will receive a verification email shortly.
There was a problem. Please refresh the page and try again.