Advertisement Feature
Choosing the right digital transformation partner
In a rapidly changing business and technology landscape, it pays to have deep knowledge and strong connections on your side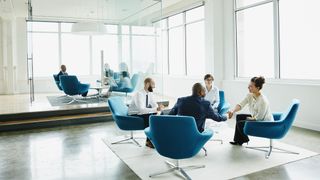 (Image credit: Getty Images)
Let's face it, the new generation of business technology can be confusing. With the pace of change seemingly moving faster than ever before, it can feel like there's a new breakthrough every six months – and if you listen to all the hype then it can lead you to believe that you'd better be an early adopter, otherwise your competitors are going to leave you in the dust.
From 5G to the internet of things (IoT), artificial intelligence (AI) to edge computing and everything in between, there are some truly game-changing use cases coming to the fore. But, as with anything else, just because it's there doesn't mean you need it – and it could well be that a different solution would fit your situation far better.
Understanding the challenges facing your business now, and what it wants to do in the future, is vital to understanding what technologies you should be adopting. And there's no better way to navigate these questions than with a seasoned and innovative partner, like BT. We provide an effortless end-to-end service, taking care of every detail from ideation to execution and managed service. We provide our customers with a hassle-free experience throughout the project lifecycle.
Surveying the landscape
Before considering embracing any new technology, it's essential to look at what it actually does – not just what its cheerleaders say it does – and how others are using it. Noting here that outcomes, not the tech itself, are the key: it's important not to be constrained by what's already happening in any given sector. A use case in one industry could provide a useful blueprint for another.
For example, while cloud is mature at this point, the way it is used has evolved over time with organisations moving on from simple Software as a Service (SaaS) applications and storing data in the cloud, to more targeted solutions. Analyst firm Gartner predicted in late 2022 that one of these – industry cloud platforms – would become a key trend in 2023, adding that by 2027 more than 50% of enterprises will be using them as part of their digital transformation strategies.
Another technology that has come to change the way multiple industries work is IoT. Only a few years ago its typical use cases were limited either to the consumer realm in the shape of smart thermostats and connected doorbells, with some industrial applications also put forward – normally with a focus on robotics in manufacturing.
Fast forward to today and there are concrete examples of IoT being used to improve safety and efficiency far beyond the idea of preemptive maintenance. One of these is a BT project in the Yorkshire Dales demonstrating the powerful benefits this technology can provide for not only business, but communities too. Combining smart IoT sensors and mobile network technology, BT is enabling Yorkshire Water to benefit from remote water quality monitoring.
The data from the monitors is transmitted by a new EE 4G mast, allowing scientists and engineers to proactively select the best available water sources for transfer to the water treatment works. Weather, temperature, and the condition of the moorland can impact the quality of water sources, as they can influence things like the amount of peat found in the water.
Yorkshire Water says the better the water quality is at source, the less energy it takes to process at the treatment works, reducing its carbon footprint and supporting its net zero carbon ambition.
Not only is the new project enabling higher quality water to enter the treatment works (which in turn requires less processing), but the new 4G mast is also providing connectivity for 1,000 residents, holiday homes and local businesses in the area too – demonstrating how technology can provide multiple benefits and be a force for good.
Finding the right partner
Being clear about what you want to achieve as a business and gathering an understanding of which technologies could help, the next step is working with your connectivity partner to bring these plans to life.
It pays to work with a partner who has a solid understanding of your needs and the right experience handling projects of a similar size and scope to yours, even if it's not exactly the same. You're also not looking for a partner who says they have the one revolutionary product that can solve all your problems, but one who can leverage their own core strengths and knows how to bring in other suppliers and talents when needed.
"When we talk about digital transformation, it's not only about the tech. It's a case of bringing together people, processes and technology to create an end-to-end solution. One that adapts to meet the business' outcomes. This is the standard that our customers expect – and it's why BT's partnerships are so valuable in this space." Alex Foster, Director for Division X, part of BT's Business unit, tells ITPro. "Bringing the right partners together creates a complete digital ecosystem for our customers, and it's something we've spent time on with our Partner Advisory Board (PAB), which includes PwC from the consultancy perspective, Microsoft from the cloud space, Ericsson from an infrastructure perspective, and Atos from an application perspective," she adds.
An example of how this works in practice is BT's work with the Port of Tyne in South Shields to help fulfil its plans to become a world-class smart port. BT used Ericsson technology for the installation of a hybrid fibre, 4G and 5G private network on the site, which will form a key part of the port's Tyne 2050 strategic plan.
Moving ahead with confidence
While digital transformation may be a journey rather than a destination, it's made up of defined projects, each with their own objectives, budgets, and roadmaps, so it pays to have a knowledgeable co-pilot like BT to get you there.
Whether your strategy takes a 50-year view or a more traditional five year one, having a partner that understands your business and the challenges it faces is the key to success. BT, with its long pedigree as a business in its own right, is the digital backbone of more than a million businesses and public sector organisations across the world. Combining secure, resilient networks with unrivalled tech partnerships, the company exists to help customers unlock the value of their digital transformation, with expert support every step of the way.
"Digitisation starts with a strong digital foundation – the network is the bedrock on which you build and evolve a business. This will enable you to stay agile and unlock new business models and opportunities so you can respond to the changing market," added Foster. "At BT, our focus is always the customer and what's right for them. The future is now and we're here to help them make the most of it."
A daily dose of IT news, reviews, features and insights, straight to your inbox!
A daily dose of IT news, reviews, features and insights, straight to your inbox!
Thank you for signing up to ITPro. You will receive a verification email shortly.
There was a problem. Please refresh the page and try again.