What is the EU's Digital Markets Act (DMA)?
The European Commission is hoping to open up platforms and break down big tech's most egregious monopolistic practices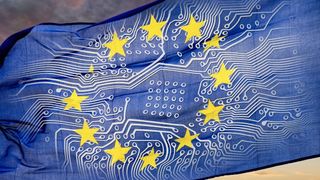 (Image credit: Getty Images)
As the internet has evolved over the last 30 years, it's become clear the online world has consolidated around several gigantic tech companies that control access to markets through which other organisations trade. App stores typify this, with critics accusing the likes of Google and Apple of running monopolies, although the concerns run far deeper than mobile apps.
Everything considered, there's a widespread feeling that big tech monopolies have stifled competition, with the current digital landscape unfair on smaller businesses. To that end, the European Union (EU) has proposed a Digital Markets Act (DMA) to serve as a remedy against this growing trend.
Why was the DMA introduced?
It's hard to imagine using the internet without interfacing with the likes of Google, Facebook, or Amazon. But the dominance of these tech giants hands them a massive advantage over smaller competitors because they also shape the boundaries through which it's possible to do business online. It can also be said that such huge companies can have a major influence on how our democracies operate, as well as wider society, largely through influencing decisions users make, as well as social and buying habits.
This increasing influence on our digital lives has forced the EU to bolster the existing regulatory landscape governing digital services by introducing the Digital Markets Act (DMA) this year, alongside the Digital Services Act (DSA) in 2019, which collectively form part of a modernised regulatory fabric.
What does the DMA propose?
The act itself is complex and multi-faceted. The DMA will ban certain practices employed by larged platforms that serve as gatekeepers, according to the EU, and will allow the European Commission to instigate market investigations into potentially non-compliant behaviour.
The legislation will focus on large companies providing so-called "core platform services" including social media platforms and search engines, will those falling under the scope having a market capitalisation of at least €75 billion or an annual turnover of €7.5 billion.
What the EU deems as a "gatekeeper", meanwhile, are those which provide services such as browsers, messengers or social media, which have at least 45 million monthly end users in the EU and 10,000 annual business users.
There are also proposals to make companies running popular messaging services such as WhatsApp, Facebook Messenger or iMessage, open up those services to smaller platforms. This would give users much more choice to use the providers they want to exchange messages with one another on essentially the same platform.
The DMA also proposes that combinations of personal data can only be used for target advertising with a user's unambiguous and explicit consent. It comes alongside a requirement to allow users to freely pick their internet browsers, virtual assistants or search engines.
How will the DMA work in practice?
The act was agreed in principle at EU level in March 2022, and it's set to come into force from spring 2023.
In practice, companies in the leagues of Meta, Apple, Alphabet, Microsoft and Amazon, among others, will be scrutinised by this piece of legislation. It'll mostly apply to these 'gatekeeper' companies, with the aim of promoting fair conditions on other businesses that use the platforms they own.
Should a vendor not comply with the rules, the European Commission can impose fines of up to 10% of a company's total worldwide turnover in the preceding financial year, or 20% in case of repeated infringements. These penalities are similar to those that can be issued under the General Data Protection Regulation (GDPR).
There are three significant provisions that promote that fairness. The first is to allow other businesses to inter-operate with the gatekeeper's own services in certain situations to prevent a monopoly forming and locking consumers into using one provider. Secondly, business users of gatekeeper platforms will be granted access to data they create while using the gatekeeper platform.
Finally, organisations that use gatekeeper platforms can offer and close contracts with their customers obtained through the gatekeeper's platform, outside of that platform. This proposal primarily affects Apple and Google's business models for the App Store and Google Play Store respectively, through which these firms have been known to take up to 30% of the sale price in commission.
How will the DMA benefit businesses?
When it comes into force, the DMA will block massive gatekeepers from promoting their own products and services on their platforms in favour of fair competition with third parties. Smaller businesses are likely to get more visibility for their offerings as a result.
Businesses may also benefit from being able to reject Apple and Google's identification or payment services in favour of their own. This, however, could require consumers to embark on complex logins to access business users' preferred payment providers, compared with the relative ease of Google Pay or Apple Pay.
What does the DMA mean for big tech regulation?
Once the regulation is enacted, those "gatekeeper" companies will have three months to declare their status to the European Commission, then a two-month wait while they get confirmation from the Commission over their status. This means any potential battles between big tech companies and the EU might not start until the end of 2023.
Understandably, many tech firms won't like the proposals, as they'll seriously impact how they do business. Apple said, in a statement to AFP, that certain provisions were a cause for "concern" and that they would "create unnecessary privacy and security vulnerabilities for our users, while others will prohibit us from charging for the intellectual property in which we invest heavily". Google weighed in and told AFP that it too had concerns over "about the potential risks to innovation and the variety of choices available to Europeans."
Will the DMA achieve its aims?
As far as the European Commission is concerned, its main worry lies in achieving what it set out to do with the DMA. Chief among the potential issues is that big tech companies simply refuse to comply with the provisions, and account for any punitive measures due to potential violations into the cost of doing business. Moreover, the EU may not have sufficient enforcement tools to remedy the problems they encounter.
For example, in March this year, Apple refused to comply with an order to allow developers of dating apps a choice of in-app payments. Instead, it continued to be hit with a series of antitrust fines until it reached the maximum possible €50 million penalty. The DMA aims to avoid this situation by paving the way for much bigger penalties for repeat offenders.
If the EU gets this right, the DMA could play an important role in creating conditions for better interoperability and more user-friendly platforms across the internet ecosystem.
Get the ITPro. daily newsletter
Receive our latest news, industry updates, featured resources and more. Sign up today to receive our FREE report on AI cyber crime & security - newly updated for 2023.
Rene Millman is a freelance writer and broadcaster who covers cybersecurity, AI, IoT, and the cloud. He also works as a contributing analyst at GigaOm and has previously worked as an analyst for Gartner covering the infrastructure market. He has made numerous television appearances to give his views and expertise on technology trends and companies that affect and shape our lives. You can follow Rene Millman on Twitter.