Just 3% of women plan to embark on careers in tech
Male-dominated culture and little information put women off tech sector, says PwC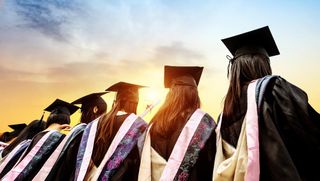 Technology's gender gap starts at school and widens as girls grow up, according to new research shining a light on the issues plaguing women in tech, against a backdrop of claims of Silicon Valley sexism.
IT and tech roles appeal to just 27% of female students, while tech careers are the first choice of just 3% of the 1,102 women currently taking A-levels or doing a university degree, according to accountancy firm PwC.
In contrast, 62% of the 1,074 men PwC surveyed said they would consider a career in tech, with 15% making the industry their first job priority, found the report, called Women in tech: Time to close the gender gap.
But nearly two-thirds of the female respondents told PwC they were put off the tech sector because they have received too little information about what it's like, while a quarter said tech is too male-dominated.
While 33% of male respondents said someone has suggested they enter tech, just 16% of women said the same. Only 19% of all students said such a recommendation has happened at school.
Sheridan Ash, women in technology leader at PwC, said: "It's worrying that such a low number of young females aren't considering technology as a career option and this is largely because no one is putting it forward as an option to them.It's hard for girls to aspire to what they can't see - we need to shout louder about the great women already working in technology and work harder to promote more women to senior and visible positions."
PwC's survey found that women cared more about the impact of their work than salaries or work/life balance. Ash said: "Highlighting the role technology plays in solving the world's important problems could be the differentiator that sparks wider female interest in the sector. I have seen first hand the positive real-life impact technology can have on a wide-range of areas."
The accountancy firm said girls need more interaction with technology subjects (under STEM) before they choose their GCSEs.
The report added: "More interaction with technology companies at school level will benefit both females and males and help to grow the pipeline of technology talent that we need in the UK. The key is to ensure that technology is presented to girls as a potential career choice by people in positions of influence: today it's hardly even mentioned to them as a possibility."
Other recommendations included a need to provide "alternative routes", like apprenticeships, into the tech sector for women who haven't necessarily studied STEM subjects, and to highlight more women tech role models, after 83% of women couldn't name anybody who had inspired them to pursue a technology career.
Tech companies in general should provide a better working environment for women too, PwC said, amid accusations that the technology sector is biased against women.
Uber is conducting an investigation into a former employee's claims that systemic sexism exists at the ride-hailing firm - Susan Fowler said, amid other accusations,that during her time as an engineer she was propositioned by a manager,and that HR refused to seriously discipline the man because of his strong performance record.
Meanwhile a former Tesla engineer has filed a lawsuit claiming Elon Musk's car firm is mired in a culture of "pervasive harrassment", allegations Tesla said it has investigated and found to be unsubstantiated.
A daily dose of IT news, reviews, features and insights, straight to your inbox!
A daily dose of IT news, reviews, features and insights, straight to your inbox!
Thank you for signing up to ITPro. You will receive a verification email shortly.
There was a problem. Please refresh the page and try again.