Uber president quits after just six months
Jeff Jones leaves the scandal-mired company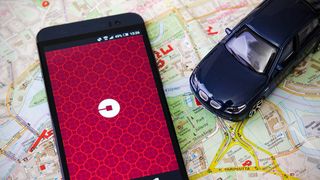 Uber's president has quit the company after just six months, saying that working there doesn't fit with his beliefs.
Jeff Jones' departure is directly linked to the widely-reported cultural problems at Uber, according to Recode, which broke the news. These includeallegations of endemic sexism, regulatory disputes and a series of ongoing skirmishes with disgruntled drivers.
"It is now clear," Jones said in a statement to Recode, "that the beliefs and approach to leadership that have guided my career are inconsistent with what I saw and experienced at Uber, and I can no longer continue as president of the ride sharing business."
Joining the company from a successful stint at retail giant Target, Jones's brief was both to operate the company's main ride-sharing business and to help repair its image. By this point, Uber had already drawn negative attention over the treatment of its drivers and been involved in multiple spats with governments and taxi drivers' unions.
Following his appointment, the situation continued to decline. Former Uber engineer Susan Fowler penned a lengthy blog post alleging widespread institutionalised sexism within the company, which was followed by some high-level departures over similar issues.
Uber confirmed Jones's departure in a statement. "We want to thank Jeff for his six months at the company and wish him all the best." CEO Travis Kalanick added that the decision may have been spurred by his announcement that he would be looking to hire a new COO, in order to help put the company back on course after its troubled year.
"After we announced our intention to hire a COO, Jeff came to the tough decision that he doesn't see his future at Uber," Kalanick said in a note to staff shared on social media.
A daily dose of IT news, reviews, features and insights, straight to your inbox!
Adam Shepherd has been a technology journalist since 2015, covering everything from cloud storage and security, to smartphones and servers. Over the course of his career, he's seen the spread of 5G, the growing ubiquity of wireless devices, and the start of the connected revolution. He's also been to more trade shows and technology conferences than he cares to count.
As reviews and community editor, he's responsible for leading IT Pro's wide-ranging product coverage, and is an avid follower of the latest hardware innovations. He's never happier than when tinkering with complex network configurations, or exploring a new Linux distro.
In addition to managing the IT Pro Panel and working with the community of IT leaders that make it up, he co-hosts the IT Pro Podcast, where you can hear him ranting about his love of strange gadgets, his disdain for Windows Mobile, and everything in between.
You can find Adam tweeting about enterprise technology (or more often bad jokes) @AdamShepherUK, or you can email him at adam.shepherd@futurenet.com.
A daily dose of IT news, reviews, features and insights, straight to your inbox!
Thank you for signing up to ITPro. You will receive a verification email shortly.
There was a problem. Please refresh the page and try again.