Travis Kalanick seeks COO to help him run Uber
Kalanick admits he needs help to "write the next chapter"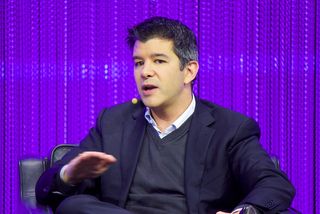 After a string of incidents that have damaged Uber's image in the eyes of the public, CEO Travis Kalanick is now seeking the help of a new partner to help him manage the troubled ride-hailing firm.
First reported by Recode, Kalanick is looking to hire a COO to help run the company.In a short statement released shortly afterwards, Kalanick said: "This morning I told the Uber team that we're actively looking for a chief operating officer: a peer who can partner with me to write the next chapter in our journey."
The decision comes as Uber faces a crisis both in terms of its public image, but also its morale within the company. In January the #DeleteUber campaign went viral on Twitter after Uber was accused of taking advantage of a taxi strike at JFK airport following President Donald Trump's executive travel ban, by dropping surge pricing on Uber rides.
Uber was then forced to launch an internal investigation after former employee Susan Fowler published a blog post alleging systemic sexism and a practice of covering up sexual harassment. This led to the departure of engineering head Amit Singhal after claims of improper conduct against women during a former role at Google.
As if the situation could not get any worse for Uber, Kalanick was then caught on video arguing with an employee over falling wages, an exchange that ended with Kalanick swearing at the driver.
Who Uber will target remains to be seen, although it would make sense for Uber to bring in a female executive, at least to reassure the public and investors that there is a genuine effort to reform the company.
Uber has also yet to fill an empty board seat after Google's executive David Drummond left the company last year, and according to Recode, mostly female candidates are being considered as a replacement.
01/03/2017:'Ashamed' Uber boss filmed swearing at employee
As if Uber wasn't suffering from enough bad publicity from recent allegations of systemic sexism, its CEO has now apologised for swearing at an Uber driver who raised concerns over falling income.
Uber boss Travis Kalanick was hitching a ride inside a car driven by long-time employee Fawzi Kamel, when a heated exchange was captured by the car's dashboard camera, footage that Bloombergobtained.
With the CEO in his car, Kamel took the opportunity to confront Kalanick about Uber's falling fares and his shrinking income. A heated exchange then followed, in which Kalanick becomes increasingly irritable and dismissive of the driver's claims.
In the video, Kamel said: "You're raising the standards, and you're dropping the prices."
"We're not dropping the prices on Black," said Kalanick, Black being Uber's premium service. "We have to; we have competitors; otherwise, we'd go out of business."
"Competitors? Man, you had the business model in your hands. You could have the prices you want, but you choose to buy everybody a ride," added Kamel. The disgruntled driver then explained that recent business decisions to focus on low-end drivers has meant high-end premium drivers are struggling to secure an income.
"I lost $97,000 because of you," said Kamel. "I'm bankrupt because of you. You keep changing every day."
Uber has indeed cut fares for its Black service on multiple occasions since 2012, as much as 10% in a single price gouge, which has led to a reduction of earnings for long-time drivers.
"Bullshit," said Kalanick. "Some people don't like to take responsibility for their own shit. They blame everything in their life on somebody else." With that, Kalanick leaves the car and slams the door behind him.
Kalanick has since appologised for the content of the video, saying in a memo to employees: "To say that I am ashamed is an extreme understatement. It's clear this video is a reflection of me - and the criticism we've received is a stark reminder that I must fundamentally change as a leader and grow up. This is the first time I've been willing to admit that I need leadership help and I intend to get it."
Given Uber's position in the market is somewhat troubled by strong competition from the likes of Lyft, and smaller ride hailing services in other regions, significant price adjustments are understandable. But Kalanick's abrasive personality, coupled with recent allegations of systemic sexism within Uber, has given the impression of a company that does not prioritise the welfare of its staff.
Picture credit: Adam Tinworth
A daily dose of IT news, reviews, features and insights, straight to your inbox!
A daily dose of IT news, reviews, features and insights, straight to your inbox!
Thank you for signing up to ITPro. You will receive a verification email shortly.
There was a problem. Please refresh the page and try again.