Decades old neo-Nazi site Stormfront taken offline
Web hosting firm Web.com removed the site following civil rights action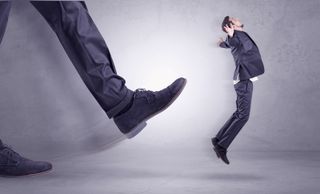 One of the oldest neo-nazi websites, the far-right forum Stormfront, has been removed from the web by its hosting provider, the latest to fall in a clamp down of white supremacist content.
Dubbed the "murder capital of the internet", Stormfront is thought to have been responsible for "some of the most lethal hate crimes and mass killings since the site was put up in 1995", according to anti-hate group Southern Poverty Law Center.
The site has now been taken offline by Network Solutions, following action from the Lawyer's Committee for Civil Rights Under Law, founded in 1963 at the request of then President John F. Kennedy. Last week, the group delivered a letter to Web.com, parent company of Network Solutions, notifying the company to a number of policy infractions on the neo-nazi site and demanding "immediate action" must be taken to bring the content offline, according to the Telegraph.
Founded in 1990 as a simple bulletin board, Stormfront would become an official site in 1996, proving popular among far right groups in the US, including the Ku Klux Klan, and offering a means to spread white supremacist material and organise rallies. The letter, seen by the Telegraph, said the Lawyer's Committee for Civil Rights Under Law had filed repeated complaints against the site, claiming it promoted hate speech and violence.
It also alleged that the site was partly responsible for the terror attack at a camp in Norway in 2011, carried out by neo-Nazi Anders Breivik.
Don Black, Stormfront operator and former KKK leader, told the Telegraph he had received no warning of the takedown. "I'm talking to my lawyers, and that's about all I can do right now," said Black. "I can switch to another domain, but it might wind up the same way."
IT Pro has contacted Network Solutions for comment.
The move follows similar attempts to block far-right website The Daily Stormer, which operated under Go Daddy before being taken down following the violent events in Charlottesville. That site attempted to move to Google and Zoho before finally resorting to a onion Tor service on the dark web.
It is possible Stormfront will follow a similar path as it attempts to remain on the open web, however given a recent clamp down on extremist material by site hosters in the both the US and Russia, it is unlikely it will be able to stay visible to the public.
21/08/2017: Tor Project can't block Daily Stormer from its browser
Although anonymous browser Tor says it's 'disgusted, angered and appalled' by the Daily Stormer neo-Nazi news site's decision to use an onion Tor service to communicate its ideologies, it has said it is unable to ban people from accessing it via its secretive browser as privacy is at the Tor browser's core.
"We can't build free and open source tools that protect journalists, human rights activists, and ordinary people around the world if we also control who uses those tools," Tor Project developer Steph said in a blog post. "Tor is designed to defend human rights and privacy by preventing anyone from censoring things, even us."
She added that ironically, Tor had been built by developers from a range of backgrounds, religions, cultures, genders identities and races, which is completely against Neo-Nazi ideals, but this doesn't mean it can stop people from accessing the website using its platform.
"We work every day to defend the human rights they [Neo-Nazis] oppose," she added. "They feel powerful by spewing hate, whining, bullying, and promoting violence against others. But together, we are more powerful."
The Neo-Nazi group decided to move its Daily Stormer site to a Tor onion service after many of the world's tech firms announced they would prevent people from accessing or supporting them. PayPal and GoFundMe said they would not allow people to donate to the group, Google and GoDaddy denied the firm domain registry services, while Cloudflare said it wouldn't allow those behind the sites to use its services to protect it from denial of service attacks.
"Tor stands against racism and bigotry wherever and whenever such hatred rears its ugly head," Steph finished. "It is our work to provide everyone with the best possible security and privacy tools so human dignity and freedom can be promoted all over the world."
18/08/2017: Apple, Google, Squarespace and more tech companies start banning neo-Nazi groups
More tech companies have joined the torrent of firms taking action against fascists, neo-Nazis and white supremacists by ejecting them from their platforms.
Neo-Nazi hate blog The Daily Stormer has been one of the most high-profile targets of this backlash, having been dropped as customers by multiple domain registrars, hosting providers and vendors, including GoDaddy, Google and CloudFlare.
According to Russian newspaper Kommersant, the site's administrators tried to register it in Russia, only to have it promptly blocked by Roskomnadzor, the company's communications watchdog. The body stated that the site promoted neo-Nazi ideology and promoted racial and social strife.
Web hosting firm Squarespace has also begun ridding itself of white supremacist content. The company told The Verge: "In light of recent events, we have made the decision to remove a group of sites from our platform".
Squarespace declined to specify which sites were being removed, but the website the National Policy Institute - a right-wing thinktank run by alt-right founder Richard Spencer - is hosted on Squarespace, as are the websites of white nationalist groups like Identity Europa and the Foundation for the Marketplace of Ideas.
Apple has suspended Apple Pay support for sites that have been found to be selling neo-Nazi and white nationalist memorabilia. The service's guidelines state that is may not be used on any site that "promotes hate, violence, or intolerance based on race, age, gender, gender identity, ethnicity, religion, or sexual orientation", and CEO Tim Cook has publicly spoken out in condemnation of the neo-Nazi demonstrators that took to Charlottesville's streets.
The actions have not been universally welcomed, however, and protestations against them have come from a somewhat surprising source. The Electronic Frontier Foundation, a well-known digital advocacy group, has spoken out against the spate of bans and removals, saying that they were "dangerous", and a threat to free speech.
"We strongly believe that what GoDaddy, Google, and Cloudflare did here was dangerous," wrote Electronic Frontier Foundation executive director Cindy Cohn in a blog post.
"Protecting free speech is not something we do because we agree with all of the speech that gets protected. We do it because we believe that no one - not the government and not private commercial enterprises - should decide who gets to speak and who doesn't."
16/08/2017: GoFundMe pulls campaigns for alleged Charlottesville killer
Crowdfunding site GoFundMe has pulled campaigns in support of a man accused of mowing down counter-protesters at a rally in Charlottesville, Virginia.
James Alex Fields Jr, 20, from Maumee, Ohio, has been charged by police with ramming his car into a group of anti-fascist counter-protesters. Heather Heyer, a 32-year-old woman, was killed in the attack, and 19 more were injured.
Multiple GoFundMe campaigns have been set up to raise money for the victims of violence by far-right marchers at the event, but the platform has also seen multiple parties attempt to start funding campaigns in support of Fields.
These campaigns have all been removed with no money raised, GoFundMe told Reuters, stating that the campaigns were pulled because they violated the site's terms and conditions regarding abuse and hate speech.
Other crowdfunding platforms such as Kickstarter and Indiegogo told the BBC that they had not seen any such campaigns in support of Fields, with Kickstarter adding that fundraising for personal concerns such as legal defence is not permitted on its service.
Several campaigns were reportedly hosted on RootBocks, an "anti-censorship" crowdfunding platform that almost exclusively hosts funding campaigns linked to and in support of the Alt-Right movement. The site appears to be suspended, however, and RootBocks' Twitter account indicates that it has had to change hosting providers at least twice, as companies repeatedly refuse it service.
These hosting providers, along with GoFundMe, join the growing list of companies that have responded to pressure from activists and the general public to take a stand against neo-Nazis, fascists and far-right groups using their platforms.
15/08/2017: Daily Stormer dropped by more web companies
More web companies have booted neo-Nazi hate blog The Daily Stormer from their services, following GoDaddy's public disavowal of the site.
After a concerted social media campaign by activists including Amy Siskind and others, domain registration provider GoDaddy terminated its relationship with The Daily Stormer, informing its administrator Andrew Anglin that he had 24 hours to find a new provider.
The site's administrators then attempted to register with Google's Domains service. However, Google cancelled The Daily Stormer's registration shortly afterwards, stating that the site violated its terms of service. The blog's YouTube channel was also canned by the company for similar reasons.
Enterprise services company Zoho became the third firm to drop the site from its platform for terms-of-service violations, although it is currently unknown which of the Zoho's services the Stormer was using.
The fascist blog has now resorted to using the extremely loosely-regulated IRC internet chat service to communicate with its readership, and is soliciting donations in order to fund its continued existence.
Other web companies have also begun to take a stand against racist and fascist groups among their userbase. Gaming chat service Discord has announced that it has shut down the server for the AltRight.com community, along with a number of individual accounts associated with the neo-Nazi marches in Charlottesville, Virginia.
14/08/2016: GoDaddy drops neo-Nazi hate blog The Daily Stormer
Neo-Nazi hate site The Daily Stormer has been dropped by domain provider GoDaddy, which has given it 24 hours to find another host.
The company was prompted to take action by the public outcry over an article the site published which directed abuse at Heather Heyer, who was killed when a car rammed into a group of anti-fascist protesters in Charlottesville, Virginia, on 13 August. James Fields, a 20-year-old Maumee, Ohio resident, has been charged with her murder.
Fields was pictured earlier that day wearing the uniform of a white supremacist, neo-Nazi group called Vanguard America.
GoDaddy has now informed the administrators of the Nazi hate blog that it will no longer host the domain, saying the site violated its terms of service, according to a statement released on Twitter.
However, a single post that appeared on the site today claimed that it has also been hacked by cyber vigilante group Anonymous. The post claims that the hackers have "all of the details on the servers and will be releasing the data when [they] feel the time is right".
Some have speculated that the post is just a smokescreen, put up by the Daily Stormer itself in order to blame the site's disappearance on hackers rather than an unceremonious dumping by its provider.
Aside from one post on the site's homepage, the rest of the website and its content remain unmolested. This differs from the tactics commonly used by Anonymous, which generally hijacks an entire domain, rather than simply adding a single post within the site's existing architecture.
The post claimed that "it took a united force of elite hackers from around the world to breach the systems and the firewall", and that "hackers of the world have united in defense of the jewish people".
Two images are included with the post; they are stock images that are among the first results that come up when you search 'anonymous' on Google Images.
Despite widespread praise of GoDaddy for kicking the hate site off its platform, many have raised questions as to why the Daily Stormer - which features sections labelled 'Jewish Problem', 'Race War' and other unapologetically hateful content - has not previously violated the company's terms of service for its conduct.
The site now has less than 24 hours to find a domain provider that is willing to accept it as a customer.
Picture courtesy of GoDaddy
Get the ITPro. daily newsletter
Receive our latest news, industry updates, featured resources and more. Sign up today to receive our FREE report on AI cyber crime & security - newly updated for 2023.
Dale Walker is the Managing Editor of ITPro, and its sibling sites CloudPro and ChannelPro. Dale has a keen interest in IT regulations, data protection, and cyber security. He spent a number of years reporting for ITPro from numerous domestic and international events, including IBM, Red Hat, Google, and has been a regular reporter for Microsoft's various yearly showcases, including Ignite. Dale is also the Editor of ITPro 20/20, a monthly digital magazine providing a snapshot of the stories and themes shaping the business tech world. Prior to joining ITPro, Dale secured a Masters degree in Magazine Journalism from the University of Sheffield.
Get the ITPro. daily newsletter
Receive our latest news, industry updates, featured resources and more. Sign up today to receive our FREE report on AI cyber crime & security - newly updated for 2023.
Thank you for signing up to ITPro.. You will receive a verification email shortly.
There was a problem. Please refresh the page and try again.