Internet of Trains: SAP kits Trenitalia trains with hundreds of sensors
Trenitalia reboots maintenance and engineering using the IoT, which partner SAP believes is a sign of the next industrial revolution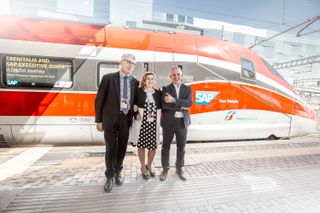 The sunny Italian countryside rattles by at 350km an hour, but it's not the speeds alone that make Trenitalia's Frecciarossa trains impressive it's the hundreds of sensors beaming 5,000 data points a second into the cloud.
Trenitalia is working with SAP to harvest and process that data to completely reimagine train maintenance. At the moment, trains are pulled off the rails for a check-up after a certain number of kilometres or a set amount of time not unlike taking your car in for an MOT.
That takes trains out of service even when they don't have a fault, costing Trenitalia unnecessarily. By slapping sensors onto every measurable component or part from the engine to the passenger Wi-Fi the Italian train firm hopes to not only be able to switch to maintenance when necessary, rather than at a set time, but to predict problems and fix them before they start. "It's a new way to approach maintenance, better understand the business and intervene when necessary," said Barbara Morgante, CEO of Trenitalia.
It's the Internet of Things (IoT) for trains, and Trenitalia believes the Dynamic Maintenance Management System (DMMS) as it's been jauntily named could slash its maintenance bill by 8% to 10%, and also reduce investment in spare stock, lead to fewer delay pay outs to customers and fewer financial penalties being imposed on service contracts.
The aim of the project wasn't only to save cash, but also to end train delays from maintenance issues. "It's about the experience of customers not only cost saving, though that's a nice side effect," said Tanja Rueckert, executive vice president of digital assets and IoT at SAP.
And that's key as more transportation competition pops up, from Uber to self-driving cars, alongside existing rivals. "Therefore we need a special focus on efficiency, which is not only to save money, which is of course very important, but we have to be better than others in giving a good service to the customer," Morgante said. "They have to choose us because we're better than others."
When it comes to preventing delays, the aim is to find faults before they occur, allowing for interventions only when needed and for better planning, hopefully leading to fewer transport interruptions. "We want to use prediction, we want to use Big Data to foresee a possible breach or damage in a part or component in rolling stock," added Danilo Gismondi, CIO of Trenitalia, jostling to stay up between the rows of seats in the train as it hurtles around bends in the Italian countryside.
How it works
Hundreds of sensors collect data in real time from braking systems to the toilets, the batteries to the sliding doors, shoving it up into SAP's cloud every ten minutes. That's no small thing, given Trenitalia runs 8,000 trains a day with using a fleet of 30,000 locomotives, coaches and freight cars.
Once in the cloud, it's monitored and analysed using SAP Predictive Maintenance and Service software and processed by the predictive analytics tool SAP HANA. That lets the company build predictive models for machine learning and also trigger maintenance and other actions when engine temperature hits a particular threshold, for example to help keep trains running without delays.
The team showed off some of the data being generated on the Frecciarossa train we took from Rome to Pietrarsa and back again, revealing visualisations of engine temperature, speed and other key metrics, but there are also other diagnostic and management data accessible by engineers, such as how many trains are out of service, alerts needing maintenance action, and the status of trains on the track, including the number of passengers all in real time. "It's not about less maintenance," Gismondi said. "But better maintenance."
By the time the Dynamic Maintenance Management System is fully up and running across all of Trenitalia's rolling stock in 2018, it will be generating a full petabyte of data annually. Next, Trenitalia is hoping to automate the few remaining parts of diagnostics and maintenance that can't be spotted by sensors, such as the roof and undercarriage of the trains, which still need a visual inspection. "In the future, cameras will do it," said Marco Caposciutti, Trenitalia's CTO.
While the DMMS implementation won't be fully finished until 2018, it's already rolling out on the superfast Frecciarossa stock. Getting to this point took three years of work, with a full year spent on software and platform discovery alone.
Making IoT work
The Trenitalia project with SAP worked because the pair behaved like partners and had buy-in from the very top of both companies, but Wallis added that it's also important to start by speaking to those who will be using the systems before implementation. "It's absolutely key to get them in," she said. "And when we talk to customers it's also really key to talk to the real people who use the software. Not some surrogate or substitute, but the real business people who really use the software, because if you don't satisfy them, that means that you don't win their hearts, you don't win their minds. You might sell the software for the first 100 users, the first 1,000, but there will be no follow-up because you're either irrelevant or boring, or it's just the wrong thing."
In the Trenitalia case, that approach worked because the aim of the project was to improve the work of maintenance staff and engineers not to make their jobs redundant. "Most people go to work every day, most people, and want to do really good things," Wallis said. "A good day means different things to different people for the maintenance technicians and for the engineers, having a good day at work means also less boredom."
Instead of repeatedly checking over trains that are functioning perfectly, their job is now to respond to actual problems. "All of a sudden, as a technician I become more relevant," Walls said. "Because I've worked on a real concrete problem that's there."
Fixing real problems
SAP is keen to ensure the Internet of Things is taken seriously after all, it just pledged to invest 2 billion over the next four years into research, acquisitions and its own labs to push the area forward. That includes a pair of acquisitions already; enterprise IoT provider PLAT.ONE and engineering analysis firm Fedem Technology.
SAP CEO Bill McDermott said his firm made the investment "because that's what our customers need us to do."
He added: "This probably the biggest growth opportunity for not just us but for you, and it's something we have to focus on quickly, because that's where your competitive advantage will be."
Indeed, SAP believes connecting industry and analysing the data it creates is the next wave of the industrial revolution, what Rueckert describes as having mass individualisation at lower costs, prediction rather than reaction, autonomous production and on-demand manufacturing.
That shift to the next industrial revolution is why SAP's "packages" are designed to help companies leap more easily into the IoT have been dubbed "Industry 4.0".
Those include the "jump-start package", which is targeted at monitoring equipment and shop-floor operations, and the "accelerator package", which adds manufacturing analytics. A third "Industry 4.0" package will be the "advanced" offering, which will add predictive analysis and machine learning, with further solutions addressing cities, agriculture and energy, the company said.
Such packages will help companies dip their toes into the IoT data stream, and it's a wise move to start small, said Elvira Wallis, senior vice president for IoT smart connected business at SAP. "Start really small and with something where you will have a quick show of benefits," she told IT Pro. That's a smarter tactic, she said, than planning a massive overhaul of your methods that will take years to implement.
"By the time you've finished the bloody strategy paper, the world has moved on and your competitors have embraced IoT, have made experiences, have done the learning," she added. "They're using it already and you're still in your ivory tower devising the perfect strategy that will never come to fruition because you're out innovated."
For example, SAP has had major corporations ask to connect and track a handful of devices just to prove it works. "We need to prove to them we can do it for 25 [parts or components]," she said. "They will not believe us we can do it for a million if we can't do the first 25." With the first few Frecciarossa trains churning out data, Trenitalia sounds convinced - we'll have to wait and see if it reduces customer delays, but if so, hopefully British rail firms take a look at the Internet of Trains, too.
Get the ITPro. daily newsletter
Receive our latest news, industry updates, featured resources and more. Sign up today to receive our FREE report on AI cyber crime & security - newly updated for 2023.