US-Norwegian startup aims to build largest green data centre in the world
Startup Kolos will construct the centre in northern Norway located in the Arctic Circle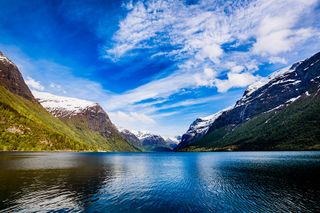 Startup Kolos is planning to build a record-breaking data centre in the town of Ballangen, northern Norway.
The data centre will use chilled air and local hydropower to help keep energy costs down.
Kolos recently raised investment from a Series A funding round involving Norwegian investors which is meant to be worth "several million dollars" but is working with a US investment bank to secure the remaining funds.
To make it the largest data centre in the world, it claims that within the decade it will have enough computer servers to draw on 1,000MW. Initially, it will only draw 70MW.
The centre is expected to cover 600,000 sq/m and will be a four-storey building. The current record holder measures around 585289.2 sq/m and is based in Langfang in China. That said, Switch is building an advanced data centre in Nevada. Dubbed the 'the Citadel' it, will when finished, measure 668901.9 sq/m. The Nevada data centre will use 100% renewable energy but, however, will only need up to 650MW.
In March, Kolos signed a contract of purchase and presented plans for building the data centre.
Hvard Lillebo, CEO of Kolos, said: "In northern Norway, we actually have Europe's cheapest power, which is also 100% renewable. In addition, Ofoten and Ballangen have extremely good access to dark fiber, which is a prerequisite for running data centres."
There are other advantages, too, such as the region's cold stable climate which will help keep cooling costs low, as well as having a solid power grid. The company also claimed that the nearby river creates a physical barrier to protect the facility.
Co-founder Mark Robinson told IT Pro that the firm aims to build the first parts of the data centre by the third or fourth quarter of 2018, when he hopes it will have an administrative building and the first two of a dozen data centre spaces.
He added: "Each year, the plan is to develop additional spaces as we move down the site. The site will be completely built out over the next 11 years. We have additional expansion sites that we will continue to spread capacity to after that."
Robinson said that the immediate site will be able to scale to 1GW. "The area produces over 2 gigawatts of energy via hydroelectric and wind power. The initial phase of development will support around 60 megawatts. There is ready power and there is only a minimal about of work needed to extend the grid (redundantly) to the site. The day the first phase is completed, we will have access to 150 megawatts," he explained.
"There are plans to use some solar on the site but the primary power drivers will be hydro, wind and fuel cell (for backup). The goal is to have the lowest power usage effectiveness in the industry."
Kolos decided to use less solar energy to ensure the building's design fits in with the architecture nearby, instead deciding to use sloping grass roofs. Robinon said: "The result of this change also provided some additional benefits such as better heat retention and reclamation and a far better looking building. We have enjoyed outstanding support from the community and it is important to us that we create a building that is not only efficient but also appeals to the people who have been so generous with their support."
Kolos expects the data centre to have a good effect on the nearby community and provide them with new jobs, direct and indirect. It compared the situation to when Facebook built a 30,000 sq/m data centre in the city of Lule.
Kolos claimed its project will be the largest green data centre in the world, because 100% of its energy will be powered by hydropower and wind. Kolos called Norway the world's leader in green power, making it the perfect place for the project. It hoped to operate a 60% reduction in energy costs, providing significant onward cost savings for customers.
Gary Cook, senior IT sector analyst at Greenpeace, said: "The location chosen offers significant energy efficiency advantages in terms of using open air cooling, as well as access to renewable sources of electricity.
"But particularly given the size of this facility, up to 1000MW, its important that the developers are working to bring additional renewable resources online, in the same way that Apple, Facebook, Google and others have brought new renewable sources onto the grid to match their growth, as they continue to expand their operations and move closer to their goal of being 100% renewable energy."
The project is backed by five mayors in the area and Kolos estimates the centre will directly create 2,000 to 3,000 new jobs and indirectly support 10,000 to 15,000 jobs as a result of people moving to Ballangen.
Clive Longbottom, principal analyst and founder at Quocrica, said it wasn't completely clear if the data centre was definitely going ahead, but admitted that it was a big project involving a lot of power which will benefit from free-air and chilled water cooling. He did say that it's not the easiest place to get to and underlined that Kolos's website does not explicitly say what the data centre will be used for.
He added: "European companies looking for a native datacentre are more likely to go for an EU country and Sweden has a thriving datacentre market, as do plenty of others where power may not be so cheap, but getting there could be easier and cheaper (e.g. Holland)."
Our take
"There's no doubt that, as with all infrastructure, we need to invest in data centres that are as energy efficient as possible. Companies like Google and Facebook have already pioneered the use of natural resources in northern Europe to cool their data centres, so there's little question Kolos can do the same. The fact that it will be using renewable energy sources - wind and hydro - for power is an added bonus, particularly as it's expected to require vast amounts of energy to run." "As with any construction project, other environmental questions remain, such as the materials that will be used to build it and how the non-data hall parts of it will be heated/cooled. There's also the question of how workers will get to the installation - if hundreds of cars hit the roads as a consequence, it defeats the object of an eco-friendly data centre somewhat." Jane McCallion, features editor, IT Pro
He continued: "By the time this is completed, just how much cheaper will Norwegian renewable power be than, e.g. German photovoltaic or Danish/Dutch wind power?
"It is likely that energy costs will start to drift down as the EU continues to invest in renewables: unless Kolos can counter the overall high cost of living of Norway, then its overall costs could still be higher than many other dedicated facilities across Europe - never mind those that are being built in developing nations with low/renewable power and low human resources costs."
David Groombridge, research director at Gartner, said it makes sense to build data centres in locations where the power is very cheap and the cooling is reduced because of the air temperatures.
"As we all know, power is a considerable cost within large data centres and this seems like a good move to reduce the operational expenditure, increase the green credentials of clients who use it and provide capacity in a relatively stable and well connected area of the world," he said.
"Having said that, the business that is building it, Kolos, is not an organisation that I am familiar with, and they do appear to be a fairly recent startup. You'd have to expect that we need to know more information about what they are actually going to deliver."
Image Source: Bigstock
Get the ITPro. daily newsletter
Receive our latest news, industry updates, featured resources and more. Sign up today to receive our FREE report on AI cyber crime & security - newly updated for 2023.
Zach Marzouk is a former ITPro, CloudPro, and ChannelPro staff writer, covering topics like security, privacy, worker rights, and startups, primarily in the Asia Pacific and the US regions. Zach joined ITPro in 2017 where he was introduced to the world of B2B technology as a junior staff writer, before he returned to Argentina in 2018, working in communications and as a copywriter. In 2021, he made his way back to ITPro as a staff writer during the pandemic, before joining the world of freelance in 2022.