Marc Benioff credits "horrible" rivals for Salesforce success
CEO accuses competitors of abandoning CRM market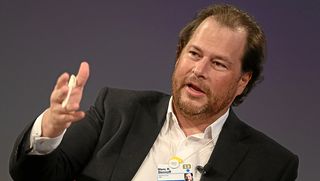 Salesforce CEO Marc Benioff lambasted his CRM competition in an earnings call this week, claiming rivals have "done a horrible job" for customers.
The cloud giant's revenue jumped 26% year-on-year to hit $2.6 billion for the three months ending July 2017 a success Benioff put down to competitors' weak performances.
"I have to say, our competitors have really done a horrible job in [the] last few years," Benioff said on the earnings call, transcribed by Seeking Alpha.
"I just would say that a lot of them have abandoned the CRM market. If you talk to the major CRM analysts ... they are shocked, we're shocked of how these companies have really walked out of the CRM market, companies that had huge multibillion dollar positions in the CRM have ceded that market to us."
The firm's Q2 2018 results, after recording $2.39 billion in its Q1, put it on track for its first $10 billion year. It also recorded $17.7 million in net income, down from $229.6 million in the same quarter of 2016, when it received a big tax rebate.
Benioff claimed that Einstein, Salesforce's AI capability that it's imbuing in many of its services, is already performing well for the organisation.
"Einstein has hugely exceeded our expectations," he said. "It's a critical part of how we differentiate our product against now all of our competitors because we're the first company to take the robust AI capabilities including machine intelligence, machine learning and deep learning, and offer that to our customers in a unified CRM platform through our sales, service, marketing applications, commerce applications across the board."
Looking to the future, Benioff hinted at Einstein integrations for healthcare products, adding that AI could be as significant as mobile was for Salesforce's core platform.
Main image credit: World Economic Forum from Cologny, Switzerland, via Wikimedia Commons
A daily dose of IT news, reviews, features and insights, straight to your inbox!
A daily dose of IT news, reviews, features and insights, straight to your inbox!
Thank you for signing up to ITPro. You will receive a verification email shortly.
There was a problem. Please refresh the page and try again.