AWS re:Invent: Andy Jassy announces ML Marketplace, Blockchain and more
CEO announced a barrage of new capabilities and services during his keynote speech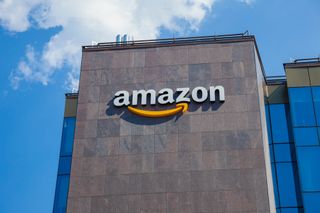 At AWS re:Invent on Wednesday, Andy Jassy said that he had "a few things to share". But, over the course of his two-hour keynote, the CEO announced a barrage of new services and capabilities from blockchain to machine learning.
The boss of the world's biggest cloud computing company has had a busy few days at the annual event in Las Vegas. From making announcements to meeting many of the developers and partners that have flocked to Sin City, Jassy has put himself about and offered plenty of information on everything he's revealed.
And, there was a ridiculous amount of them...
Machine Learning Marketplace
Available now, the AWS Marketplace for Machine Learning includes over 150 algorithms and models, with more, said to be coming every day, that can be deployed directly to Amazon SageMaker. Its a giant algorithm hub for developers to find and offer machine learning models for the benefit of all.
For Gavin Jackson, the managing director of AWS UK and Ireland, this was the biggest news of the day and also a very good example of an underlying theme of this year's re:Invent. It's about catering to both those who can and those who can't.
"The big announcement, I thought, was the Machine Learning Marketplace," said Jackson. "Because while SageMaker is a good use of existing training models that you can just plug straight into your application, customers who are building their own training models and algorithms for applications can just look at a much wider set of use cases that are available in the marketplace and then just plug them in so they don't have to build them for themselves.
"At the same time, those that do have data scientists and are building their own algorithms and training models can plug them into the marketplace and monetise it. It's kind of a marketplace for those that can and those that can't and everybody wins in the end. It just accelerates the progress of machine learning artificial intelligence over time."
Blockchain
Unexpectedly, the CEO announced two new services to help companies manage business transactions for blockchain, starting with Amazon Managed Blockchain. Jassy said that this new service makes it easy to create and manage scalable blockchain networks using the popular, open source Ethereum and Hyperledger Fabric frameworks.
It's run from an AWS Management Console, where customers can set up a blockchain network that can span multiple AWS accounts and scale to support thousands of applications and millions of transactions
The second blockchain offering, Amazon QLDB, is a transparent, immutable, and cryptographically verifiable ledger for applications that need a central, trusted authority to provide a permanent and complete record of transactions, such as supply chain, financial, manufacturing, insurance, and HR. This option is for customers who want to build applications where multiple parties can execute transactions without the need for a trusted, central authority.
According to Jassy, the company was asked why they had not shown any previous interest in blockchain, despite many of its customers and partners using the technology.
"We just hadn't seen that many blockchain examples in production or that couldn't easily be solved by database," said Jassy. "People just assumed that meant we didn't think blockchain was important or that we wouldn't build a blockchain service. We just didn't understand what the real customer need was."
Data
Also announced during the keynote were new services for automating data applications and detailed guidance to help customers build faster on AWS services.
The AWS Control Tower is a cloud interface that allows users to govern multiple AWS workloads, particularly for companies migrating to the cloud. Jassy said it offers pre-packaged governance rules for security, operations, and compliance, which customers can apply enterprise-wide or to groups of accounts to enforce policies or detect violations.
Jumping on the data lake bandwagon, the company is now offering AWS Lake Formation, which will run on Amazon S3. Data lakes are storage systems that source data from multiple locations and stores it in files for technologies like machine learning. The AWS version is said to automate and optimise data, reducing the data management burden for customers.
Hybrid
There was some noise before the event that AWS would address hybrid cloud systems and it has confirmed AWS Outposts, which is a fully managed and configurable compute and storage racks service built with AWS-designed hardware. It's a service that allows customers to run on-premise computing and storage functions while connecting to other AWS services in the cloud.
These outposts come in two variants; first, an extension of the VMware Cloud on AWS service that runs on AWS Outposts and second, AWS Outposts that allow customers to run on-premise ccomputing and storage that uses the same native AWS APIs used in the AWS cloud
Get the ITPro. daily newsletter
Receive our latest news, industry updates, featured resources and more. Sign up today to receive our FREE report on AI cyber crime & security - newly updated for 2023.
Bobby Hellard is ITPro's Reviews Editor and has worked on CloudPro and ChannelPro since 2018. In his time at ITPro, Bobby has covered stories for all the major technology companies, such as Apple, Microsoft, Amazon and Facebook, and regularly attends industry-leading events such as AWS Re:Invent and Google Cloud Next.
Bobby mainly covers hardware reviews, but you will also recognise him as the face of many of our video reviews of laptops and smartphones.