AWS helps Ministry of Justice pursue legal aid for all
Justice is better served in the cloud when it comes to delivering legal services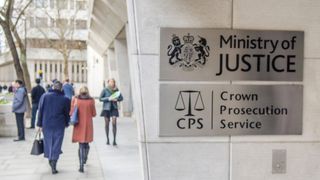 It's a sad fact of life that people only interact with the justice systems when something has gone really, badly wrong in their lives. They've been the victim of a crime, they've been accused of one, or something more complex, such as seeking legal help when you are on the verge of homelessness after being illegally evicted.
These are some of the most fundamental parts of many peoples life, users of the website for the Ministry of Justices (MoJ), so it's of high importance that those users can engage with a service that runs efficiently and without outages or delays.
The MoJ runs 500 courts and tribunals across England and Wales. It has around 70,000 employees operating in 800 plus buildings. It also looks after 83,000 people in its prison service - around 121 prisons - so it has quite a considerable scale. But, most importantly, it also supports millions of citizens who access online legal services, such as the Legal Aid Agency, every day.
The Legal Aid Agency is effectively there to make sure that justice is available for everyone in society, not just those who can afford it. It runs systems for around 30,000 legal firms and has around 1,300 legal staff who make the decisions around who should get legal aid and who shouldn't.
"Despite the importance of legal aid service, a few years ago we were in a bad state from a technology perspective," says Tom Read, the chief digital and information office for the MoJ. "We had an old on-premise data centre that was fairly aged, we had a mixed Oracle estate, a full stack Oracle application and we had frequent outages.
"And, crucially, we could only deploy a few times a year - some services monthly, some quarterly - and that meant it was very difficult to make our services more easily accessible as more people started to access service through their mobile phone rather than going to a physical building."
Read gave an example of the kind of problems the MoJ deals with. Lucy lives with her three children, she's in her mid-twenties and she's lived in the same flat for ten years - since her parents kicked her out for getting pregnant. Her boyfriend is long gone and she tries to work but it's difficult to juggle three children and work at the same time; it's a situation many people in the UK are going through.
But, in the ten years that Lucy has lived in her flat, the area around her has transformed, going from run down to a vibrant hub of trendy shops and cafes. It's suddenly in-demand.
At the end of last year, her landlord decided to get more money and decided to evict her. So, Lucy who has no money, no savings and plenty of debts had three weeks to get out of her house and the most likely outcome in that situation is that she would be homeless and her children would be taken into care as a result.
"Now, somebody in that situation, they probably don't know about legal aid and the Legal Aid Agency, all they know is that they need help," Read explains. "These are our users, so we don't innovate for competitive advantage, we're a monopoly service, people have to use us.
"These people that access these services are at a sensitive point in their lives, we can't just have days of delays while our caseworkers can't access their applications."
Before it moved to AWS, the MoJ used its own databases and data centre through other suppliers, which meant it didn't have the ability to change things rapidly. There was also no expertise within the government to designs these datacentres for their specific needs.
Around 2013, the MoJ created the Ministry of Justice Digital aiming to implement agile methods and cloud technologies into the service.
At a very early stage, it looked to bring in software developers who had not previously worked within government, along with ensuring the tools that those engineers wanted to use were the most modern tools available at the time. One of those tools was AWS.
The AWS services the MoJ is now using include Amazon Elastic Compute Cloud (Amazon EC2), Amazon Simple Storage Service (Amazon S3), and Amazon Route 53. With these, the MOJ has been able to turn technology into an enabler for more fair and effective justice. And the public cloud model has also come with financial benefits.
"We've made major savings on hosting," adds Read. "It's been really good for our fragile public sector budgets."
Get the ITPro. daily newsletter
Receive our latest news, industry updates, featured resources and more. Sign up today to receive our FREE report on AI cyber crime & security - newly updated for 2023.
Bobby Hellard is ITPro's Reviews Editor and has worked on CloudPro and ChannelPro since 2018. In his time at ITPro, Bobby has covered stories for all the major technology companies, such as Apple, Microsoft, Amazon and Facebook, and regularly attends industry-leading events such as AWS Re:Invent and Google Cloud Next.
Bobby mainly covers hardware reviews, but you will also recognise him as the face of many of our video reviews of laptops and smartphones.