Amazon and Microsoft cloud services hit by lightning strike
Amazon and Microsoft cloud customers have been left without services following a lightning strike on Irish data centres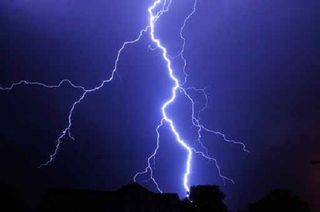 Lightning strikes twice at Amazon and Microsoft. The US giants have their data centres in Dublin taken down after severe thunderstorms across the region. The outage follows the similar disruption that hit Amazon's US (East Coast) data centres in April
European customers of Amazon and Microsoft's cloud services were faced with significant patches of downtime this weekend, due to lightning strikes on their Dublin-based data centres. The two Irish hubs provide Europe with Amazon EC2 services, along with Microsoft's Business Productivity Online Suite (BPOS).
Amazon reported the downtime over its public Service Health Dashboard
on Sunday, admitting lightning strikes had damaged power supplies and led to server failures. "Due to the scale of the power disruption, a large number of EBS servers lost power and require manual operations before volumes can be
restored," it read. "Restoring these volumes requires that we make an extra copy of all data, which has consumed most spare capacity and slowed our recovery process."
Although it managed to bring some servers back to life within three hours, Amazon warned it could take between 24 and 48 hours until everything was back to normal.
Microsoft's BPOS Service Health Dashboard is only available to users of the product with a login. However, the firm reported the downtime on Twitter,also blaming "power issues and claiming everything was online again four hours later.
Although the downtime was at a weekend and dealt with quickly, it brings to the forefront users fears over the unexpected loss of services. If these services had been running mission critical applications, the effects on businesses could have been serious.
Check out our whitepaper on how much data centre downtime actually costs here.
Stay up to date with the latest news and analysis from the world of cloud computing with our twice-weekly newsletter
Thank you for signing up to Cloud Pro. You will receive a verification email shortly.
There was a problem. Please refresh the page and try again.