MoD and NHS sign up as first tenants of Microsoft's UK cloud
Microsoft's UK datacentres let you store data locally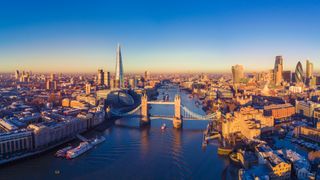 (Image credit: Shutterstock)
Microsoft opened three UK datacentres today, letting customers run Office 365 and Azure locally to keep their data inside the country.
The Ministry of Defence (MoD) and an NHS trust are already using the London, Durham, and Cardiff facilities, which were first announced by Microsoft last November.
Their introduction means Microsoft has beaten Amazon Web Services (AWS) to establish UK datacentres – AWS's sites are expected to go live soon.
CEO of Microsoft UK, Cindy Rose, said: "We're delighted to see such growing demand for Azure, Office 365, and Dynamics CRM Online from our new data centres in the UK. We've been part of the UK's tech landscape for over 30 years and we're proud of the way this country leads the world in embracing technology and new ideas.
"With our trusted cloud now delivered locally, and our commitment to principles of security, privacy, transparency, compliance, and availability, we are well placed to support the digital transformation of organisations throughout the country."
Microsoft's new sites join a global list of more than 100 datacentres, and Redmond hopes they will appeal to public sector bodies and regulated companies in particular. It plans to add Dynamics CRM Online to the roster of available services in the first half of 2017.
The MoD will use Office 365 and Azure as part of its IT transformation agenda for its 250,000-strong workforce, and said money and security were key reasons for choosing to host the services in Microsoft's UK facilities.
CIO Mike Stone said: "Microsoft's secure and transparent cloud service in the UK fits perfectly with the MoD's digital transformation agenda.
"This agreement, which is based on Microsoft's world-class reliability and performance, will allow us to deliver cost-effective, modern and flexible information capabilities. It will ensure we are better-placed in our ever-changing, digital-first world."
South London and Maudsley NHS Foundation Trust will also use the UK datacentres to store information inside the country.
"It is reassuring to know that our trust's core data, that we create and manage, stays in the UK," said Stephen Docherty, CIO at the trust.
"For us, the Microsoft's UK cloud region means that demonstrating regulatory and legal compliance is simpler. The bottom line is we trust Microsoft."
Interest in storing data within specific countries comes amid growing distrust of government spying, following Edward Snowden's revelations of the extent of US surveillance programmes.
Other UK customers including Capita, Aston Martin, and Rosslyn Analytics will store their data in the UK sites, though it is not clear whether existing users like Marks & Spencer and Confused.com will be able to switch their services from their current datacentres to the UK ones.
This led to the EU ruling that Safe Harbour, a data transfer agreement between the EU and US, was invalid because the US would value surveillance above people's privacy.
Microsoft supports a replacement deal, called Privacy Shield, but Europe's data watchdogs still have concerns, and could challenge it in a year's time when the agreement is up for review.
Stay up to date with the latest news and analysis from the world of cloud computing with our twice-weekly newsletter