Spotify takes full-cloud plunge with Google Cloud Platform
Music service picks Google over its storage provider, AWS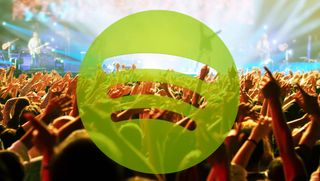 Spotify is moving its music streaming infrastructure to Google's Cloud Platform, picking it over Amazon Web Services (AWS), its current storage supplier.
The company had previously used its own datacentres and servers in various countries to stream music to users, but has now decided to move its entire back-end to the cloud.
In a blog post, Spotify's engineering and infrastructure vice president, Nicholas Harteau, explained why it picked Google over AWS, which it uses among other providers to store the vast amount of music in its catalogue.
"Good infrastructure isn't just about keeping things up and running, it's about making all of our teams more efficient and more effective, and Google's data stack does that for us in spades," he said.
"From traditional batch processing with Dataproc, to rock-solid event delivery with Pub/Sub to the nearly magical abilities of BigQuery, building on Google's data infrastructure provides us with a significant advantage where it matters the most."
More broadly, Harteau explained to IT Pro that "the main reason Spotify is going all-in on moving to the cloud is focus".
"Focus is our most valuable resource, and spending it building our own cloud isn't something that's going to help us win in the long term. For Spotify's scale and complexity, the question now isn't 'to cloud or not to cloud', it's 'do I buy a cloud or build one myself?' We need our engineering teams focused on building great products for our users, not building great clouds."
He elaborated on why the company has waited until now to make the change, explaining that previously "the core cloud services were not at a level of quality, performance and cost that would make cloud a significantly better option for Spotify in the long run".
He added: "Recently that balance has shifted. The storage, compute and network services available from cloud providers are as high quality, high performance and low cost as what the traditional approach provides."
This has been reflected in the high number of services transitioning to the cloud. Microsoft Azure boasts a considerable number of clients, including the company's own Xbox Live service, and video streaming platform Netflix has recently completed its seven-year migration to AWS.
However, Harteau noted that "it's a competitive space," adding that the company "expects the big players to be battling it out for the foreseeable future".
Stay up to date with the latest news and analysis from the world of cloud computing with our twice-weekly newsletter
Adam Shepherd has been a technology journalist since 2015, covering everything from cloud storage and security, to smartphones and servers. Over the course of his career, he's seen the spread of 5G, the growing ubiquity of wireless devices, and the start of the connected revolution. He's also been to more trade shows and technology conferences than he cares to count.
As reviews and community editor, he's responsible for leading IT Pro's wide-ranging product coverage, and is an avid follower of the latest hardware innovations. He's never happier than when tinkering with complex network configurations, or exploring a new Linux distro.
In addition to managing the IT Pro Panel and working with the community of IT leaders that make it up, he co-hosts the IT Pro Podcast, where you can hear him ranting about his love of strange gadgets, his disdain for Windows Mobile, and everything in between.
You can find Adam tweeting about enterprise technology (or more often bad jokes) @AdamShepherUK, or you can email him at adam.shepherd@futurenet.com.
Thank you for signing up to Cloud Pro. You will receive a verification email shortly.
There was a problem. Please refresh the page and try again.