Google Drive to give unlimited cloud storage to students
Drive for Education also touts search and discovery functionality and auditing tools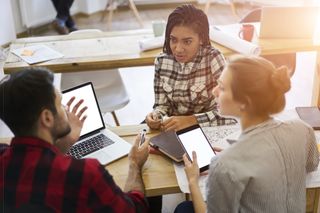 (Image credit: Shutterstock)
Google has launched a version of Drive aimed at students and academics that offers unlimited storage in the cloud.
Drive for Education will be made available for all Google Apps for Education customers at no charge, according to the search giant. It described the service as "an infinitely large, ultra-secure and entirely free bookbag for the 21st century".
The cloud storage service will include unlimited storage and will also allow users to upload files up to 5TB in size.
The service will sport Google Apps Vault, which provides search and discovery for compliance needs. Google said this functionality would be coming free to all Apps for Education users by the end of the year.
Drive for Education will also feature enhance auditing and reporting tools as well as Audit API that easily let users see the activity of a file. Google pointed out this feature will eventually appear in the service.
The cloud storage offers encryption of files not only between a device and Google but also between Google datacentres.
"We want educators and students who use Google Apps for Education to be able to focus on the learning experience - not the technology that supports it," said Apps for Education product manager Ben Schrom.
"With Drive for Education, users can put an end to worries about storage limits and more easily maintain a safe, effective and compliant learning environment."
The service will be available to 30 million students and educators using Google Apps for Education and will be rolled out over the coming weeks. The release of the service follows the launch of the enterprise-focused Drive for Work in June.
In May, Google unveiled Classroom, a free tool in the Google Apps for Education Suite to help automatically organise all classroom assignments into Drive folders.
Stay up to date with the latest news and analysis from the world of cloud computing with our twice-weekly newsletter
Rene Millman is a freelance writer and broadcaster who covers cybersecurity, AI, IoT, and the cloud. He also works as a contributing analyst at GigaOm and has previously worked as an analyst for Gartner covering the infrastructure market. He has made numerous television appearances to give his views and expertise on technology trends and companies that affect and shape our lives. You can follow Rene Millman on Twitter.
Thank you for signing up to Cloud Pro. You will receive a verification email shortly.
There was a problem. Please refresh the page and try again.