Cloud brokers - a helping hand to cloud deployment?
As more cloud products come out every week, finding the right one can be a job in itself – enter the cloud broker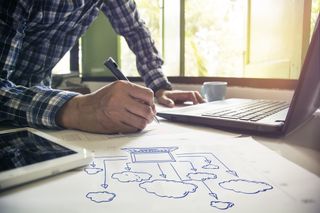 (Image credit: Shutterstock)
Obtaining and managing cloud services is becoming more of a full time job for hard-pressed CIO. Cloud adoption has reached a stage where there is a broad mix of cloud and on-premise infrastructure to deal with and manage – all of which have their own strengths and weaknesses. It's not an easy task and this complexity means that understanding the choices and picking the right one is a trial: perhaps it's time to call in a cloud broker.
Cloud brokerage is still a fairly new type of business. The cloud broker (sometimes called a cloud services broker) can be more like a cloud service clearing house or app store.
The broker consults, mediates and facilitates the selection of cloud computing services on behalf of their client. They can also negotiate terms and conditions, pricing, delivery, deployment and other elements with a cloud vendor on behalf of a client.
That's the definition, but for some the reality is different. "The role of a Cloud Service Broker (CSB) is in its infancy and how this market develops is still uncertain," says Nigel Beighton, vice president of Technology at Rackspace. "At the moment, most CSBs are orientated towards operational running of services and not the needs of developers. The functionality they offer must evolve to keep pace with the changing functionality of cloud and the needs of developers."
Orchestration Saju Sankaran Kutty, associate vice president and head of Cloud Transformed Outsourcing at Infosys reckons that an effective broker helps clients to "orchestrate a 'best in class' cloud ecosystem, enable continuous contestability within the ecosystem and finally, to provide a single point of accountability for management and governance of the ecosystem."
So it is still early days and it would seem that anyone can set up shop calling themselves a cloud broker. This means there are potentially a lot of charlatans; so,how can you tell the good brokers from the bad?
Kalyan Kumar, chief technology architect at HCL Technologies says that a good cloud broker is one that addresses the requirement of cloud brokerage from all aspects including people, process and technology; taking care of both business and operational models.
"They should first and foremost add tremendous value to the cloud provisioning process," says Kumar. "They can do this not only by managing the use, performance and delivery of cloud services, but also by negotiating relationships between cloud providers and customers and acting as a true friend in the entire process."
Furthermore, they should be able to provide various supporting services such as integration, aggregation and arbitrage, which add value to any cloud implementation.
"Ultimately, a good cloud broker is one which will save their clients a vast amount of time and money by taking on much of the initial legwork and management complexity when it comes to moving services to the cloud," says Kumar.
James Walker, president of the Cloud Ethernet Forum (CEF) says that organisations also need to consider the possibility of provider lock-in.
"Some customers come to a broker seeing them as a route to avoid being reliant on a single cloud provider, but then find themselves unable to change broker. A good broker therefore provides strong value-add and flexibility to move provider if needed," he says.
Once you are assured that the cloud broker is the right one, what is the best way to work with them?
Preparation Walker says preparation is key and organisations need to understand their needs and priorities beforehand to get the right results from the broker. "This includes the priority, privacy and security needs of the data, and remember that this should not just be application focused, also consider the network implications – including end to end performance, routing and security in the transport layer," he says.
Kumar says that it is not only about understanding current requirements but future ones as well as collaboration that are essential to the relationship with the broker.
"As part of the service design or service consumption processes, buyers and brokers need to work closely together to first define what the business goals and requirements are before embarking on any cloud implementation project," he says.
This methodology will not only help in defining the right direction but will also help to bring in the required efficiencies during the cloud adoption journey. A cloud broker should know as much about the buyer's IT infrastructure as possible: its limitations, governance policies, security needs etc. This will best identify gaps and help with creation, migration, implementation, management and control of cloud environments.
As mentioned earlier, it is not just about what happens in the organisation at the present time, it will have differing priorities in the future that a broker will need to recognise and adjust accordingly.
Kutty says that contestability and interoperability will be central features driving the future of cloud brokerage.
"They are already offered to a certain extent but new advances are always being made. In particular, interoperability standards across cloud service providers and the ability to achieve 100 per cent portability of workloads is something that the cloud brokers will have to work towards in near future," he says.
Walker says the in the future brokers should be able to offer enhanced diversity, more rapid disaster recovery, and fuller integration into the customer's own data centre and application environment.
"These require standards to be developed so that all the various players in the chain can interoperate with each other – the enterprise themselves, the network service provider, the data centre operator, the cloud service provider, the security provider, and so on. This is when real value can start to be created," he says.
Kumsar says that while cloud services are growing in popularity, many large global organisations continue to host the majority of their mission-critical systems on premise.
"As such, hybrid cloud environments are growing rapidly," he says. "These environments require greater management and have increased IT complexity; thereby reinforcing the need for a broker that can provide a unified cloud lifecycle management capability for hybrid environments, including support and expertise that may not exist within the business."
Stay up to date with the latest news and analysis from the world of cloud computing with our twice-weekly newsletter
Rene Millman is a freelance writer and broadcaster who covers cybersecurity, AI, IoT, and the cloud. He also works as a contributing analyst at GigaOm and has previously worked as an analyst for Gartner covering the infrastructure market. He has made numerous television appearances to give his views and expertise on technology trends and companies that affect and shape our lives. You can follow Rene Millman on Twitter.