Microsoft and HP debut cloud and virtualisation go-to-market plans
Joint programme optimises virtualisation, cloud and data management, companies claim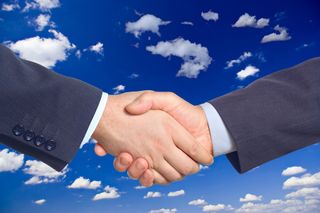 Microsoft and HP have launched a new go-to-market programme that claims to help partners deliver reliable end-to-end cloud and virtualisation offerings to their customers.
Dubbed Modern Infrastructure, the programme consists of three pillars: server virtualisation and private cloud, client virtualisation and virtual desktop infrastructure, and data management and business intelligence.
In a blog post, Mark Hassall, the Microsoft lead for the joint Infrastructure to Applications (I2A) initiative with HP, said: "Industry trends like cloud, the consumerisation of IT and [Bring Your Own Device], big data, and mission critical computing are transforming datacentre computing today – and will deliver new value, and new ways of doing business for your customers, for many years to come. "
Modern Infrastructure gives partners the opportunity to "most effectively capture the opportunity presented by these trends," he claimed.
The server virtualisation and private cloud pillar is comprised of virtualisation smart bundles and HP Cloud Solution for Microsoft built on HP VirtualSystem VS3 for Microsoft.
According to Hassal, it is aimed at partners whose customers are looking to scale IT resources and services on-demand and reduce operational costs.
Cloud virtualisation and virtual desktop infrastructure use HP Client Virtualization SMB Reference Architecture for Microsoft to give end customers the ability to "empower their increasingly mobile workforce by delivering business applications anywhere and on any device," Hassal said.
Finally, data management and business intelligence uses HP AppSystem for SQL Server 2012 Parallel Data Warehouse, HP Fast Track and Database Consolidation Reference Architectures to give customers actionable insights into large volumes of data, Hassal claimed.
"The Modern Infrastructure programme will provide you with sales conversations that appeal to a broad range of new customers, while highlighting the need for both hardware and software upgrades to existing customers," Hassal said.
Special promotions and discounts will be introduced later in the year, he said, adding that partners can earn solution incentive programme (SIP) advisor fees for closing server infrastructure deals.
"Modern Infrastructure solutions bring a wide range of cross-selling opportunities that span infrastructure and applications, enabling you to make inroads into a platform that will only grow with your customers.
"All this leads to high margins through long-term and high-value services across all kinds of environments: on-premise, private and hybrid cloud," Hassal concluded.
Stay up to date with the latest news and analysis from the world of cloud computing with our twice-weekly newsletter
Thank you for signing up to Cloud Pro. You will receive a verification email shortly.
There was a problem. Please refresh the page and try again.