Microsoft helps NHS patient records take flight in Phoenix private cloud
Collaboration with Microsoft and hosting company provides clinicians with a single resource to monitor patients' well-being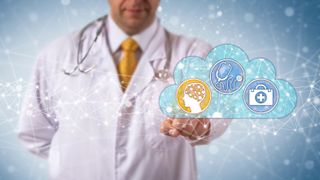 The Phoenix Partnership (TPP), which provides hosted clinical systems, has collaborated with Microsoft and the NHS to implement a programme that gives clinicians access to a single record for each patient over their lifetime.
The SystmOne platform can be used to keep track of a patient's medical history via a single source, and to analyse clinical trends and performance across the NHS. It also allows clinicians to access or enter data into patient files remotely.
The system supports 140,000 registered users, and can reportedly manage 24 million patient records, totalling up to 200 terabytes of data.
TPP initially built SystmOne on the Microsoft SQL Server 2005 database platform and later migrated to SQL Server 2008 R2.
The service runs on a private cloud infrastructure using Windows Server 2008 R2 and has both a primary datacentre and a secondary disaster recovery site that backups simultaneously to guard against data loss.
Phil Grayson, infrastructure lead at TPP, said: "We needed a low-cost, high-performance database platform to ensure high availability and uptime of SystmOne. The database platform had to be secure and reliable to accommodate the hosted offering for sharing data.
"Moving to SQL Server 2008 R2 is a critical step to prepare for further improvements in the data platform space using Microsoft Windows Server 2012 and Microsoft SQL Server 2012," he added.
Microsoft UK's SQL product manager, Anthony Saxby, said Microsoft's server platforms were chosen as they promoted trust in the project.
"SystmOne manages highly sensitive patient records and needs to be available anytime, anywhere. It has to be secure, dependable and reliable...and that is why [these products] were chosen," Saxby said.
NHS workers claim the new setup has allowed them to be more productive.
Dr Talac Mahmud, senior partner at FirstCare Practice GP surgery in London, explained: "Because it is so simple to update problems and summaries in the record, our data quality has been much improved. Almost everything is recorded without you having to do anything, which is vital for monitoring activity and workflow."
Stay up to date with the latest news and analysis from the world of cloud computing with our twice-weekly newsletter
Jane McCallion is ITPro's Deputy Editor, primarily covering security, storage and networking for ITPro, CloudPro and ChannelPro.
Jane joined ITPro and CloudPro in July 2012, having previously written freelance for a number of business and finance magazines. She has also covered current affairs, including the student, public sector workers and TUC protests and strikes in central London while studying a Masters in Journalism at Goldsmiths, University of London.
Prior to becoming a journalist, Jane studied Applied Languages at the University of Portsmouth.
Thank you for signing up to Cloud Pro. You will receive a verification email shortly.
There was a problem. Please refresh the page and try again.