Humber NHS Trust goes mobile-first with BT
BT and TotalMobile's solution gives healthcare workers remote access to patient details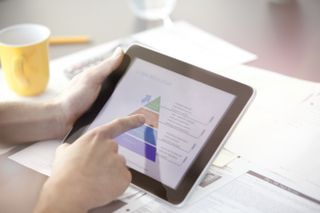 (Image credit: Getty Images)
An NHS trust has used G-Cloud to procure a mobile working solution from BT and TotalMobile.
The two tech firms will roll out their mobile solution to 500 healthcare professionals at Humber NHS Foundation Trust over four months, starting in June.
Those staff will be able to access patient notes remotely on their mobile devices as they care for mental health patients and disabled people, the trust said.
BT and TotalMobile will provide the solution for two years – in line with G-Cloud contract length rules.
It'll replace paper records currently used by the trust, which claims it will save time and money by negating the need for healthcare workers to travel back and forth to the office between appointments to get case notes.
They will also be able to update and view their diaries from the their smartphone or tablet, according to BT.
The telco giant is providing Wi-Fi, 2G and 3G connectivity, while TotalMobile will integrate its own workflow management software with the trust's existing electronic patient record system.
All patient records and scheduling details will sit on BT's Compute for Health platform, which complies with the Health and Social Care Information Centre's standards on information security.
The trust has 3,000 staff working from 70 different sites to cover a population of 600,000, and its director of infrastructure, Adrian Snarr, said it was very important to be able to capture data and store it in one place.
"It was essential we were able to digitally capture information at the point of care," he said. "This mobile service allows our staff to gain instant secure access to the most up to date information stored on our electronic patient record system.
"This means our community teams for example, can plan their visits more efficiently and effectively to maximise their time with their patients."
He added: "Using G-Cloud we were able to speed up the procurement process as a whole and keep the costs down, as we didn't have to go to the expense of putting the contract out to tender."
However, while the new solution is being partly funded by NHS England's £65 million Nursing Technology Fund, Snarr didn't reveal exactly how much the project and its procurement actually cost.
Ian Dalton, president of global government and health at BT Global Services, said: "Mobile working [can help] Humber NHS Foundation Trust to work smarter and more cost-effectively.
"Not only can it reduce travel and administration, freeing staff up to spend more time with their patients, but it can empower them to provide the highest quality patient care. This is clearly not just about technology, it's about transforming care and services."
Stay up to date with the latest news and analysis from the world of cloud computing with our twice-weekly newsletter
Thank you for signing up to Cloud Pro. You will receive a verification email shortly.
There was a problem. Please refresh the page and try again.