JEDI contract put on hold after intense industry lobbying
President Trump echoes concerns of favouritism towards AWS duing the bidding process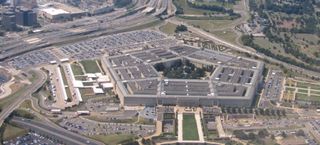 (Image credit: Shutterstock)
The $10 billion JEDI contract to supply cloud computing services to the Pentagon has been halted after an aggressive lobbying campaign from rival tech companies.
According to CNN, which first reported the story, an inside campaign was allegedly carried out to dissuade President Trump from choosing Amazon's AWS as the winner of the contract.
Amazon and Microsoft are currently the only two companies in the race after Oracle and IBM were knocked out of the running months ago, but a one-page document was given to Trump which appears to visually outline Amazon's ten-year plan for cloud monopolisation.
The document is identical to one created by Oracle's top Washington lobbyist, Kenneth Glueck, an executive vice president with the company, Glueck told CNN.
CNN remarked that the document delivered to Trump, which may have been the deciding factor in delaying the JEDI contract due to be announced this month, was designed to play up to the feud between Trump and Amazon CEO Jeff Bezos.
"So sorry to hear the news about Jeff Bozo being taken down by a competitor whose reporting, I understand, is far more accurate than the reporting in his lobbyist newspaper, the Amazon Washington Post," tweeted Trump in relation to Bezos' divorce at the time. "Hopefully the paper will soon be placed in better & more responsible hands!"
Defence Secretary Mark Esper is currently investigating allegations of unfairness in the awarding of the contract, according to Pentagon spokeswoman Elissa Smith.
"Keeping his promise to Members of Congress and the American public, Secretary Esper is looking at the Joint Enterprise Defense Infrastructure (JEDI) program," Smith said in a statement on Thursday to Reuters. "No decision will be made on the program until he has completed his examination."
Speculation surrounding the treatment of AWS in the contract's bidding process has raged on for months, some have argued that the nature of the contract itself favours AWS and the services it offers.
Reports also suggest that Senator Mark Rubio penned a letter to national security advisor John Bolton requesting the contract be delayed.
"I respectfully request that you direct the delay of an award until all efforts are concluded in addition to evaluating all bids in a fair and open process in order to provide the competition necessary to obtain the best cost and best technology for its cloud computing needs," Rubio reportedly wrote.
The Joint Enterprise Defence Infrastructure (JEDI) contract is worth $10 billion and the project to renovate the Pentagon's IT infrastructure into a contemporary cloud-based one could span 10 years.
Stay up to date with the latest news and analysis from the world of cloud computing with our twice-weekly newsletter
Thank you for signing up to Cloud Pro. You will receive a verification email shortly.
There was a problem. Please refresh the page and try again.