How cloud is finding its place in the pharmaceutical industry
Despite concerns over its regulatory environment, cloud has a role in the pharmaceutical world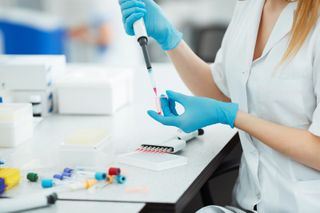 Given the amount of energy, research and resources pharmaceutical companies employ in testing their drugs before they are in a position to start selling them, you would expect them to take a similar approach to cloud computing: start trials in specific areas and look for potential side effects before considering more wide scale deployments.
But unlike the typical drug lifecycle which can take ten years from discovery to approval to hitting the chemist's shelves, cloud computing seems to be moving at a much more rapid pace. In a report on the Life Sciences sector last year, Accenture states that cloud computing had gone "from an intriguing idea to a core capability so quickly that leading Life Sciences companies are approaching new systems architectures with a 'cloud first' mentality". The report claims the scalability, flexibility and responsiveness provided by cloud computing made it "a compelling choice" for Life Sciences companies moving into new markets or launching new products and services.
Accenture predicts IaaS growth will increase and PaaS will "become the primary approach for application development". Life Sciences companies would also be able to extend their cloud strategies to R&D, commercial, supply chain and enterprise functions.
According to the report, Accenture believes most pharmaceutical companies had restricted their R&D cloud deployments "to pilot and niche projects" due to regulatory restrictions and the desire to protect their intellectual property. "But R&D requirements for large data sets and associated computing capacity—as well as collaboration across entities—makes R&D a prime candidate for cloud applications," Accenture notes - highlighting bioinformatics, next-generation gene sequencing, and molecular imaging and modelling as areas that could benefit from cloud computing's scalable, cost-effective and high-performance computing environment.
Pfizer has already developed (with Accenture) a cloud-based platform for clinical data aggregation and reporting designed to improve collaboration with clinical research organisations Parexel and ICON when managing clinical studies. The service aggregates the critical clinical trial information held by Parexel and ICON while Pfizer concentrates on analysis of the data, monitoring progress and managing relationships with regulators.
Amazon Web Services (AWS) is already being used by Life Sciences companies to create scalable and highly available IT infrastructures to store, compute and share data. Among the use cases it lists for pharma companies, biotech companies, research centres and academic laboratories are genome sequencing and data distribution, bioinformatics, drug discovery, scientific collaboration and centralised data management.
For example, the Amazon Virtual Private Cloud is being used to provide a secure environment for Pfizer to provide additional computing resources to its dedicated high performance computing (HPC) software and systems used for worldwide research and development (WRD). Dr Michael Miller, head of HPC for R&D at Pfizer says AWS enables WRD "to explore specific difficult or deep scientific questions in a timely, scalable manner and helps Pfizer make better decisions more quickly".
Patric Wiesmann, managing director for Healthcare and Life Sciences at DocuSign, believes that pharma companies are "more open to cloud-based solutions than previous years", observing that cloud solutions are being used to improve quality and accessibility of data for sales forces and clinical trial site managers and to streamline communication across a wide geographic divide.
But he says the most disruptive part of the evolution of cloud across the pharmaceutical industry "is realising the pairing of the cloud with big data, analytical tools and mobile devices. The industry is still in the early stages of evaluating applications in these areas but just think about data mashups between public and private data sets and then companies using that information to deepen insights for their own portfolios".
That's something Paul Craig, cloud expert at PA Consulting Group, has already done by using the anonymised Hospital Episode Statistics (HES) data set from the NHS on a Google cloud and building demos to show just what can be done. For example, he combined it with prescription data for the past five years and "noticed there was a strong correlation between the prescription of anti-heartburn drugs and an increase in admittance to A&E of pneumonia-related incidences. It was fascinating and took only ten minutes of playing around with the data. That's where the insight really comes from".
But Craig points out that this kind of analysis is almost "counter-intuitive" to the way that big pharma organisations traditionally work where they require plans and protocols in place before trying anything. With a cloud-based system, people can try something and if it doesn't work, they can just move on.
From his perspective, Craig believes the pharmaceutical industry is still "circling around things and having a little nibble" when it comes to the cloud.
In terms of collaboration, some organisations are much further advanced in adopting cloud. For example, Roche Group has signed a deal with Google to roll out Google Apps as the single common platform to its 90,000 employees and Astra Zeneca has deployed Microsoft Lync across 110 countries, reducing IS and travel costs while making significant improvements in communication times. PA Consulting is also working with an unnamed client to roll out a 10,000 seat Google App deployment to replace "a hodgepodge of technologies" which Craig claims is going well.
Kevin McNulty, director of product marketing for life sciences at Intralinks which numbers the top ten life sciences companies among its clients, says cloud is attractive to pharma because clinical development is a collaborative process that involves large numbers of partners across multiple geographies which collect highly sensitive patient data."Considering the number of partners in disparate locations who need quick access to this data, cloud-based technology solutions offer the most efficient means for all the parties involved to communicate," he argues.
Inevitably, data security and integrity are areas of concern for many pharma companies. McNulty says they need to focus on cloud-based systems that are fully validated with the relevant international regulations so the data is protected and can be used in clinical trials. It's important they are validated because the data collected through a system that isn't "can potentially be rejected by regulatory agencies".
Craig at PA Consulting says the benefits with cloud computing are "very clear" and claims the risks "are often over-stated. Misinformation is rife. Reality and the tabloid headlines are often polar opposites. People assume health data is confidential, it's not, it's confidential where you can identify the patient but that's not really important to the research people. They don't care about names and individuals".
Data security and integrity are areas of concern for many pharma companies
Hybrid cloud solutions can be deployed to provide the required information for research while maintaining personal, confidential information on a separate system. Craig predicts that big pharma will definitely throw its weight into cloud computing over the next year or so.
McNulty thinks it already has in certain areas and that it can serve as an example to other sectors. "Any industry or firm that is nervous about moving highly sensitive data can look towards the life sciences industry for guidance and confidence," he says. "There is no electronic data that is under greater scrutiny and regulatory oversight than personal health data, and this industry has fully embraced cloud technology."
Stay up to date with the latest news and analysis from the world of cloud computing with our twice-weekly newsletter