Cloud ERP systems improves traceability
Noble Foods puts its eggs in cloud basket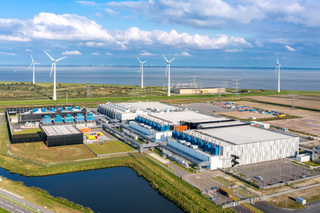 Eggs supplier company Noble Foods was looking to ditch a mainly paper-based system, which it used for to provide its customers with an audit trail for its eggs as they travelled from farm to fork, as the saying goes. It looked to the cloud to give it a system that could provide the firm with better insight into its supply chain.
The old system relied on a number of spreadsheets and was not very efficient. The firm needed something that that could link an improved audit and data capture process to a wide range of internal and regulatory reporting for increased efficiency and improved data integrity.
Noble Foods had already deployed Microsoft Dynamics NAV ERP to several of its business units, using the integrated LinkFresh Food Supply Chain offering from Cambridgeshire-based software and IT consultancy Anglia Business Solutions. LinkFresh provides farm-to-fork traceability and management information to increase efficiency of labour, visibility of financial reporting and supply chain management.
Field based auditors required a flexible service for data capture on mobile devices, such as iPads, to provide reliable and real-time information generated from both the regular and ad hoc audit visits to farms conducted throughout the supply base.
Previous methods to manage the audits and the associated reporting saw a significant amount of time spent on paperwork, photocopying, scanning and use of spreadsheets to analyse and report on a wide range of key performance and regulatory measures. Noble Foods needed a system that would deliver an integrated package with cloud-based features which could, in the future, be interfaced with existing in-house systems.
As Anglia Business Solutions had already supplied the food firm with with an ERP offering, it was the main candidate to help with its LinkFresh Cloud Quality Assurance (QA) food supply chain management application. Noble Food chose the service as it wanted something future proof that would scale to a changing set of business requirements.
The LINKFresh cloud-based QA application captures good manufacturing practice (GMP) audit data from the farms. The audits are designed to check and report on a large range of key factors relating to facilities and their conditions, hygiene procedures and outcomes, and through the on-screen questionnaire, captures all the data (including photographs and videos if required). The results are then available online for company-wide access across computers and mobile devices. The captured data forms the basis of Noble Foods' GMP audit requirements.
The LINKFresh Cloud QA offering was implemented at Noble Foods and resulted in audits being made immediately available online across a range of platforms. The data is then synchronised via the cloud to a central database.
The system can also work offline through its Drizzle replication technology. A user can undertake QA surveys in areas with no phone network or wireless service. Once the data is captured it is stored securely on the device until such a time where service is available. After the sync process has completed users are then able to review all their tests online.
The system also uses an app for the iPhone and iPad that does away with bulky expensive scanners and unfriendly user interfaces. Users can also attach media such as photos, videos and audio recordings as well.
Anglia Business Solutions has expanded its leading Drizzle replication technology to work across the latest generation of tablet and phone devices in order to synchronise securely to the cloud. The cloud service for this application is provided by the Microsoft Azure platform.
As Noble Foods had already invested in a Microsoft infrastructure and deployed the Microsoft Dynamics NAV ERP product, the decision to use the Microsoft Azure cloud platform was an easy one for the firm.
The ability to input more information in real-time meant that accuracy and consistency was increased. This faster process increased the efficiency of the auditing tasks and saved a vast amount of time spent on paperwork. The ability to calculate the audit scores in real-time meant the score reached the producer much sooner than it did before using LinkFresh.
With the results stored on the cloud, users can then review all incoming tests online as well as complete QA checks online as well. The web module also allows user to run reports on data gathered from QA tests using a variety of data ranges.
Noble Foods, which delivers more than 72 million eggs to its retail customers every week, was impressed with the food industry component included with the LinkFresh product and the scope it provides for future expansion.
Avril Ritchie, contracts supplies farms auditor at Noble Foods, said: "What's great about LinkFresh is that it has been designed specifically for the fresh food industry with the required functionality for product tracing and 'sell by/best by' monitoring and controls.
"The cloud-based QA application supplied by Anglia Business Solutions met our requirements for ease of deployment, flexibility of design and configuration and the provision of 'connector software' to integrate the cloud application to our on-premise LinkFresh Microsoft Dynamics ERP solution, which provided an added value benefit," she said
"Eliminating the need for paperwork and countless spreadsheets has meant that tasks can now be completed much faster and more efficiently, while reducing inaccuracies," added Ritchie.
Following the success of the implementation of LINKFresh Cloud Quality Assurance, Noble Foods is looking into the suitability of the application for other parts of the group.
Stay up to date with the latest news and analysis from the world of cloud computing with our twice-weekly newsletter
Rene Millman is a freelance writer and broadcaster who covers cybersecurity, AI, IoT, and the cloud. He also works as a contributing analyst at GigaOm and has previously worked as an analyst for Gartner covering the infrastructure market. He has made numerous television appearances to give his views and expertise on technology trends and companies that affect and shape our lives. You can follow Rene Millman on Twitter.
Thank you for signing up to Cloud Pro. You will receive a verification email shortly.
There was a problem. Please refresh the page and try again.