Good Technology to simplify BYOD security with cloud-based EMM suite
New productivity tools should ease task of controlling devices on networks, it is hoped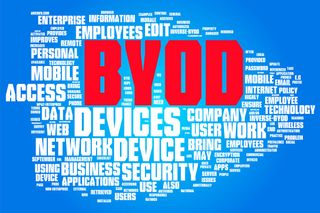 Good Technology has launched a new productivity suite aimed at helping firms better control personal devices on corporate networks via a cloud-based mobility management service. The service can also be deployed on-premise.
Dubbed Good Work, the service is built on the Good Dynamics platform and sports a portal to allow access to relevant business tools, such as email, messaging, contacts, calendar, documents and browsers.
"As adoption of BYOD continues to explode. Businesses of all sizes are looking for simpler, more manageable, more affordable and more secure solutions to address the complexity of dealing with hundreds – if not thousands of device types and operating systems," said Christy Wyatt, chairman and chief executive at Good Technology, in a statement.
"Good Work enables both large and mid-size businesses with an intuitive cloud-based solution, making it simple and affordable to harness the power of secure mobility to drive new business processes," she said.
In addition to this, the firm also announced its Good Secure Mobile Productivity Suite, an all-in-one cloud-based service for managing documents and delivering mobile CRM sales productivity through Good for Salesforce1.
This service offers secure access to email attachments, links sent through instant messaging and documents stored in SharePoint and other file shares as well as editing capabilities for Microsoft Office documents and annotation of PDFs.
Digital signing for quotes, NDAs and other business-critical documents can also be done with the tool. The suite also provides access to customer data in the Salesforce1 cloud as well as Salesforce Chatter for secure real-time feeds on sales information.
Analysts said firms should exploit mobility within their organisations to gain business advantages.
"While enterprises have traditionally been early adopters of mobile technology, we see a tremendous opportunity for businesses of all sizes to take advantage of mobility," said Chris Chute, IDC research vice president of the global SMB cloud and mobility practice.
"Smaller businesses especially can benefit from mobility as they try to scale more quickly, grow rapidly and drive more productivity."
Stay up to date with the latest news and analysis from the world of cloud computing with our twice-weekly newsletter
Rene Millman is a freelance writer and broadcaster who covers cybersecurity, AI, IoT, and the cloud. He also works as a contributing analyst at GigaOm and has previously worked as an analyst for Gartner covering the infrastructure market. He has made numerous television appearances to give his views and expertise on technology trends and companies that affect and shape our lives. You can follow Rene Millman on Twitter.
Thank you for signing up to Cloud Pro. You will receive a verification email shortly.
There was a problem. Please refresh the page and try again.