Does your company have an IT strategy and how did it choose it?
Cloud should be part of an IT strategy and that should support the business but how many companies get this right?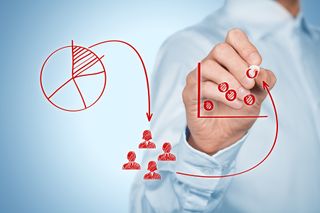 (Image credit: Bigstock)
Does your company have an IT strategy?
It sounds an innocuous question but it was one that was raised at Cloud Expo by two of cloud's deepest and most provocative speakers and it had me scratching my head. They said some interesting things about business strategy and whether IT was on the right track supporting it.
Simon Wardley and Joe Weinman both asked this question and both had a rather jaundiced view of most companies' approach to IT. It certainly would be a good question to ask any CIO to find out what is driving their IT decision making.
Leading Edge's Simon Wardley is a conference favourite and renowned for his idiosyncratic approach to the topic but he's one of the deepest thinkers on the disruptive effects of the cloud and of the way that businesses are looking at the topic.
One of Wardley's key notions is that the concept of cloud emerging as a disruptive technology to catch organisations by surprise is a false one. He says that the signposts were there 10 years ago and points out that a company he was working for eight years ago had an IT strategy that involved moving to the cloud. His point is that other companies could have seen the signs and that no many organisations sat and waited for too long.
Like many theorists on cloud, Wardley says that it's not about a technology but about business strategy and that companies need to work out where they're going first: he uses the analogy of military engagements, a general has a much better plan of attack when he has a map.
Joe Weinman, the other theorist with plenty to stay about the notion of IT strategy, is also keen to debunk many of the myths of cloud: that it's commensurate with a commoditised utility; that opex is better than capex; that all cloud benefits are driven by the economies of scale. He ran through some of the muddled thinking underlying these assumptions (his book Cloudonomics provides a detailed breakdown of the arguments).
A myth is keen to debunk is the idea that business decisions are rational ones taken in the best economic interest. He says that people are more often lazy, hazy and crazy. They don't look deep enough, they don't understand some underlying challenges to a business and they make completely irrational decisions. A philosophy that supports much of Wardley's hypothesis.
Wardley and Weinman are writing from two different points of view: the former is concerned with business strategies and the latter writes from the viewpoint of making decision-making based on more empirical evidence; he uses statistics and hard data to justify his viewpoint but, although they don't always agree, he and Wardley are united on one thing: moving to cloud is a business decision and not a technological one.
But, here's the thing, if cloud is a business decision and if many purchasing decisions are taken by line-of-business managers; why is it that every attendee at Cloud Expo appeared to have IS or IT (or some variation thereof) on his (and it's almost certainly a his rather than her) badge. I was looking around at the delegates during the talks and it was clear that their main focus was bits and bytes rather than the bottome line.
Why weren't Wardley's and Weinman's presentations attended by the line-of-business managers? Why for that matter was Cloud Expo Europe attended by so many people with a technological job title? The needs to be more engagement by all sides of the business and the cloud industry needs to start addressing this. This about the business and solely about the business.
To back to the opening question: is your organisation's IT strategy one that will aid growth and keep the company ahead of the competition. Or is it, as Wardley postulates, a strategy devised by keeping up with what other people are doing?
Stay up to date with the latest news and analysis from the world of cloud computing with our twice-weekly newsletter
Thank you for signing up to Cloud Pro. You will receive a verification email shortly.
There was a problem. Please refresh the page and try again.