TfL will track tube passengers to improve its service
Company will harvest anonymous data from passengers using the free Underground WiFi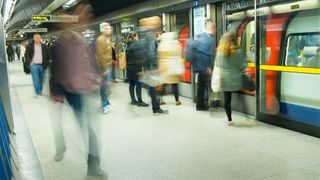 Transport for London will start tracking the movements of passengers on the London Underground from next month, the company has announced.
Beginning on 8 July, TfL will begin using the free Wi-Fi service provided throughout the tube network to gather information on the movements of passengers through the system. Anyone that connects to the Wi-Fi will be tracked as part of the scheme. An early pilot was held for four weeks in 2016 across more than 50 tube stations, during which TfL gathered data on more than 42 million journeys.
The aim of the programme will be to give TfL more granular data on passenger movement within stations, allowing them to inform customers more accurately about the state of the network, taking things like foot congestion and overcrowding into consideration, as well as train schedules.
"The benefits this new depersonalised dataset could unlock across our network--from providing customers with better alerts about overcrowding to helping station staff have a better understanding of the network in near-real time -- are enormous," said TfL's chief data officer Lauren Sager Weinstein.
"By better understanding overall patterns and flows, we can provide better information to our customers and help us plan and operate our transport network more effectively for all."
The data will also be made available via TfL's open API, meaning that app developers will also be able to make use of it. Journey planner apps like Citymapper, for example, could direct customers to pick the less overcrowded of two equally fast routes based on this passenger data.
"TfL is a world leader in the use of data to improve services," said London's chief digital officer Theo Blackwell. "Today nearly half of all Londoners use an app derived from TfL's open data feeds. Greater insight into how people use the Tube helps better transport planning but also enables the development of new apps to give customers further advance information about their planned journey in order to plan their best, and least congested route."
TfL has anticipated the concerns of privacy campaigners around this kind of mass tracking, however, and said that the data-gathering will be secure and privacy-protected. The data will be depersonalised, it said, promising that "individual customer data will never be shared and customers will not be personally identified from the data collected by TfL".
The organisation also noted that it had collaborated with the Information Commissioner's Office on developing the scheme in order to ensure that privacy and transparency concerns were adequately addressed.
Once the system goes into effect, warning notices will be added to TlF's in-station CCTV signage to alert them to the data collection and direct them to where they can find more information.
"While I am excited about the potential of this new dataset, I am equally mindful of the responsibility that comes with it," Weinstein said. "We take our customers' privacy extremely seriously and will not identify individuals from the Wi-Fi data collected. Transparency, privacy and ethics need to be at the forefront of data work in society and we recognise the trust that our customers place in us, and safeguarding our customers' data is absolutely fundamental."
A daily dose of IT news, reviews, features and insights, straight to your inbox!
Adam Shepherd has been a technology journalist since 2015, covering everything from cloud storage and security, to smartphones and servers. Over the course of his career, he's seen the spread of 5G, the growing ubiquity of wireless devices, and the start of the connected revolution. He's also been to more trade shows and technology conferences than he cares to count.
As reviews and community editor, he's responsible for leading IT Pro's wide-ranging product coverage, and is an avid follower of the latest hardware innovations. He's never happier than when tinkering with complex network configurations, or exploring a new Linux distro.
In addition to managing the IT Pro Panel and working with the community of IT leaders that make it up, he co-hosts the IT Pro Podcast, where you can hear him ranting about his love of strange gadgets, his disdain for Windows Mobile, and everything in between.
You can find Adam tweeting about enterprise technology (or more often bad jokes) @AdamShepherUK, or you can email him at adam.shepherd@futurenet.com.
A daily dose of IT news, reviews, features and insights, straight to your inbox!
Thank you for signing up to ITPro. You will receive a verification email shortly.
There was a problem. Please refresh the page and try again.