Police officers told not to download NHS contact-tracing app
NPCC chair previously said 'it should be everyone's priority' to curb virus spread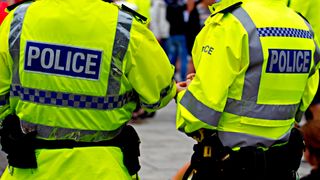 (Image credit: Shutterstock)
Police officers across the UK are being told not to download the NHS COVID-19 contact-tracing app, with some being told that they can also disregard self-isolation alerts.
The National Police Chiefs Council (NPCC) has confirmed to the BBC that police officers are being told not to install the app on their work smartphones. This applies to all police staff, regardless of whether their position is public-facing or office-based.
According to one source, this is due to "security reasons", over fears that the app could potentially sabotage undercover operations. Officers are also not allowed to carry their personal phones while on duty if they had activated the app.
However, the UK government had stated that the NHS app collects data on an anonymous basis. Therefore the extent of the app's ability to sabotage police operations could be questioned.
The UK police employs over 210,000 people and it's not certain how many are allowed to comply with government guidance to download the app.
A Lancashire Constabulary spokeswoman told the BBC that their police officers "are personally able to download the Track and Trace application should they choose to do so", adding that the "guidance provided to staff within the workplace remains in line with the national NPCC position".
The NPCC told the BBC: "It is important that we have confidence that the NHS app will work for officers and staff consistently across the country, and it is for this reason that we have recommended that officers and staff download the app to their personal, as opposed to work devices, rather than any suggestion of security implications."
Last week, in response to the government's new measures to curb the fast-paced spread of the virus, NPCC chair Martin Hewitt said that "the rise in the spread of the virus should concern us all, and it should be everyone's priority to drive these numbers down".
"The country is at a critical point, and personal choices will matter in the weeks and months to come," he added. However, the recent reports of NPCC's advice for officers may put Hewitt's claims into question.
According to the BBC, the NPCC could revoke the policy as early as today. IT Pro has contacted the NPCC to ask about the current status of the regulation but had not heard back at the time of publication.
A daily dose of IT news, reviews, features and insights, straight to your inbox!
A daily dose of IT news, reviews, features and insights, straight to your inbox!
Thank you for signing up to ITPro. You will receive a verification email shortly.
There was a problem. Please refresh the page and try again.