Microsoft launches app store for business, AppSource
Platform will help B2B users discover apps specific to their industry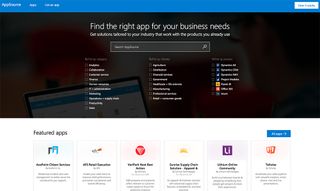 Microsoft has opened a decided app store for enterprise, called AppSource.
The new app store is intended to help business users find and evaluate line-of-business (LoB) and SaaS apps from Microsoft and its partners.
This includes apps built on top of Microsoft Dynamics, Office, Cortana Intelligence, Power BI and the Azure platform, as well as add-ons, extension and content packages for existing apps.
Microsoft explained that the purpose of AppSource is to let anyone, from any sector or industry, quickly discover and compare the tools they need for business.
The new store appears to offer a broader selection than that of Windows Store for Business, which Microsoft debuted last autumn.
AppSource allows users to scan apps by category, such as collaboration, analytics and marketing, or by industry, such as agriculture, finance or healthcare.
The search engine for the store also includes contextual in-app galleries that display apps specific to the user, their company or their industry.
For venders or developers who wish to get their apps listed on Microsoft's new store, they will be required to offer a free trial. Their app will also need to be integrated with Azure Active Directory, for identity and authentication. More information on submitting an app for listing on the AppSource store can be found here.
Microsoft's B2B store was live briefly prematurely last week, when it was spotted by Twitter user WalkingCat.
The software company also offers another B2B platform, Pinpoint. This discovery platform connects users with Microsoft-recommended vendors. AppSource, on the other hand, will connect users with specific apps.
Users can visit the AppSource store for business at appsource.microsoft.com.
A daily dose of IT news, reviews, features and insights, straight to your inbox!
A daily dose of IT news, reviews, features and insights, straight to your inbox!
Thank you for signing up to ITPro. You will receive a verification email shortly.
There was a problem. Please refresh the page and try again.