Apple announces 25 March event, teasing streaming services
The conference could also showcase new iPad hardware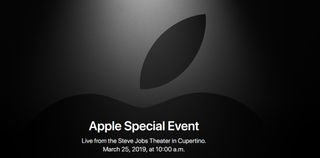 Apple has announced that its next event will take place on 25 March, with a streaming service teased and new products predicted.
The company announced the event with a teaser that alluded to films- it included the phrase: "it's showtime."
Apple used the same wording to announce a 2006 event. Like the 2019 announcement, it contained many references to film. That launch announced the introduction of movies to the iTunes Store. It also renamed what was then called iTV to Apple TV.
This seemed to confirm rumours that Apple is starting its own subscription service. The platform is expected to rival Netflix, and possibly even carry some of Netflix's own TV shows and films. The subscription service has been the subject of repeated leaks. The frequency of the leaks suggests that the service could drop very soon.
Apple is also expected to announce a paid-for subscription news service. There are rumours that this service will allow users to pay a single fee for a bundle of magazines, thus bundling several different news and magazine services.
Online leaks and rumours have also suggested that the company is working on some new hardware. Examples could include improved AirPods and an update of the standard iPad and iPad Mini. Additionally, many customers are hoping to see the release of the AirPower charging mat, which was announced over a year ago.
Both the 9.7in iPad and the smaller iPad Mini 4 are now fairly long in the tooth for Apple products and are overdue a refresh. We can expect to see boosted internal specs and perhaps some refinement in design, but Apple will likely not deviate too much from a formula that has worked well with previous iPad iterations.
A daily dose of IT news, reviews, features and insights, straight to your inbox!
A daily dose of IT news, reviews, features and insights, straight to your inbox!
Thank you for signing up to ITPro. You will receive a verification email shortly.
There was a problem. Please refresh the page and try again.