Foxconn 'cautiously' restarts production as tech tries to work around coronavirus
Epidemic continues to impact Chinese tech industry manufacturing and sales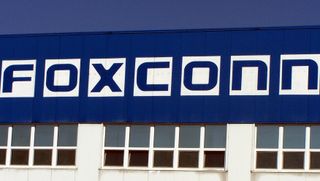 Foxconn will reportedly restart production at its factories in China, hit hard by the coronavirus epidemic, as the tech industry continues to struggle with the repercussions of the outbreak on sales, supply chains, and marketing.
The manufacturing giant works for Huawei and Apple, among others, with the iPhone maker pinning the blame on the virus for its recent production slowdown and weaker Chinese sales.
The company has confirmed it will be "cautiously" resuming production, according to a report from Reuters.
A notice seen by the Financial Times noted that workers not based in Zhengzhou – home to Foxconn's factory employing 200,000 staff – were told to stay at home, "in response to government epidemic control requirements to prioritise prevention and safely resume work, and at the same time improve the quality of our worker reception services".
However, such reports have previously been disputed. Earlier in February, Reuters reported that Foxconn employees were returning to work, which the Taiwanese company later refuted. On 9 February, the company said in a statement: "The operation schedules for our facilities in China follow the recommendations of the local governments, and we have not received any requests from our customers on the need to resume production earlier."
The back-and-forth on the production schedule highlights the impact of coronavirus on technology, in particular on supply chains. In response to the outbreak, Samsung has said it's shifting components from China to Vietnam for manufacturing, in order to avoid any impact on the launch of its new phones.
Apple said earlier this week that it does "not expect to meet the revenue guidance provided for the March quarter" after closing all of its stores in China, adding that iPhone supply will be temporarily constrained.
"While our iPhone manufacturing partner sites are located outside the Hubei province – and while all of these facilities have reopened – they are ramping up more slowly than we had anticipated," the company said in a statement.
Facebook, meanwhile, said it had paused orders on its Oculus Quest VR headset because of production shutdowns, while Tesla said delays were likely for Model 3 deliveries.
A report from analyst firm TrendForce this week predicts semiconductors and memory to not be severely impacted by the outbreak, thanks in part to higher levels of automation in factories. "In addition, companies stocked up on materials before Chinese New Year, enough to avoid shortages in the short term," the report noted. However, the report forecasts double-digit declines in production for smartwatches, smartphones, laptops and games consoles, saying new product launches may be delayed.
Marketing has also taken a hit, with journalists and would-be buyers unable to see new products at promotional events in stores. Samsung has an answer, however, and in Korea is offering to deliver the new Galaxy S20 handset to interested customers to try out for a day.
More widely, the outbreak has also led to the cancellation of this year's Mobile World Congress, with Facebook rescheduling a global marketing meeting and companies pulling out of RSA and the PAX East games conference.
A daily dose of IT news, reviews, features and insights, straight to your inbox!
A daily dose of IT news, reviews, features and insights, straight to your inbox!
Thank you for signing up to ITPro. You will receive a verification email shortly.
There was a problem. Please refresh the page and try again.