Amazon finally wins approval for drone delivery
Amazon secures FAA certification, but doesn't say when drone deliveries will begin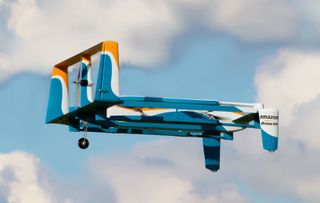 Amazon has won approval from US regulators to fly deliveries using drones, though that doesn't mean Prime Air will be taking to the skies anytime soon.
The US Federal Aviation Administration has issued a Part 135 air carrier certificate to Amazon, which means the company can begin offering drone deliveries, though the company says the service is still under development.
"This certification is an important step forward for Prime Air and indicates the FAA's confidence in Amazon's operating and safety procedures for an autonomous drone delivery service that will one day deliver packages to our customers around the world," said vice-president of Prime Air David Carbon, in a statement.
Amazon didn't say when it intended to start making deliveries, suggesting it was still in the testing phase. "We will continue to develop and refine our technology to fully integrate delivery drones into the airspace, and work closely with the FAA and other regulators around the world to realize our vision of 30 minute delivery," Carbon added.
Last year, the company showed off its latest drone model, which Amazon said could carry a package up to 2.3kg for 30 minutes before dropping it in a backyard.
Amazon has been working on its Prime Air drone delivery service for several years, with CEO Jeff Bezos predicting that the system would be up and running by 2018. A trial did see Amazon drone deliveries in Cambridge in 2016, but the focus has since shifted to the US market.
Amazon isn't the first drone delivery system to receive similar certification. Google's Wing was given approval for a single pilot Part 135 in April last year, which was upgraded to a full drone certificate in October, allowing flights beyond the line of sight. Last September, the UPS and Matternet were also given full approval for drone operation. That project has already started deliveries between hospital facilities in North Carolina.
The certificate approval comes amid wider concerns for the US Postal Service in the US, as well as increased home deliveries during the pandemic. "The FAA supports innovation that is beneficial to the public, especially during a health or weather-related crisis," an FAA spokesperson said in a statement.
A daily dose of IT news, reviews, features and insights, straight to your inbox!
A daily dose of IT news, reviews, features and insights, straight to your inbox!
Thank you for signing up to ITPro. You will receive a verification email shortly.
There was a problem. Please refresh the page and try again.