How to find out if your computer has a PCI express 3.0 x16 slot
Unsure if there is a PCI express 3.0 x16 slot for your graphics card? Here's how to find out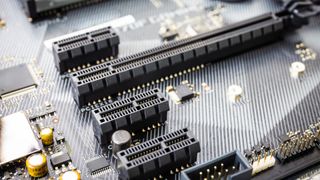 (Image credit: Shutterstock)
Most modern PC motherboards will have a PCI express 3.0 x16 slot, though it does depend on the age of the machine. If your computer is five years, or older, then it may not be that apparent if it can run devices that require a PCIe 3.0 16x port.
There's no need to worry here, as we have a quick and simple guide to help you workout what your machine is packing and whether or not it has a PCI express port up to the tasks.
How to find out if your computer has a PCI express 3.0 x16 slot
There are a number of simple ways to check for a PCIe 3.0 x16 slot, though some may require you to open the machine up. So you'll need some tools, such as a screwdriver, to hand.
Via the motherboard
The easiest and fastest way to answer the question is to use Google and search for your motherboard specifications online. Look for the manufacturer and the model. You should have the answer instantly, or you might need to quickly skim through a spec sheet to see if it includes the PCIe 3.0 x16 slot. It also can be found in the manufacturer's guide, if that is still in its box or to hand.
Not sure of the brand or model? That info can usually be found inside the machine, but you'll need to remove the PC's case or side panel and take a look inside. The name of the brand is more often than not printed on the device itself, though specific model details can be harder to see.
Look at the slot
Taking a look at the slot may not help you to specifically determine whether your motherboard has a PCI express 3.0 port – it might be a 2.0, 3.2 or even a 4.0 port – but you can at least find out if it is a x16 variant this way.
Remove the case or side panel for your PC to locate the motherboard. You'll see something that resembles the one in the image below. If you find a port that's the same as the highlighted one, then your motherboard is equipped with a PCIe x16 slot.
It's worth noting that many motherboards do state what each port is alongside it – if yours does then you needn't look any further. If it doesn't have this, the chances are that it's a PCIe 3.0 or higher if it was purchased after 2010. Should you want further confirmation, system profiler software is your best option.
System Profiler
If you want to really know everything about your computer and what it's got under the hood, the best way is to crack out a system profiling tool. One, free, tool that's good to use is CPU-Z, although there are plenty of others available out there.
Download and install CPU-Z. Once installed, open it and head to the 'Mainboard' tab. Under the "Graphic Interface" tab, you'll see what type of PCIe connection you have, along with its link width. Look for 'x16' in 'Link Width' and 'PCI-Express 3.0' under 'Version'. If you like, you can export this information as a text file by clicking the down arrow next to the 'Tools' button at the bottom of the window and selecting 'Save Report as .TXT'.
Get the ITPro. daily newsletter
Receive our latest news, industry updates, featured resources and more. Sign up today to receive our FREE report on AI cyber crime & security - newly updated for 2023.
Vaughn Highfield is a seasoned freelance writer with more than 10 years experience in content strategy and technology journalism.
Vaughn is a self-described 'wordsmith and UX wizard', covering topics spanning cyber security, cryptocurrency, financial technology, and skills development.
From 2015 to 2018, he served as a senior staff writer at Alphr before assuming the role of associate editor. In his role as associate editor, Vaughn was responsible for a range of duties, including the publication's long-term content strategy, events coverage, editorial commissions, and curation of the Alphr newsletter.
Prior to this, Vaughn held in-house roles at PCPro and Terrapinn Digital in addition to freelance marketing and content strategy activities with The Gamers Hub and Magdala Media.