Best free ebook readers for Windows
ebooks aren't just for Kindles and the like. You can read them on the big screen, too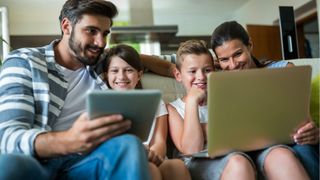 Lots of us have more time for reading ebooks at the moment, and you don't need an e-reader to do so. These are some of the best free options for organising and reading books on a PC.
Calibre
What we liked:
Calibre's main function is as a book-management tool for ebook readers, giving you somewhere to store books you own and letting you choose which titles you want to send to your e-reader. However, because it's not affiliated to any particular brand of ebook reader, you can use it to manage books on any device, including Amazon's Kindles. This is a huge benefit if you own a Kindle device, because you can easily transfer books you didn't buy from Amazon, including free books from sources such as Project Gutenberg.
Whether you have an ebook reader or not, Calibre is a handy place to organise your library of digital books. At it's default settings, however, it's not the best option for reading ebooks (see How it can be improved, right). Thankfully, if you tinker with font sizes and screen arrangements, you should be able to wrangle a book into a format you can comfortably read on your PC.
The software's particular strength lies in its willingness to import any kind of file, so whatever format your files are saved in, Calibre can decipher them and turn them into a readable document on your screen. The only format we found it couldn't handle was the humble PDF, which was rather strange. Although you can add PDF files to your library and organise them, Calibre launches your PC's default PDF viewer when you actually want to view the files. If you don't already have a satisfactory PDF tool for reading books, Sumatra PDF Reader (see review, right) is a useful portable companion.
How it can be improved:
When you double-click a book, it opens in a new window that's about the size and shape of an ebook reader screen, but without the intuitive touch interface. To browse through the book, you have to press the Page Up and Page Down buttons on the keyboard, while to access the menu – where you can tweak the program's unfortunate default settings – you press the Escape key.
Our verdict:
Calibre isn't the easiest software to use for reading a book on your PC or laptop, but it's very good at storing and managing your library, no matter where your books come from. We think you'll need to reconfigure its default settings to read books comfortably on your PC, but it's worth the effort.
Polar
What we liked:
Polar is an open-source book-management tool. It's designed to help university-level students manage text books, which is probably why it has such a functional look and feel, but if you can live with lists of books rather than attractive libraries of thumbnail covers, you'll find it has a lot of useful extra tools. Every book you open appears in a new window, which is helpful if you're working on a research project and want to cross-reference multiple titles.
One of the best things about Polar is the tree-like structure it uses for grouping files and projects together. There are two types of tree. The first is a folder-like system that's perfect for grouping projects together, for example. The other is very similar but uses tags, so you can group publications by type, author or any other attribute you can think of. Both features are easy to access from the window on the left.
How it can be improved:
We found Polar a little temperamental when opening some file formats, particularly free books in the EPUB format that we downloaded from Project Gutenberg. It's more suitable for organising large quantities of non-fiction resources than libraries of novels.
Our verdict:
If your digital library is huge and varied, Polar is a great way to catalogue and organise it. However, it's probably overkill if you're the kind of reader who keeps books in a pile and steadily works through them one at a time.
Kindle
What we liked:
If you're one of the millions of people who read books on an Amazon Kindle, it makes sense to install the company's Windows software on your PC so your collection of synced books is available on all your devices.
The Kindle software isn't resplendent with features but it's good enough, emulating the experience of using a Kindle device, which makes it familiar and relatively user-friendly. If you use tools such as Notes and Flashcards, you'll find they sync seamlessly between this software and your device.
The Kindle is linked to Amazon's store, which means a huge library of commercial books is available. You can also add PDF files, but that's the only format of document you can import directly.
The software's interface for reading books is simple but effective, and is one of the main reasons we like it. However, you really need to buy into the whole concept and sell your book-buying soul to Amazon to get the most out of it.
How it can be improved:
The biggest problem with the Kindle app is that it only accepts ebooks bought from Amazon. This is extraordinarily limiting. There are ways of getting books from other sources into your Kindle account, but Amazon doesn't make it easy.
Our verdict:
The beauty of the Kindle software is that it links to your Amazon account, and if you own a Kindle device, your books sync between them. However, the software doesn't welcome books from other sources, as Calibre does, so you have to buy into Amazon's world.
Stay up to date with the latest news and analysis from the world of cloud computing with our twice-weekly newsletter