WWDC 2023: Will Apple's Vision Pro be a VR game changer?
As rivals fall by the wayside, Apple could define a sector once more with its Vision Pro mixed reality headset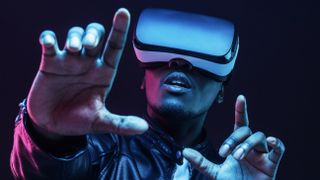 (Image credit: Getty Images)
Over the past few years, countless millions of words have been written about augmented reality (AR) and virtual reality (VR). For a time, it seemed the technologies could be about to change the world, with Mark Zuckerberg seemingly going all in, renaming his company Meta after the so-called metaverse, and launching a mixed reality headset aimed at businesses.
More recently, it's felt more like a VR winter as Silicon Valley abandoned its grand plans. Microsoft, which launched its own pioneering HoloLens headset, has apparently laid off several of the teams working on it, and, in March, Google finally killed Google Glass, the company's early attempt at getting into mixed reality. Even Meta is thought to be quietly backing away from the Metaverse, instead putting its more speculative investments into machine learning and artificial intelligence (AI).
But everything could be about to change again. Apple remained silent throughout but then used its 2023 Worldwide Developers Conference (WWDC) to finally reveal a mixed reality headset of its own: the Vision Pro.
What is the Vision Pro headset?
According to Mark Gurman, the well-connected Bloomberg reporter, the headset will work independently of an iPhone or any other device and will use a 4K OLED display in front of each eye to ensure that the device's display is suitably sharp. And it will, of course, be powered by a custom Apple-designed chip like Apple's most recent phones and computers – likely the same M2 found in the most recent MacBooks.
The headset's interface will reportedly be similar to an iPhone, with a grid of app icons, and early apps will include a version of FaceTime that lets you speak to friends in virtual space, and a version of SharePlay, which will let you watch TV with other people while sharing a virtual living room.
However, there are still huge questions of exactly how the headset will work, and whether it will contain some of the more advanced components that are already in rival devices. Apple will want to set the de facto standard for a mixed reality headset, and that means working out what to omit to keep the design lightweight as much as working out what to include.
What features will Vision Pro include?
"I'll be intrigued by the necessity of eye tracking," says Tom Ffiske, founder of ImmersiveWire, a VR-industry newsletter. "The pros of eye tracking are that it does make it more immersive and it also lowers motion sickness, which is a huge deal for virtual reality at the moment."
"What I'm more interested in is what is going to be sacrificed to make it slightly easier for the user," adds Ffiske, who thinks Apple has a big decision to make about whether to include adjustable "interpupillary distance" lenses, that let the user manually adjust the distance between lenses. Meta included a wheel specifically for this functionality on its recent Quest 2 headset, but Ffiske speculates Apple may choose to forego the complication.
"It does work, it does make images way crisper… but Apple may respond by saying this is an additional thing we're asking the users to do. We have a suspicion that – unless there's a clean way of doing it – this might be something we want to remove just so it's easier for people," says Ffiske.
Will Apple change the mixed reality landscape?
If Tim Cook does finally reveal the headset, it will be a big moment for the company – arguably the first major new form factor released on Cook's watch (depending if you count the Apple Watch). But will it be an "iPhone moment" that changes everything or will it be just an expensive tech demo? The rumored price tag is, after all, $3,000.
Ffiske believes the success of the headset could depend on how deeply the headset is linked to the rest of the Apple ecosystem of services, such as the App Store and iCloud. Not only are services increasingly important for Apple's bottom line, but they will tie the headset to the rest of Apple's business.
"I have a strong suspicion that fitness is going to be a key part of their release when they do announce it," says Ffiske, who points to Meta's success at carving out a niche offering VR workouts and games on its own headset. "It's a natural fit for Apple because they've got an ecosystem when it comes to fitness, as well as their own classes, which can integrate within the [headset] as well."
Get the ITPro. daily newsletter
Receive our latest news, industry updates, featured resources and more. Sign up today to receive our FREE report on AI cyber crime & security - newly updated for 2023.
Get the ITPro. daily newsletter
Receive our latest news, industry updates, featured resources and more. Sign up today to receive our FREE report on AI cyber crime & security - newly updated for 2023.
Thank you for signing up to ITPro.. You will receive a verification email shortly.
There was a problem. Please refresh the page and try again.