Transforming training with virtual reality
VR can not only help meet the accessibility challenges presented by COVID-19, but also to increase productivity and reduce learning times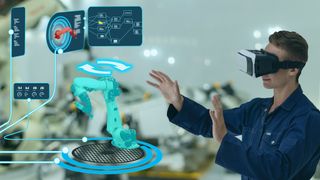 (Image credit: Shutterstock)
Providing staff with opportunities for training and upskilling is an increasingly important – and expensive – part of running a successful modern business. According to the latest Training Industry Report, the average training expenditure for large companies in 2019 was a whopping $17.7 million (£13.5 million).
This investment, which is largely poured into conventional classroom-style teaching, isn't delivering much in return, however. Online learning provider Cerego's recent State of Learning report has found that a staggering 70% of training is forgotten within 24 hours, and almost 90% is forgotten after 30 days.
The problems associated with traditional training methods don't end here. "Issues like delivering consistent training, tracking skills application, quantifying training effectiveness and improving learning effectiveness are some of the constant challenges trainers have to deal with," says Faisal Athar, lead extended reality (XR) engineer at Malaysian digital innovation firm Ministry XR.
Raffaella Camera, global head of innovation and market strategy at Accenture Extended Reality agrees, adding that training people in high-risk industries like mining and construction is particularly difficult. "Learning on site requires people to put themselves in potentially dangerous situations – often before they've completed the necessary training," she says.
This is because it has been traditionally very difficult to replicate real-life scenarios in a classroom environment. "Even the best role-play actors and most convincing off-site environments can struggle to recreate a physical real-life scenario, and the high costs of these classroom-based courses can often render them a real challenge to scale across an organisation's workforce," says Jason Lovell, head of virtual reality (VR) and augmented reality (AR) strategy at PwC UK.
A growing problem
The COVID-19 pandemic has not made things any easier. It's no longer possible to bring large numbers of people together in small spaces and while e-learning is one solution, its effectiveness is limited. "E-learning can be more cost-effective but it can also be full of distractions – a busy inbox is never far from view and your people can feel distant from the action they see online," says Lovell.
"You can watch a video or read books all you want, but it's not the same as being in front of machinery and equipment, feeling the tools in your hands, and getting real-time feedback or changes take place in front of you," adds Ramon Llamas, research director for mobile devices and AR/VR at IDC.
No longer reserved for the entertainment world or one-off gimmicks, VR is becoming increasingly accessible as a technology, with all sorts of industries adopting it to enhance core business processes, from product design and manufacturing to virtual retail showrooms. As with any technology entering the mainstream, this means your staff will become increasingly familiar with VR, and therefore more likely to respond to and benefit from VR training solutions. With all this in mind, the time is ripe for VR technologies to enter the fore and to transform learning for the better.
A virtual playing field
VR training can combat the shortfalls of traditional methods of training and further complement them. "By wholly immersing workers in an VR experience, you can connect to them in a way that being talked at or reading off a screen can't," explains Colin Yellowley, founder and managing director of Igloo Vision, a UK-based firm that uses shared immersive spaces to show VR content. "As the old Confucius quote puts it, 'I hear and I forget, I see and I remember, I do and I understand'."
Unlike traditional practices, VR training can be constantly repeated for improving skill sets, or even randomised to create new scenarios for training. User performance can be tracked and graded automatically. Moreover, this type of training is scalable to hundreds or even thousands of people.
These VR environments also allow trainees to experience equipment or substances that would otherwise be limited or inaccessible. Llamas provides a good example: "For instance, training a warehouse worker to use a forklift truck can be an expensive process. You have to take a machine offline for a certain amount of time, train the employee, and the employee could end up damaging the machine or other assets. In a VR setting, a user can virtually pilot a forklift around a warehouse, conducting the proper exercises and safety steps to ensure correct usage. At the same time, the actual forklift stays in use and nothing gets damaged."
While all of these benefits are significant, what's perhaps most impressive is VR's effectiveness.
Recent research from the University of Cambridge has found that training via VR resulted in 28% more productivity, 55% faster learning and 200% less mistakes than non-VR methods.
A number of pioneering organisations are already enjoying these benefits. Global retailer Walmart, for example, has reported 80% savings in training time by using VR to prepare store managers for Black Friday, America's biggest shopping day.
UK wastewater utility solutions provider Lanes Group is using its Igloo Shared VR cylinder to train groups of engineers in simulations of various high-risk wastewater environments. Not only has this been successful, but it's reduced employee attrition by 57% and decreased employee unhappiness by 9%.
RELATED RESOURCE
IT Pro 20/20: Augmenting our new reality
Our second issue looks at the technology that's helping to make us all more mobile
The University School of Medicine in Atlanta, meanwhile, is using VR to train surgeons, resulting in a 40% reduction in mistakes made compared to surgeons who are conventionally trained.
For its part, multinational oil and gas company BP is integrating its own content into VR-based training provider Immerse's Virtual Enterprise Platform (VEP). The training will be deployed internationally, and the platform will generate detailed data and reports on learner progress.
"VR and Simulation are key enablers to BP's digital agenda and initiatives to provide our workforce global accessibility to best in class training," said Anthony Del Barto, learning technology manager at BP, in a press statement. "The value of data in the workforce is critical, and the Immerse platform allows us to gather the vital information that we need in order to upskill our employees efficiently in an innovative and engaging way. This is both beneficial to us as a company, but also to our staff to ensure they're getting the best learning and development possible."
Advances are also being made in using VR for soft skills training and the rewards are there for those organisations that choose to adopt this approach. A soft skills study by PwC has found that 40% of VR learners saw an improvement in confidence compared to classroom learners and 35% improvement over e-learners to act on what they learned after training in VR.
This VR toolkit could also be utilised beyond training, for example, in the recruitment process. Just as VR technology can create scenarios to help staff develop skills, companies can develop virtual assessment centres with scenarios to test potential employees. As with training, this can be particularly useful for any roles with potential risks to people or property, or which would be very expensive to run in real life.
Powering the future of learning
As VR technology becomes more usable, affordable and powerful than it already is, and as expertise and experience in developing VR training improves, experts agree that it will become a core part of delivering training across all verticals in the years to come. In fact, IDC estimates that VR training will contribute $294 billion (£225 billion) to the global economy by 2030.
The rollout of 5G is set to be a big driver in the widescale uptake of VR technologies. This is because VR needs a reliable, consistent network with low latency to fully reach its potential. Not only will this help VR programmes run smoothly, but latency can also cause the dizzying sensation that many users complain of when using VR headsets.
"VR technology is constantly improving. By going wireless, improving battery life, creating more natural means of user interaction and generating greater processing power and graphics streaming, even more realistic and immersive training scenarios will be enabled," says Asyran Amin, lead XR engineer at Ministry XR.
Lovell, meanwhile, says the technology will help drive a new age of learning, development and education by delivering a cost-effective, immersive and efficient experience to train people in both hard and soft skills. "VR offers unignorable benefits for organisations who want to train large sets of people, remotely and cost-effectively – with better outcomes compared to the existing, traditional training formats," he says.
For Camera, VR training holds a wealth of opportunities, but more needs to be done before it can truly become a core part of skills development. "Currently, the vast majority of VR learning applications are for technical and behavioural training," she says. "In order for it to become more mainstream, it is critical that companies start implementing these solutions at-scale, versus in siloed, one-off situations. At the same time, VR training will become more prevalent as the headsets themselves become more mainstream for consumers."
"The more people who have VR devices on-hand, the more opportunities there will be for companies to provide employees with this type of training content," she concludes.
Get the ITPro. daily newsletter
Receive our latest news, industry updates, featured resources and more. Sign up today to receive our FREE report on AI cyber crime & security - newly updated for 2023.