How the enterprise can embrace hybrid cloud
Hybrid cloud has a lot to offer organisations of all sizes, but enterprises in particular stand to gain so much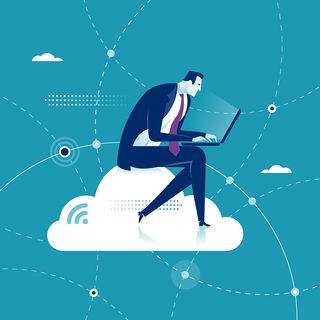 (Image credit: Shutterstock)
Cloud computing has grown and evolved with the market, to the point that it is no longer considered to be the new kid on the IT block. Organisations have improved their understanding of different cloud models, including their uses and benefits they provide.
However, when it comes to the hybrid cloud, it can appear to be more complex. The benefits of this model are abundant but businesses can struggle when it comes to choosing where to begin or what to do next.
RELATED RESOURCE
The total economic impact of optimising and managing your hybrid multi-cloud
Cost savings and business benefits of accelerating the cloud journey
Despite this, the use of hybrid cloud is increasing. A RightScale survey estimated the number of enterprises deploying a hybrid cloud strategy grew to 58% in 2019, an increase from 51% in 2018. Plus, the number of organisations with an exclusively public or private cloud has gone down slightly. Also, 28% of companies who haven't adopted hybrid cloud consider it a priority to do so.
But why go hybrid?
It is now essential for enterprises to be able to quickly, securely and seamlessly move workloads, especially those that are mission-critical, to and from the public cloud. 97% of organisations said this was a requirement when examining infrastructure options.
Some enterprises are information-rich, time-poor and have lots of demands to meet. Due to this, they possess limited resources and have to constantly balance today's business requirements with tomorrow's demands and a shifting market landscape.
With hybrid cloud, businesses can liberate themselves from the complex and mundane, enabling them to focus on their main business objectives and move from the daily grind to innovating for future success.
Organisations can amplify the reach of their data centres while gaining many benefits through hybrid cloud, including:
Develop and test more efficiently: this guarantees businesses can move forward and react to changes in the industry while freeing up precious on-site resources.
Take advantage of next-gen capabilities from key vendors' packaged apps and host in the hybrid cloud.
The ability to build and host new enterprise applications in Java-based architectures as well as being primed to benefit from next-generation, rather than just traditional apps.
Ensure disaster recovery is in place for third-party backups, seasonal activity, test environments and other locations.
The first steps towards a hybrid strategy
So when it comes to realising those benefits, how do you get from A to B?
Given all the advantages available, it's no surprise that hybrid cloud is predicted to be the dominant model used in the future, with 91% of businesses saying it is the ideal IT model.
However, there are still barriers to overcome, especially when it comes to guaranteeing that the needs of the business and IT stay aligned. In the historic tech landscape, this has been a battleground with lines of technology and business personnel at odds and speaking different languages. In order to truly reap the benefits for hybrid cloud deployments, there needs to be a meeting of minds.
"Hybrid cloud helps give each group what it wants: security and control for IT operations and speed and agility for line-of-business operations," IDC said, suggesting the model is a way of bridging the gap between the tech side and line of business stakeholders.
The research house continued: "To the extent that IT can incorporate external public cloud services into formalised IT procurement, implementation, and governance processes, IT becomes a facilitator of rather than a roadblock to more dynamic business-ready IT."
Milind Govekar, chief of research at Gartner, echoed these thoughts, saying: "Many lines of business buy external cloud services without the initial involvement of, or oversight from, IT leaders. To implement hybrid cloud services successfully, IT leaders need to introduce an internal cloud services brokerage (CSB) role responsible for the governance, demand management and delivery of cloud services."
He added: "Those who do not think and act like an external service provider or evolve into a CSB role will gradually lose the trust of business managers, who will circumvent the IT organisation in order to access the IT services they need. This will result in more disaggregation of IT services and reduced value from the remaining shared IT services."
With this in mind, enterprises should be asking an array of questions before making the move to hybrid cloud. These questions include, but are not limited to:
Who needs to be involved in the decision-making process?
Once stakeholders are established, what will our decision-making criterion include?
What are the limitations and opportunities with our current IT and business setup?
What costs are involved (both overheads and savings)? What is the ROI?
Will it free up resources (tech and people) to add value elsewhere in the business?
What workloads can and should I move and when?
Which service provider should I partner with and will they still be in business a year from now?
Where will my data be located?
What about security and unauthorised access? Am I protected?
What are the SLAs?
Will I be locked in or do I have long-term flexibility?
Will it make business life better than it is today?
Many organisations have already navigated their way successfully through the maze of questions and possible answers to enjoy the benefits of hybrid IT and hybrid cloud. But for those that haven't, what are the blockers?
A survey from Dell and IDC found that the top reason enterprise customers hadn't adopted hybrid cloud was a lack of necessary skills and solutions. Some also said that the cost-benefit analysis didn't justify the implementation. This implies that there may also be an underlying lack of understanding of the benefits of hybrid cloud, therefore preventing investment. But as the advantages become more widely adopted by companies and costs come down, it is likely that we'll see more and more companies investing in hybrid cloud infrastructures.
Making use of the private cloud
When properly deployed and under the right conditions, hybrid cloud is certain to stigmatise operational efficiencies and cost savings. However, that isn't to say the roadmap to embracing hybrid cloud is straightforward and universal. In fact, quite conversely, it differs from industry to industry, business to business and use-case to use-case.
Rest assured there is something that can be done across the board to ease transitioning to the hybrid cloud, namely to invest in a private cloud network. That's because the creation of a private cloud infrastructure facilitates the hybrid cloud due to its ability to combine the strengths of the public cloud - such as smooth management and usability - with the benefits of on-premise infrastructure - not least security, reliability, control, and general high-performance.
Data is available to support this alternate route. A guide recently published by Nutanix found that, of those surveyed, 80% of IT leaders invested in the private cloud along their journey to the hybrid cloud, revealing an incremental trend.
To maximise the effectiveness of this strategy leading enterprises are building private cloud platforms specifically tailored to their existing infrastructure allowing for a seamless transition to the hybrid cloud.
To further support enterprises Nutanix has laid out a six-step plan from zero to hybrid, beginning with the creation of a private cloud platform that addresses all applications, data, and use cases while automating mundane infrastructure management, permitting IT teams to focus on core business objectives.
Get the ITPro. daily newsletter
Receive our latest news, industry updates, featured resources and more. Sign up today to receive our FREE report on AI cyber crime & security - newly updated for 2023.