The battle for space broadband dominance is hotting up
The EU plans to launch its own satellite broadband service as the UK-backed system is grounded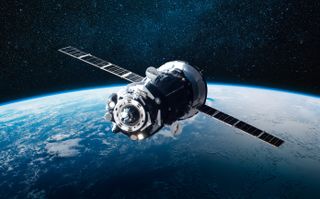 (Image credit: Shutterstock)
The European Union (EU) has announced plans to launch its own constellation of broadband satellites, just as the UK-backed OneWeb system is trapped in a political deadlock.
The EU system, which has been given the catchy name 'EU Space-Based Security Connectivity System', will likely see thousands of satellites launched into Low Earth orbit, in a similar vein to Elon Musk's Starlink. The system will "ensure the long-term availability of worldwide uninterrupted access to secure and cost-effective satellite communication services," as well as provide broadband services. It will also apparently use the "latest quantum communication technologies for secure encryption".
"This satellite connectivity will [enable] the command and control of smart grids in the energy sector, it will allow for the secure management of infrastructure, [and] air, rail, road traffic management," says Sonya Gospodinova, the European Commission's spokesperson for the internal market, defence industry and space.
It will also enhance the capabilities of Galileo, the EU's equivalent of the GPS system, as well as Copernicus, the Bloc's Earth-observation satellites. "Another practical example will be crisis management, and also external actions when we provide humanitarian aid," says Gospodinova. "Or if we have, for example, maritime emergencies, this will be used as well to ensure efficient search and rescue operations."
Crucially, the EU system will also be opened up to commercial and civilian uses, as well as use by member states. The precise details of how the system will work aren't expected to be finalised until June, but it will likely be similar to SpaceX's Starlink. Those running Starlink have spent the past couple of years launching a mesh of satellites that orbit at much lower altitudes than traditional satellites, in order to reduce latency when data is transmitted.
In Starlink's case, there are currently around 2,200 in orbit as part of a planned initial deployment of 4,408. Customers around the world are already paying $599 for a satellite transceiver and a $110 monthly subscription to use the service, which promises speeds of up to 200Mbits/sec – with a new premium tier cranking up the speeds to 500Mbits/sec, albeit at $500 per month. Similar systems are also planned by Amazon, as part of a programme called Project Kuiper, alongside a rival network from the Chinese company GalaxySpace.
OneWeb grounded
The EU's plans coincide with political turmoil at OneWeb, the Florida-based satellite broadband company which the British government bought a £400m stake in during 2020. At the time of writing, the company is in a tricky position, having previously relied on Russian Soyuz rockets to launch satellites. The company had scheduled a launch for just days after the invasion of Ukraine, and the satellites made it to the launchpad before the mission was cancelled for obvious reasons.
Russia's space agency Roscomos has demanded that Britain sells its shares in the company before any more satellites are launched, which the British government has rejected.
Could Britain take part in the EU's programme, as it is still a member of the European Space Agency, which is a partner in the "secured connectivity" system? According to Gospondinova, so-called third countries may be able to join at a later point, subject to negotiation with the EU.
Ukraine urgency
Though the EU programme has been brewing for much longer, current events arguably make the rationale behind it more compelling. "The invasion of Ukraine has demonstrated that we need… to be more autonomous," says Gospodinova, describing the idea as "open strategic autonomy".
"We would like to have our own means to rely on resources and programmes and tools to be independent from outside suppliers," she says. "The idea is that we diversify our resources… and that we have in the EU also tools which will enable us to also continue and decide on our own; that we are not dependent on others. The crisis – yes, indeed – is just confirming the urgent need for such tools that we have ourselves."
RELATED RESOURCE
Delivering on demand: Momentum builds toward flexible IT
A modern digital workplace strategy
The programme is expected to cost around £5 billion, which could lead to questions over whether it's money well spent considering other current priorities. "The EU satellite project is likely to divide opinion," says Kester Mann, director of consumer and connectivity at market analysis firm CCS Insight. "Dissenters will point to its huge cost, not just in launching satellites into orbit, but the heavy maintenance and replacement costs."
The European Commission, however, believes the strategic concerns outweigh the cost – and that the EU shouldn't just rely on NASA and SpaceX in the future. "In order to be a reliable partner, you need to be a strong partner," says Gospodinova. "Such programmes will allow us to be a stronger partner and to better contribute to our partnership with our allies."
There's also a direct economic case to be made, too. "We need to make sure that our industry is competitive," she adds. "We want to make sure that we provide to them all the necessary infrastructure that they need."
If the plans are approved by the European Parliament, the first satellites could be deployed by next year, with testing of the quantum encryption taking place in 2025, ahead of a completed deployment by 2028. Whatever happens, it appears that Low Earth orbit is definitely going to become more crowded.
Get the ITPro. daily newsletter
Receive our latest news, industry updates, featured resources and more. Sign up today to receive our FREE report on AI cyber crime & security - newly updated for 2023.