Uber's top UK exec quits
Jo Bertram leaves for new role, but says "current challenges" mean a change of face is necessary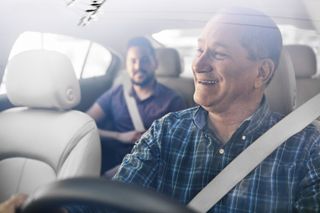 Uber's top exec in the UK has quit the troubled firm, just as its CEO is set to meet with regulators in London over the loss of its operating license.
Jo Bertram has quit as regional general manager for Northern Europe, saying another role has popped up that's more appealing. She'll stay on for the next few weeks for the "best possible transition", she said in an email to staff seen by Business Insider, noting that she would have liked to "have announced my move in smoother circumstances".
Transport for London last week revealed it wasn't renewing Uber's licence to operate in the capital, with CEO Dara Khosrowshahi set to meet with the regulators this week. Uber also faces disruption at the board level, with founder and former CEO Travis Kalanick appointing his own picks ahead of expected restructuring.
Until her successor is named, Bertram's role in the UK will be taken up by acting general manager for the UK Tom Elvidge. Bertram has worked for Uber for four years, spearheading the startup's rollout in the UK, in particular London. She suggested she was leaving because "an exciting new opportunity has arisen".
However, Bertram added that the ongoing controversy made it a good time for her to depart. "Given some of our current challenges, I'm also convinced that now is the right time to have a change of face, and to hand over to someone who will be here for the long haul and take us into the next phase," she said in an email to staff.
29/09/2017: Uber's CEO to meet TfL transport boss next week
Uber's newly appointed CEO Dara Khosrowshahi will meet transport commissioner Mike Brown next Tuesday.
A TfL spokesperson confirmed the meeting with IT Pro: "Following an approach from Uber, and at the Mayor's request, London's Transport Commissioner will meet with Uber's global CEO in London next Tuesday."
"Our new CEO is looking forward to meeting with the commissioner next week," an Uber spokesman said to IT Pro. "As he said on Monday, we want to work with London to make things right."
Transport for London (TfL) decided to refrain from issuing Uber with a private hire operator licence last week which means it will no longer be able to operate legally in London. Uber had 21 days to appeal and its service will continue until the appeal process has been exhausted.
Sadiq Khan also invited Khosrowshahi to meet after Uber's CEO issued a public apology after the ban had been announced. Khosrowshahi published a letter in the Evening Standard where he said: "We've got things wrong along the way" when talking about the ban. He confirmed Uber would appeal the decision and accepted the service needs to change to comply with legislation."
Khosrowshahi was appointed Uber CEO in August following the dismissal of co-founder and ex-CEO Travis Kalanick. Uber has been trying to clean up its company's image following allegations of systemic sexism and anti-competitive practices over the past year.
Image source: Uber
29/09/2017: Sadiq Khan asks TfL to meet Uber after CEO's apology
Mayor of London Sadiq Khan has invited the CEO of Uber, Dara Khosrowshahi, to meet after he issued a public apology following its ban in London, which is set to come into force from the end of the month.
"I welcome the apology from Dara Khosrowshahi, the Uber CEO. Obviously I am pleased that he has acknowledged the issues that Uber faces in London," Khan said. "Even though there is a legal process in place, I have asked TfL to make themselves available to meet with him."
Khosrowshahi said in an official letter published in the Evening Standard that it's been amazing to hear messages of support from everyone that uses the service and its drivers who have said they'll stand by the company's side as it deals with the legal action served by TfL.
"While Uber has revolutionised the way people move in cities around the world, it's equally true that we've got things wrong along the way," Khosrowshahi said. "On behalf of everyone at Uber globally, I apologise for the mistakes we've made."
He confirmed Uber would appeal against the decision on behalf of Londoners, and he accepted the service needs to change in order to meet legislation.
"As Uber's new CEO, it is my job to help Uber write its next chapter," Khosrowshahi continued. "We won't be perfect, but we will listen to you; we will look to be long-term partners with the cities we serve; and we will run our business with humility, integrity and passion."
25/09/2017: Sadiq Khan criticises Uber 'aggression' following TfL ban
The Mayor of London has accused Uber of bringing "unfair pressure" onto Transport for London (TfL) following the body's decision to ban the ride-hailing company from the capital.
TfL found Uber was not "fit and proper" to hold a private operator licence last Friday, meaning its licence will expire on 30 September without being renewed.
Uber, which has 40,000 drivers in the capital and millions of users, took to Twitter to promote its Change.org petition to reverse the ban, which has garnered 737,000 signatures at the time of writing, and defended its business in a series of tweets.
Uber said: "We intend to challenge this in the courts to defend the livelihoods of drivers & the consumer choice of millions of Londoners who use Uber.Uber drivers in London pass the same DBS background checks as other private hire services - see their name, photo & TfL license number in-app.
"We put safety at the forefront - each Uber trip is tracked and recorded by GPS. We have always followed TfL rules on reporting serious incidents, with a dedicated team that works closely with the Metropolitan Police."
In response, Mayor Sadiq Khan told Radio 4's Today programme this morning that Uber was bringing the full might of its PR to weigh against the ruling.
"What you can't do, is have a situation where unfair pressure is brought on a quasi-judicial body where there are officials working incredibly hard," he said, as quoted by the BBC.
"I appreciate Uber has an army of PR experts, I appreciate Uber has an army of lawyers - they've also made aggressive threats about taking us to court."
In its decision, TfL said Uber's approach to operating its business demonstrated a lack of corporate responsibility, pointing to a failure to report serious criminal offences, its approach to medical certificates, and its use of Greyball software that can stop regulatory bodies accessing Uber's full app.
Uber responded: "As shared with TfL, an independent review found that 'Greyball' has never been used or considered in the UK for the purposes cited by TfL."
It also warned that its fleet of 40,000 drivers would suffer from TfL's decision.
In a statement addressing the petition, Khan said: "I know that Uber has become a popular service for many Londoners - but it would be wrong for TfL to license Uber if there was any way this could pose a threat to Londoners' safety or security.
"I have every sympathy with Uber drivers and customers affected by this decision but their anger really should be directed at Uber. They have let down their drivers and customers by failing, in the view of TfL, to act as a fit and proper operator."
Get the ITPro. daily newsletter
Receive our latest news, industry updates, featured resources and more. Sign up today to receive our FREE report on AI cyber crime & security - newly updated for 2023.
Get the ITPro. daily newsletter
Receive our latest news, industry updates, featured resources and more. Sign up today to receive our FREE report on AI cyber crime & security - newly updated for 2023.
Thank you for signing up to ITPro.. You will receive a verification email shortly.
There was a problem. Please refresh the page and try again.