Police to use phone-detecting tech to catch drivers in the act
The technology will be able to sense if someone in the vehicle is using their mobile device and will flash a warning sign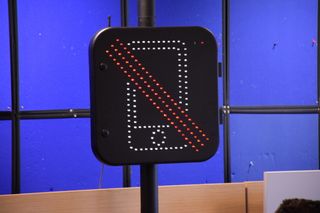 Thames Valley and Hampshire police forces will be the first in the country to use new technology to detect when drivers are using their mobile phones.
If the technology detects mobile use, a sign will flash at the driver, reminding them to stop using the device. The technology cannot determine if the driver or a passenger is using the device, but the sign will flash regardless.
"In the Thames Valley since 2014 there have been 83 people killed or seriously injured as a result of drivers using their mobile phones and 40 have been killed or seriously injured Hampshire," said PC Liz Johnson, a Roads Safety Officer for the Joint Operations Roads Policing Unit. "It is vital that people take notice and stop using their mobile phones whilst driving."
Aimee Goldsmith, aged 11, was killed in 2016 car crash after a lorry driver who was using his phone to change music drove into stationary traffic. Her stepmother and two stepbrothers were also killed in the collision.
Aimee's mother, Kate Goldsmith, has since been campaigning to decreases mobile phone use amongst drivers. "I am supporting this campaign and welcome any technology which can assist in educating people and stop them from using their mobile phones whilst driving," she said,
The technology, which is being developed in collaboration with technology company Westcotec, will help police see which areas, in particular, have a high amount of drivers using devices.
The detector will be posted at A34 in Oxfordshire but will be located at different locations throughout the Thames Valley and Hampshire.
The new tech will be in use from next week in conjunction with an educational activity as part of the National Police Chief's Council campaign. Officers will be stopping motorists caught using mobile devices.
If caught using your mobile device, you could receive a penalty to your license and a fine ranging from 200 to 1,000. If you drive a bus or goods vehicle, that fine jumps to a maximum of 2,500.
A daily dose of IT news, reviews, features and insights, straight to your inbox!
A daily dose of IT news, reviews, features and insights, straight to your inbox!
Thank you for signing up to ITPro. You will receive a verification email shortly.
There was a problem. Please refresh the page and try again.