Rival messaging apps see download spike after WeChat ban
Sensor Tower data reveals leap in downloads for Signal and QQ after Trump signed executive order against WeChat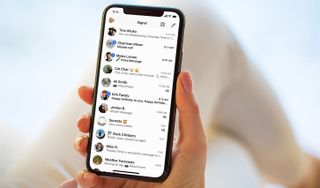 The looming ban of WeChat in the US has led downloads of the messaging app to leap, according to data from Sensor Tower.
President Donald Trump last week signed an executive order banning TikTok and WeChat from doing business in the US, citing national security concerns. The move comes amid an ongoing trade war with China, where the owners of both apps are based.
TikTok is owned by ByteDance, but is widely expected to sell the video sharing app to Microsoft before the ban comes into force in mid-September, while WeChat is owned by Chinese tech giant Tencent.
According to figures from app tracker Sensor Tower, the number of downloads of WeChat in the US climbed by 41%. Rival messaging app Signal saw its downloads climb by 30% to 10,800 a day in the US and 90% in China, the company said in a blog post.
Signal is not particularly well used in China, with only 76,000 installs in the first half of the year, the analyst firm said.
"Not only are alternatives like WhatsApp and Telegram officially blocked in China, but Signal has an inherent advantage in that it's well known for being strongly encrypted," Stephanie Chan, Mobile Insights Strategist at Sensor Tower told Reuters.
That privacy protection could be behind the spike in downloads, as Chinese people with family in the US or vice versa seek a messaging app that isn't being threatened with a ban.
Another Tencent app, QQ, that is not normally widely used in the US also saw a climb in downloads, growing from 5,000 to 15,500 a day, but the spike has largely flattened since, the analyst firm said. "[It's] also developed by Tencent and, depending on how or if the US government's directive is carried out, could potentially be affected in the future along with other businesses and apps in Tencent's portfolio," Chan wrote in the blog post. "This uncertainty around its future may be the reason why its daily installs have since returned to near their levels prior to the order's announcement, after an initial spike in downloads."
A daily dose of IT news, reviews, features and insights, straight to your inbox!
A daily dose of IT news, reviews, features and insights, straight to your inbox!
Thank you for signing up to ITPro. You will receive a verification email shortly.
There was a problem. Please refresh the page and try again.