US 'Tech Hubs' drive aims to boost innovation in American heartlands
The development of the hubs will could help drive regional innovation and support for tech companies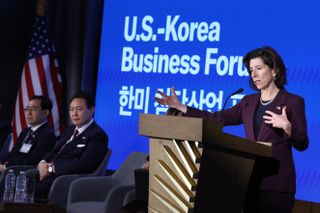 (Image credit: Kevin Dietsch/Getty Images)
The US government has announced plans to invest $500 million to transform cities in 'America's heartland' into regional 'tech hubs'.
The Regional Technology and Innovation Hubs (Tech Hubs) program aims to drive innovation, unlock economic opportunities, and bolster cross-sector collaboration between industry, the education sector, and local and state governments.
Hubs created as part of the program will focus on developing a range of technologies, including artificial intelligence (AI), robotics, biotechnology, cyber security, and more.
This first notice of funding opportunity will see applications opened for planning grants and Tech Hubs designations, the DoC confirmed. A second stage for applications is expected to launch later this year.
The Tech Hubs program was authorized through the CHIPS and Science Act, and will see up to $10 billion in total set aside for development of sites and programs across the country.
The first batch of $500 million will be designated for initial planning grants, while individual grants of up to $75 million will be awarded later in the year to support expansion of the hubs.
Driving regional innovation
US secretary of commerce, Gina Raimondo, said the launch of the new hubs will deliver economic benefits for regions in the US that have been "historically overlooked".
"The Tech Hubs program is a critical piece of President Biden's Investing in America strategy, and will help us create ecosystems of innovation to strengthen economic opportunity in communities around the country that have historically been overlooked," she said.
RELATED RESOURCE
Strategic app modernization drives digital transformation
Address business needs both now and in the future
"We're going to do that by supercharging our existing innovation foundations, bringing together our premier research institutions with world class companies to create good-paying jobs in these communities, and ensuring the technological advances that define the next century are made in communities across America."
In a briefing call with reporters last week, Raimondo said the focus on historically overlooked states will spur economic growth and play a key role in addressing the traditional Silicon Valley-centric flow of venture capital.
Raimondo told reporters that around 80% of US venture capital funding is invested in Northeast and Southern California, as well as the San Francisco Bay Area.
"There's so much more potential for tech innovation all across the country," she said.
"In the US, we have the best research institutions in the world. That's indisputable. And frankly, many of them are in America's heartland."
Regional support ecosystems
The Tech Hubs program bears similarities to other government-backed programs launched elsewhere globally as administration's seek to bolster regional support for areas traditionally left behind amid the tech boom.
The UK government, for example, has signaled its intention to tackle a 'London-centric' mindset with regard to venture capital funding and support for tech companies and entrepreneurs.
In the Spring Statement this year, chancellor Jeremy Hunt unveiled plans to invest £100 million ($125 million) in R&D projects across the country through the Innovation Accelerators program.
The initiative was framed by the government as a new approach aimed at supporting individual city regions to enhance global competitiveness and create a more level playing field for regions across the country.
A daily dose of IT news, reviews, features and insights, straight to your inbox!
Ross Kelly is a staff writer at ITPro, ChannelPro, and CloudPro, with a keen interest in cyber security, business leadership and emerging technologies.
He graduated from Edinburgh Napier University in 2016 with a BA (Hons) in Journalism, and joined ITPro in 2022 after four years working in technology conference research.
In his spare time, Ross enjoys cycling, walking and is an avid reader of history and non-fiction.
You can contact Ross at ross.kelly@futurenet.com or on Twitter and LinkedIn.
A daily dose of IT news, reviews, features and insights, straight to your inbox!
Thank you for signing up to ITPro. You will receive a verification email shortly.
There was a problem. Please refresh the page and try again.