Nokia Lumia 625 marks firm's biggest Windows Phone to date
Budget Lumia 625 packs 4.7in display, 1.2Ghz dual-core processor and 5MP camera.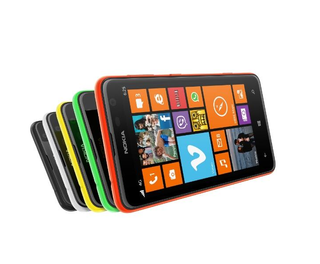 Nokia has unveiled its largest Windows 8 Lumia device to date as it continues to fight to regain a substantial piece of smartphone market share.
The Lumia 625 sports a large 4.7in LCD WVGA display, but Nokia has taken a different approach to its rivals and, despite the size, the firm is pitching this as a budget handset. This means the display will include middling resolution of 800 x 480 (201ppi).
Nokia has opted for Qualcomm's 1.2GHz dual-core Snapdragon processor along with 512MB of RAM to power the 625, and the device will be 4G ready upon release.
Nokia includes a modest 8GB of internal storage, but this can be boosted by up to 64GB by adding in a micro SD. Windows Phone users are also treated to 7GB of SkyDrive cloud storage when they sign up to a Microsoft account.
To keep costs down the Lumia 625 doesn't pack the 41-megapixel PureView camera technology, which was included in the flagship Lumia 1020 at the start of July. Instead the 625 features a 5-megapixel on the rear with autofocus, LED flash, and 1080p recording capabilities.
The Lumia 625 is scheduled to launch in Q3 in China, Europe, Asia Pacific, India, Middle East, Africa and Latin America. Nokia estimates pricing for the device will start at 220, but this is before tax.
Reports had suggested Nokia was going to launch a Windows tablet of some kind, but the firm continues to resist branching out into other areas of the mobile market.
A daily dose of IT news, reviews, features and insights, straight to your inbox!
Khidr Suleman is the Technical Editor at IT Pro, a role he has fulfilled since March 2012. He is responsible for the reviews section on the site - so get in touch if you have a product you think might be of interest to the business world. He also covers the hardware and operating systems beats. Prior to joining IT Pro, Khidr worked as a reporter at Incisive Media. He studied law at the University of Reading and completed a Postgraduate Diploma in Magazine Journalism and Online Writing at PMA Training.
A daily dose of IT news, reviews, features and insights, straight to your inbox!
Thank you for signing up to ITPro. You will receive a verification email shortly.
There was a problem. Please refresh the page and try again.