The IT Pro Products of the Year 2021: The year's best hardware and software
Our pick of the best products from the past 12 months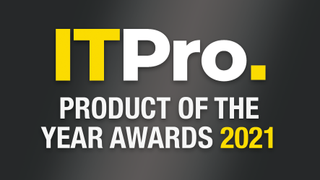 The past twelve months have brought challenges for almost all businesses, but they've also brought some terrific products. New generations of servers and appliances have arrived, offering levels of horsepower and capacity that would have seemed outlandish just a few years ago. At the same time, value has continued to climb, bringing new possibilities within reach of an SMB budget.
There's been plenty of exciting developments for end users too. Stunning laptops, tablets and phones have turned our heads, along with powerful printers, scanners and screens. And while threats like phishing and ransomware haven't gone away, the latest generation of security software is here to keep us safe.
As always, there's no such thing as a perfect product – every business and every individual will have their own needs and preferences. But we've put together our selection of the greatest releases of the past twelve months, to reveal the standout products across a wide range of categories, and to celebrate the manufacturers who've driven innovation forward in 2021.
Best laptop 2021
WINNER: LG Gram 17
Weighing just 1.35kg, the Gram 17 is barely heavier than many 14in laptops – yet it has a huge, bright 17in display that's fantastic for productivity and on-the-go presentations.
There's plenty of horsepower here too, with an 11th-generation Intel Core i7 processor and 16GB of RAM on board. With nearly 13 hours of battery life it won't conk out half-way through the day, and a spacious keyboard and trackpad mean it's also a pleasure to work on for extended periods. Throw in Thunderbolt 4 and Wi-Fi 6 and you have an excellent do-it-all, go-anywhere computer for a very reasonable £1,599 exc VAT.
Read our full LG Gram 17 review
HIGHLY COMMENDED: Razer Book 13
Razer made its name with gaming laptops, but the company's first business-friendly model is a big hit. It looks stylish yet serious, with a superb screen that challenges the MacBook Pro for brightness and colour quality. Performance is top-notch too, thanks to an Intel Core i7-1165G7 processor, and there's a great selection of ports, including full-sized USB and HDMI connectors. At 1.4kg it's a little weighty for a 13in laptop, but overall it's a great, capable choice for an everyday working companion.
Read our full Razer Book 13 review
Best Chromebook 2021
WINNER: Acer Chromebook Spin 713
There are plenty of sub-£500 Chromebooks on the market, but Acer's Chromebook Spin 713 feels like something much more expensive. Its 13.5in QHD screen has a comfortable 3:2 aspect ratio, and it flips all the way around so you can work in laptop, stand or tablet mode. Unusually, there's an HDMI output too, giving you additional working options.
Wi-Fi 6 and Bluetooth 5 round out the feature set, and with a total weight of just 1.2kg the Spin 713 is deliciously portable too. It would have been nice if Acer had given that beautiful screen an anti-glare coating, but when the rest of the package is this good we can live with a few reflections.
Read our full Acer Chromebook Spin review
HIGHLY COMMENDED: Lenovo IdeaPad Flex 5
The Flex 5 is another Chromebook with a 360º-rotating screen, though its 16:9 aspect ratio is best suited to conventional laptop-style usage. It's slimmer and lighter than the Acer Spin 713, and its bright display is less reflective. Connectivity is well covered with both USB Type-A and Type-C ports, along with Wi-Fi 6; if you're looking for a no-nonsense Chrome OS workhorse, you won't be disappointed.
Read our full Lenovo IdeaPad Flex 5 review
Best tablet 2021
WINNER: Apple iPad Pro 12.9in
With Apple's mighty M1 processor, the iPad Pro is fully as powerful as a MacBook Pro. And it has several advantages over the laptop: at 680g it's less than half the weight, and the touchscreen makes for a slick, tactile experience. The 120Hz mini-LED display is stunning, and a battery life of around 13 and a half hours means you can keep working all through the day and beyond.
No doubt, the 12.9in format is bulky for a tablet, while the optional keyboard pushes up the weight – and the price, which is already steep at £916 exc VAT for the base model. Even so, this is unquestionably the best tablet on the market: it doesn't just excel at tablet tasks, it redefines what a tablet can do.
Read our full Apple iPad Pro 12.9in review
HIGHLY COMMENDED: Nokia T20
It's short on flashy gimmicks, but Nokia's T20 feels like a professional tablet. The aluminium build is strong and sturdy, performance and features are up to par, and while we felt the 10.4in screen looked a little cold, its 5:3 aspect ratio is very comfortable to work on. The most impressive part is the price – just £150 exc VAT for the Wi-Fi 5 edition, or £167 exc VAT for the LTE model.
Read our full Nokia T20 review
Best smartphone 2021
WINNER: Apple iPhone 13
The iPhone 13 improves on last year's iPhone 12 models with better cameras and a bigger battery, adding nearly two hours of daily performance in our tests. You get more storage in the standard model too, up from 64GB to 128GB, and the latest Apple A15 Bionic CPU for true Android-smashing performance.
All the usual iPhone strengths are here, including an excellent screen and a vast library of high-quality apps for work or play. It's hardly an adventurous update from the iPhone 12, but if you're choosing a new smartphone today – and aren't already enmeshed in the Android ecosystem – then the iPhone 13 is the obvious choice.
Read our full Apple iPhone 13 review
HIGHLY COMMENDED: OnePlus 9 Pro
Standing 163mm tall, the OnePlus 9 Pro is large, but it's perhaps the most beautiful Android smartphone we've seen, with a tiny bezel and beautifully textured case. Its 120Hz AMOLED display is a joy to behold, and a collaboration with Hasselblad ensures excellent photo and video quality. Performance is very strong too, courtesy of a top-tier Snapdragon 888 processor; at £829 exc VAT it's not a budget option, but you get what you pay for.
Read our full OnePlus 9 Pro review
Best desktop server 2021
WINNER: HPE ProLiant MicroServer Gen10 Plus
The MicroServer Gen10 Plus really can fit happily on a desktop, as its square chassis measures a mere 245mm along each side. Yet it's powerful enough to run a wide range of business services, with your choice of a dual-core 3.8GHz Pentium Gold G5420 CPU or a quad-core 3.4GHz Xeon E-2224. Four integrated LFF SATA drive bays allow for plenty of storage.
The small size means there's not much scope for internal expansion, but you do get a single PCI-E x16 slot, and remote management can be added via the cheap iLO5 enablement kit. With the entry-level diskless system starting at just £395 exc VAT, it's an excellent SMB-friendly deal.
Read our full HPE ProLiant MicroServer Gen10 Plus review
HIGHLY COMMENDED: Dell EMC PowerEdge T550
The T550 is a real "tower of power" – we tested it with a 12-core 2.1GHz Xeon Silver 4310 CPU, but if you need more grunt it can handle twin CPUs with up to 32 cores each. It also supports up to 24 SFF or eight LFF drives, and a maximum of 1TB of DDR4 RAM. Dell's comprehensive iDRAC9 remote management platform comes as standard, making this an ideal answer to demanding workloads.
Read our full Dell EMC PowerEdge T550 review
Best 1U server 2021
WINNER: Dell EMC PowerEdge R650
Dell's latest PowerEdge R650 design crams an amazing amount of potential into a 1U chassis. It supports Xeon Scalable CPUs with up to 40 cores and a massive 4TB of memory, with space inside for up to ten SFF drives and 16 Intel Optane modules to accelerate performance.
If that's not enough, you also get three PCI-E Gen4 x16 slots and an OCP 3.0 edge slot, plus Dell's BOSS card for fast booting from SSD media. And as usual with Dell, the iDRAC9 controller provides terrific remote management. It's not a budget option – our review unit came to £15,417 exc VAT – but the PowerEdge R650 is an incredibly powerful and space-efficient server.
Read our full Dell EMC PowerEdge R650 review
HIGHLY COMMENDED: Broadberry CyberServe Xeon
This low-profile server offers a solid chunk of power for just under £1,000. That gets you a quad-core Intel Xeon E-2224 CPU with 16GB of RAM – upgradeable to 128GB – and you're free to fit your own drives in the four SFF bays and twin M.2 SSD slots. The single PCI-E Gen3 x16 slot can be used to add 10GbE networking, and the Asus motherboard supports web-based management, including full OS remote control and virtual media services as standard.
Read our full Broadberry CyberServe Xeon E-RS100-E10 review
Best 2U server 2021
WINNER: Broadberry CyberServe SP2 208-8I G3
The CyberServe SP2 208-8I G3 is designed for a hardcore server role. The system we tested came with a pair of 36-core Xeon Scalable Platinum CPUs, 512GB of DDR4 RAM, five 960GB SATA SSDs and eight 128GB Intel Optane PMEM 200 modules. This allows for insanely fast storage access – and to help you make the most of it, the system comes with not one but two dual-port Intel 100GbE network cards.
You can upgrade even further by going up to 26 SFF drives in total, plus eight NVMe drives, and the spacious 2U design allows for six free PCI-E Gen4 slots. It's a magnificent hardware package, and while the £21,895 price tag won't be within everyone's budget, it's superb value for what you get.
Read our full Broadberry CyberServe SP2 208-8I G3 review
HIGHLY COMMENDED: Dell EMC PowerEdge R750
Dell's PowerEdge R750 comes in three versions – the R750xa is built for GPU-based workloads, while the R750xs is a cost-optimised version aimed at specific roles. The standard R750 is a great all-rounder though: the configuration we tested offered two 28-core 2GHz Xeon Scalable Gold 6330 CPUs and 1TB of RAM, upgradeable to a whopping 8TB using 256GB DIMMs. For storage you can choose between a 12-bay LFF backplane or a 16-bay SFF one, and add up to 24 NVMe SSDs. In short, there's enough power and flexibility here for any business.
Read our full Dell EMC PowerEdge R750 review
Best storage array 2021
WINNER: HPE MSA 2060 Storage
With numerous hardware upgrades over the last generation, this is HPE's fastest dedicated storage array ever. It's also laden with powerful features: thin provisioning, snapshots and volume copies are all supported, along with striped SSD caches, RAID10, 5 and 6 options and HPE's own MSA-DP+ array format, designed for improved performance and faster rebuild times.
The MSA 2060 even offers zero-configuration data tiering, automatically shunting data between regular SAS drives, fast solid-state storage and low-priority ML-SAS volumes according to usage. And it's all configured and managed from a simple web portal, so there's no need to be a storage expert to get the best from it.
Read our full HPE MSA 2060 Storage review
HIGHLY COMMENDED: Qnap TS-h2490FU QuTS Hero Edition
When performance is a priority, pure NVMe storage is the way to go. This impressive appliance can take up to 24 hot-plug U.2 drives, while Qnap's 128-bit ZFS-based OS provides enterprise-class data integrity, with compression and deduplication options provided as standard. It's all based on a powerful AMD EPYC processor, and it comes with a pair of dual-port 25GbE network cards, to ensure you can get the full performance from your storage.
Read our full Qnap TS-h2490FU QuTS Hero Edition review
Best NAS drive 2021
WINNER: Qnap TS-h973AX
Though it looks unassuming, Qnap's TS-h973AX runs the company's advanced QuTS hero OS, which offers an impressive range of native storage features. Those include fast, near-unlimited snapshots, transparent self-healing of data corruption and inline data deduplication and compression to make the most efficient use of your storage. Five LFF SATA bays plus four SFF bays provide plenty of room for expansion, while 10GbE and twin 2.5GbE network ports provide high-speed connections to the outside world.
In our tests the TS-h973AX provided fast read and write speeds, and there's a whole library of apps to expand its capabilities, including backup and virtualisation tools. Costing just over £1,000 exc VAT for the diskless enclosure, it's well within reach of smaller businesses.
Read our full Qnap TS-h973AX review
HIGHLY COMMENDED: Qnap TS-873A
Looking for a simple storage solution? The eight-bay TS-873A makes a great platform for Qnap's lightweight, simple to manage QTS OS. Alternatively, for more advanced data-protection functions you can install the full QuTS hero OS and make use of all the same features as the TS-h973AX, above. Either way, it'll run the full range of Qnap apps, and dual 2.5GbE ports help keep data flowing swiftly in and out.
Read our full Qnap TS-873A review
Best printer 2021
WINNER: Epson EcoTank ET-5880
Forget about overpriced cartridges – this A4 MFP uses bottled ink that works out to just 0.2p per mono page and 0.8p for colour. That alone will make it attractive to busy offices, but the ET-5880 has other strengths too, including a swish 10.9cm touchscreen, 802.11n wireless connectivity and excellent colour output. It comes with a pair of 250-sheet paper cassettes, so you won't be continually restocking it, and the integrated scanner has its own 50-page duplex ADF.
The one caveat is a print speed of 25ppm in standard quality mode: that's not exactly slow, but it's unexceptional for a modern office printer. Even so, the Epson's user-friendliness and phenomenally low running costs make it our top choice for 2021.
Read our full Epson EcoTank ET-5880 review
HIGHLY COMMENDED: Kyocera Ecosys
This freestanding laser MFP won't suit the smallest offices, but it offers a 35ppm print speed and a wide range of downloadable apps to extend its printing and scanning functions. It's easy to operate, with a big 7in touchscreen, a range of mobile apps and a clear web-based management console. The clincher is the price: the basic model with wired networking and a single 250-page sheet feeder costs just £696 exc VAT, and low-cost consumables work out to a very reasonable 1p per mono page.
Read our full Kyocera Ecosys M6235cidn review
Best scanner 2021
WINNER: Fujitsu ScanSnap iX1600
This desktop scanner has a great set of features, including integrated Wi-Fi, a 50-sheet ADF, double-sided scanning and a 4.3in colour touchscreen. It's fast too: we were impressed to see it rip through our pile of test documents at 43ppm, creating 200dpi scans that were perfectly clear and clean enough for OCR and archival.
Even better, this hardware is partnered by one of the best software suites around. You can scan to a huge range of applications and cloud services, send scans directly to an email address or beam them to a mobile device. For anyone who needs to scan and share documents in a digital or cloud-first environment, the Fujitsu ScanSnap iX1600 is a terrific choice.
Read our full Fujitsu ScanSnap iX1600 review
HIGHLY COMMENDED: Canon imageFormula DR-S130
With its output tray folded away the DR-S130 takes up barely any more desk space than a sheet of A4. Yet it scans at a swift 30ppm, and thanks to Canon's CaptureOnTouch V4 Pro software it can perform all the same scan functions as much pricier, bulkier models. You can set up profiles for different job types, run single- and double-sided scans, perform OCR and save the output in your choice of format and location. The only thing it can't do is scan directly to cloud services, but for most individuals and SMBs it'll fit the bill admirably.
Read our full Canon imageFormula DR-S130 review
Best monitor 2021
WINNER: Dell UltraSharp 25 USB-C
We don't see a lot of 25in monitors, but the format works well for desktop productivity, and the Dell UltraSharp lives up to its name with a crisp 2,560 x 1,440 resolution. It also delivers excellent coverage of both the sRGB and DCI-P3 colour spaces, with an HDR400 certification for extended-range colour.
The final trump card is connectivity: the USB Type-C connector can handle both incoming video and outgoing power, so you can hook your laptop up to the big screen and charge it at the same time. It's also possible to daisy-chain a second display via the DisplayPort connector, or to swivel the panel round through 90º and work in portrait mode. In short, it's one of the cleverest monitors we've seen.
Read our full Dell UltraSharp 25 USB-C review
HIGHLY COMMENDED: Acer ConceptD CP5271UV
The CP5271UV is an exceptionally versatile monitor. It offers custom display modes for print editing, video and games, and also supports high-end features including HDR600 for deep-colour content, dynamic refresh rates up to 170Hz and an incandescent peak brightness of 480cd/m2. It makes a great office monitor too, with integrated gigabit Ethernet and four USB 3.1 ports. At £667 exc VAT it's considerably more expensive than your typical desktop display, but if you're in the market for a high-end screen it's a steal.
Read our full Acer ConceptD CP5271UV review
Best endpoint security suite 2021
WINNER: Sophos Intercept X Advanced
There's a lot of hype around artificial intelligence, but it does have real applications: Sophos' Intercept X suite uses machine-learning techniques to recognise malware and neutralise zero-day threats. It also includes a full range of traditional protections, defeating ransomware by intercepting encryption attacks and silently restoring the original file, and preventing data leaks by blocking the transmission of certain types of information.
The Advanced subscription adds an analysis centre, where you can forensically review attempted attacks, allowing you to identify and plug the gaps in your armour. It's easy to deploy and manage too: a central web console lets you email out installer links to all clients, and then administer policies and settings for the whole site.
Read our full Sophos Intercept X Advanced review
HIGHLY COMMENDED: Kaspersky Endpoint Security Cloud Plus
Kaspersky's highly flexible licensing lets you protect workstations, laptops, servers and mobile devices all within a single subscription. As well as blocking viruses and intrusion attempts, the software can watch over your network for suspicious activity, and manage Windows Updates from a central portal. The premium Plus subscription adds the Security for Microsoft 365 component, which integrates into Exchange Online, OneDrive, SharePoint Online and Teams, providing monitoring and protection for your services as well as your endpoints.
Read our full Kaspersky Endpoint Security Cloud Plus review
Best antivirus suite 2021
WINNER: Kaspersky Internet Security
Kaspersky is no stranger to our awards, and this latest version of its security suite shows why – in multiple independent tests it scored perfect 100% protection scores without a single false positive. Other notable features include browser protection, ransomware blocking, defences against webcam hijacking and even a fully featured firewall.
Do you need to pay for this type of protection? It's true that Windows' built-in security modules are nowadays very effective on their own. However, Kaspersky is much easier to configure, especially when it comes to customising firewall rules. It also has less of an impact on system performance, which makes the modest £15/yr subscription fee easy to swallow.
Read our full Kaspersky Internet Security review
HIGHLY COMMENDED: Avast Antivirus Free
Avast is our favourite free antivirus solution for several reasons. First, it does a great job of blocking malware: independent labs have found its protection on par with Microsoft Defender and ahead of several paid-for suites. What's more, it'll run on older editions of Windows – which is ideal if you still have legacy machines running Windows 7 or 8.1 that can't be upgraded. You do have to put up with a few in-application adverts for Avast's paid-for products, but if you can't use Windows' built-in protections – or just don't want to – then Avast Antivirus Free makes a lightweight and effective alternative.
Read our full Avast Antivirus Free review
Get the ITPro. daily newsletter
Receive our latest news, industry updates, featured resources and more. Sign up today to receive our FREE report on AI cyber crime & security - newly updated for 2023.
ITPro is a global business technology website providing the latest news, analysis, and business insight for IT decision-makers. Whether it's cyber security, cloud computing, IT infrastructure, or business strategy, we aim to equip leaders with the data they need to make informed IT investments.
For regular updates delivered to your inbox and social feeds, be sure to sign up to our daily newsletter and follow on us LinkedIn and Twitter.